Chip Kelly's recruiting philosophy at Oregon is on display in first class at UCLA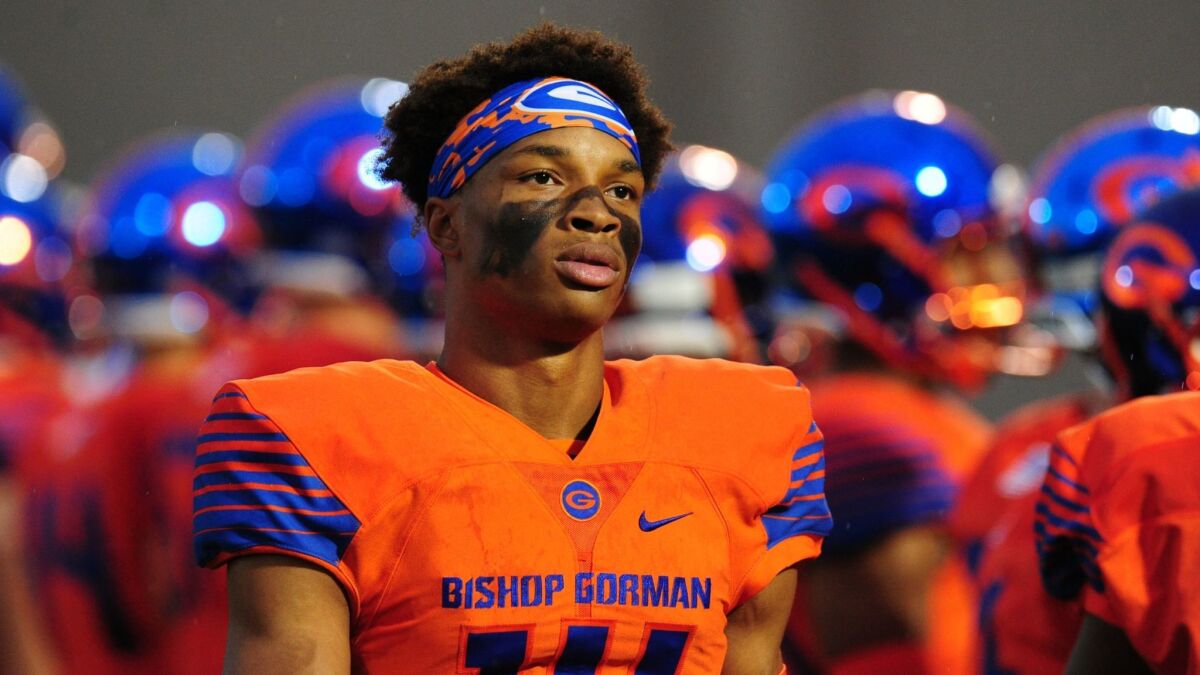 Tyree Thompson started his college football career at Sacramento State before transferring to Los Angeles Valley College with hopes of moving on to something grander. Two months ago, after the early signing period, his only scholarship offer was from Rhode Island.
Baraka Beckett didn't receive his first scholarship offer until the spring of his junior season at Los Angeles Windward High. He was originally listed as a two-star recruit on the five-star scale and committed to play for Hawaii.
Both players said they felt they were overlooked prospects with upside, that their ratings didn't match their potential. In other words, they were exactly the kinds of recruits that new UCLA coach Chip Kelly tends to covet.
Thompson and Beckett are expected to formalize their plans to play for the Bruins during national signing day Wednesday, and they aren't just warm bodies being brought on board to round out the roster.
Beckett said coaches told him he could play along the offensive line next season as a freshman.
Thompson said he was told he would start his UCLA career at outside linebacker but that his ability to play multiple positions had made him an attractive recruit. Bruins coaches cannot comment on recruits until they sign binding letters of intent.
"They said I could do a lot of stuff," Thompson said, "and it was a win-win for them and for me as well."
Kelly's first UCLA recruiting class is already being hailed as a triumph even though he has had less than three months to assemble it as the successor to Jim Mora. The Bruins brought in eight players during the early signing period in December and are expected to sign at least 17 more Wednesday. Only four of the players who have signed or committed did so while Mora was still the coach.
UCLA's class is ranked as the fourth best in the Pac-12 Conference and No. 16 nationally by 247Sports.com. Mora's final recruiting class was ranked fourth in the Pac-12 and No. 20 nationally by 247Sports.com.
While the current class has a share of under-the-radar players, it also features some headliners.
Dorian Thompson-Robinson is considered one of the top quarterback prospects in the nation and Chase Cota, Bryan Addison and Kyle Phillips are part of what could be a dynamic corps of receivers.
"They kind of sneakily have done a really nice job of mixing in some real elite talent with some guys that I think they've evaluated to be really, really good players," said Greg Biggins, national recruiting analyst for 247Sports.com.
"It's a typical Chip Kelly class in terms of at Oregon [Kelly's most recent college stop], he didn't necessarily go after the top, top guys but the guys who he felt fit their system best and he's proven to be a really good evaluator."
A scholarship offer from Kelly has represented a seal of approval for other major college football programs; Biggins noted that after UCLA started recruiting Matt Alaimo, a tight end from Montvale (N.J.) St. Joseph Regional High, the three-star recruit picked up scholarship offers from Florida, Texas A&M and Alabama.
But it was too late. Alaimo soon told the Bruins he would sign with them.
Martell Irby, a running back from San Diego Morse High who had committed to Arizona, decided to attend UCLA after Kelly became coach. "He's a genius" Irby told the San Diego Union-Tribune of his future coach.
UCLA hopes to complete its class with a late flourish. In addition to the 17 players who have committed to the Bruins, they remain in the running for such recruits as Jarrett Patterson, a highly regarded offensive lineman from Mission Viejo High; Otito Ogbonnia, a defensive lineman from Katy (Texas) Taylor High, and Geordon Porter, a receiver from Etiwanda High.
Patterson's signing would be especially meaningful because it would help replenish a depleted offensive line that lost three starters. UCLA has commitments from only four offensive linemen: Beckett, Santa Ana Mater Dei High's Chris Murray, Milwaukee Marquette University High's Jon Gaines and Etiwanda's Alec Anderson.
"For me, they probably need to bring in five [offensive linemen] and that's why Jarrett Patterson is huge if they can get him," Biggins said. "It's them and Notre Dame right now" in the running.
Thompson has taken one of the more circuitous routes to UCLA. The former Mission Hills Alemany standout, who has two years of eligibility left after his first two college stops, committed to North Texas last month before switching his allegiance to Vanderbilt.
When the Bruins offered a scholarship late last month, Thompson's plans changed once more. He said the lure of staying close to home while being able to attend spring practice proved irresistible.
"It's just a perfect situation," he said.
Thompson said he was mostly recruited by linebackers coach Don Pellum and didn't meet Kelly until taking his official visit to campus last weekend. That's not to say that Kelly didn't make a lasting impression.
"He was just a straightforward guy," Thompson said. "They tell you what they expect for you and don't beat around the bush. I like that. I don't want people to tell me what I want to hear. You want to know the truth."
Beckett, who was recently elevated to a three-star prospect after spending his senior season at Palisades High, said he was struck by what he felt would be Kelly's ability to maximize his potential.
"I know I'm going to be able to get bigger, stronger and just prepared," Beckett said, "so I'm definitely glad I made this decision."
Beckett and Thompson seem fine with the idea that any star maps being sold around campus won't include their addresses.
"I'm not too big on hype because hype doesn't do anything for you after you enroll in school," Thompson said. "Once you get there, you have to make the plays for yourself."
Follow Ben Bolch on Twitter @latbbolch
---
Get the latest on L.A.'s teams in the daily Sports Report newsletter.
You may occasionally receive promotional content from the Los Angeles Times.