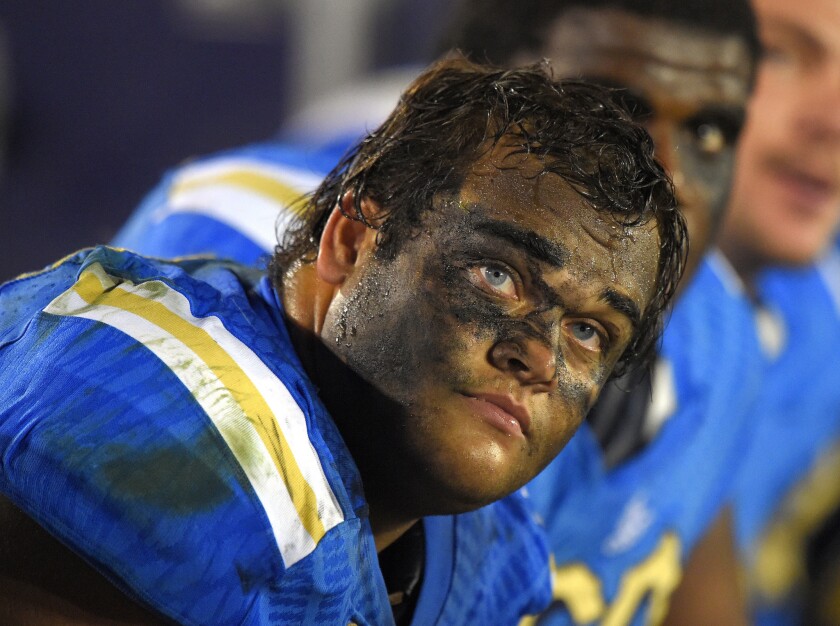 The beginning of the end of UCLA's ability to stop the run in 2015 came in the second quarter of its season opener.
Defensive tackle Eddie Vanderdoes leaped into the air to try and block a pass from Virginia quarterback Matt Johns and an awkward landing changed the trajectory of the Bruins' season. Vanderdoes heard what he described as a "super loud" pop in his left knee but experienced only momentary pain and stayed in the game.
The fallout from a torn anterior cruciate ligament didn't become apparent until Vanderdoes tried to help up teammate Kenny Clark after Clark caught a touchdown pass in the third quarter. Vanderdoes collapsed and hobbled off the field.
It was UCLA's defense that gave way the rest of the season. The Bruins were particularly susceptible against the run, allowing an average of 198.5 yards on the ground to rank 97th among major college teams. Five opponents stampeded for at least 235 yards against UCLA, with Arizona, Stanford and Nebraska each topping 300.
Those numbers figure to appreciably drop now that Vanderdoes has returned from a near yearlong absence for his junior season. He sat out spring practice because he was still recovering but has worn a happy-to-be-here expression in the opening days of training camp.
"Being out there, honestly, I don't really know what else to say than just, like …" Vanderdoes said Wednesday before letting out an elongated sigh.
The Bruins caught a glimpse of what their run defense would be like with Vanderdoes in their opener against Virginia. They gave up 98 rushing yards and a paltry average of 2.9 yards per carry. Every subsequent opponent would reach triple digits in rushing yardage except pass-happy Washington State.
"That's embarrassing to watch when you get ran all over. That hurts," Vanderdoes said. "It's a dagger. it's nice knowing that I'm going to help that this year."
Season-ending injuries to linebacker Myles Jack and cornerback Fabian Moreau also softened UCLA's defense, but the loss of Vanderdoes at the point of attack was the biggest culprit against the run.
And that means his return as part of a reformulated 4-3 defensive front is among the biggest reasons the Bruins hope things will immediately improve. Vanderdoes has spent the first few days of camp playing on a first-team defensive line that has also included tackle Eli Ankou and ends Takkarist McKinley and Matt Dickerson.
Ankou did a double take upon seeing his roommate back on the field.
"It was super weird," Ankou said. "I was looking to my right and I was expecting someone else and I would look at Eddie and I'm like, oh, wow. I surprised myself for a second, but it's really good to have him back."
Vanderdoes returned to practice wearing a knee brace to help support his 6-foot-4, 320-pound frame but said it was something he hoped to shed before the end of training camp. He'll also have to fight through stiffness that has resulted from scar tissue in his knee.
Vanderdoes has been a force since becoming a starter five games into his freshman season in 2013. A week later, against Stanford, he made 11 tackles, the most by any Bruins defensive lineman since 1992. He was an honorable mention All-Pac-12 Conference selection as a sophomore, when he finished eighth on the team with 50 tackles.
Vanderdoes opens this season on the watch lists for nearly every major award given to a defensive player or an interior lineman, including the Bednarik and Nagurski awards and the Outland Trophy.
He was granted a medical redshirt last season, giving him one more season of eligibility after this one. Of course, he could very well be in the NFL by then.
"I don't think it will matter, quite frankly," UCLA Coach Jim Mora said of the redshirt year. "I think if he has a good year this year that we'll be saying goodbye to him."
Quick hits
McKinley made the first bold declaration of training camp: "I'm going to be the best pass rusher in the country," he said, adding that he was targeting at least 15 sacks. McKinley said he had fixed a bad habit of taking baby steps when the ball was snapped, limiting him to 4 1/2 sacks last season. … Defensive coordinator Tom Bradley said Mora addressed with his players their effort tailing off Wednesday during the second half of practice, the team's first in shoulder pads. "If we're really going to be good," Bradley said, "we can't have that happen." … Bradley, when asked about his reaction to unsealed testimony contending that he had known of Jerry Sandusky's sexual abuse prior to its having been reported to Penn State officials when Bradley worked for the Nittany Lions: "I've been deposed, I've been vetted, I've issued a statement [denying the allegations]. All of that speaks for itself."
ben.bolch@latimes.com
Twitter: @latbbolch
---