Prince Ali sets career high in points in UCLA victory over Hawaii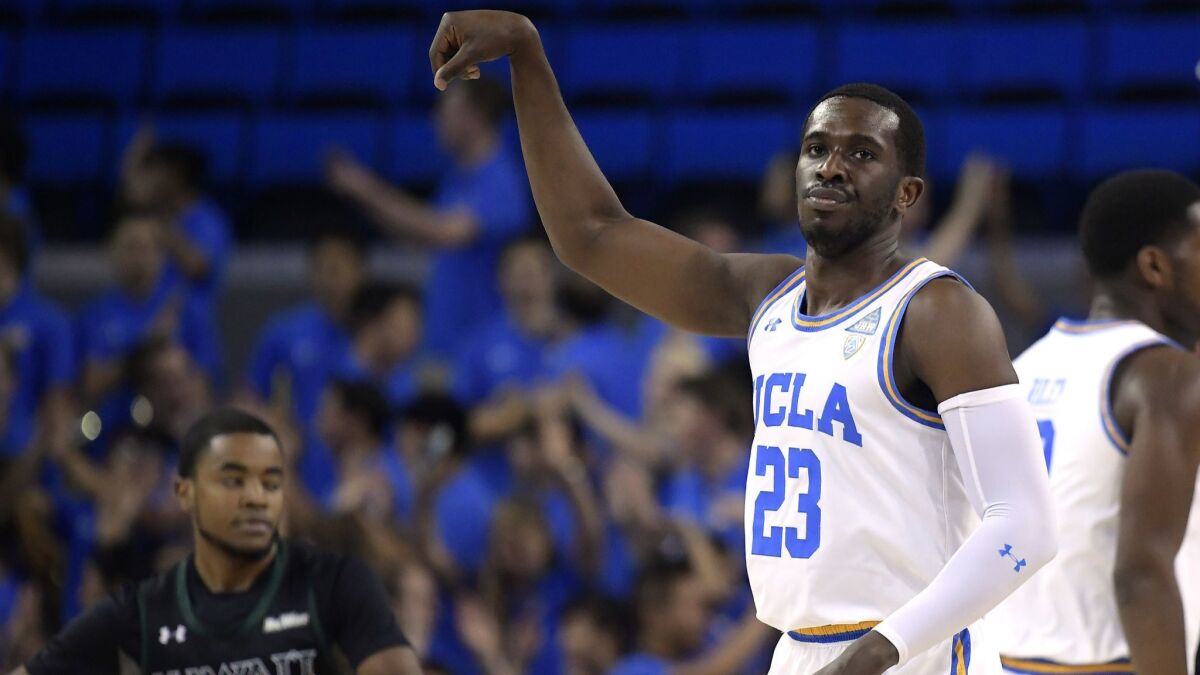 Dribbling out the final seconds of a game long decided, Prince Ali turned a meaningless possession into something momentous.
The UCLA shooting guard crossed over his defender beyond the three-point line, charged toward the basket and soared over another defender for a vicious one-handed dunk.
In one impressive instant, Ali owned a new career high in points as well as the highlight of the Bruins' 80-61 victory over Hawaii on Wednesday night at Pauley Pavilion.
Ali landed with his back to the baseline but made sure to whirl around to check out the reaction of a famous former teammate seated nearby.
"That's my guy," Ali said of Lakers point guard Lonzo Ball, "so I had to do that in front of him."
Ball seemed pleased with Ali's final act on a night he made his first eight shots and finished with 23 points on nine-for-11 shooting to go with five rebounds and no turnovers.
"He just gave me a nod," Ali said.
There was plenty to acknowledge as the Bruins (5-2) opened a four-game homestand while bearing little resemblance to the disjointed team that dropped two games to ranked teams in Las Vegas last week. Point guard Jaylen Hands tallied a career-high 11 assists and only two turnovers, largely sustaining his strong play for an entire game after having disappeared in the second half of the loss to North Carolina.
"I thought he ran his team, he ran the show, he did a lot of good things," UCLA coach Steve Alford said. "How he moves the ball becomes contagious with the other guys."
Cody Riley provided the jolt of energy the Bruins were seeking at power forward in his first career start, finishing with eight points and seven rebounds. Forward Kris Wilkes scored 16 points and center Moses Brown got back to looking dominant for stretches after some recent struggles, collecting 11 points, seven rebounds and two blocks in only 19 minutes.
But the big story was the reemergence of Ali, the redshirt junior who can be forgotten amid a team filled with more ballyhooed freshmen and sophomores.
His success was partially a function of his team's improved ball movement. Ali scored the game's first basket after Hands drove into the lane and found him on the wing for a three-pointer. They connected again shortly thereafter after an Ali steal led to a possession in which Hands found him for a second three-pointer.
Ali buried another three-pointer a few possessions later, exceeding his season average of 7.8 points less than 31/2 minutes into the game. UCLA was on its way to an 18-7 lead and was never seriously challenged by the Rainbow Warriors (4-4).
The Bruins held a 45-26 halftime lead thanks to Ali's 16 points on six-for-six shooting and Hands' seven assists with no turnovers.
The effort generated cheers from a crowd of 6,062 that included a few other recent Bruins alumni besides Ball. Former UCLA forwards TJ Leaf and Ike Anigbogu sat on one baseline directly across from Ball and fellow point guard Aaron Holiday.
The foursome chatted and posed for a group photo at halftime and stopped by the Bruins' locker room after the game. But they will be forced to take sides Thursday at Staples Center when Ball's Lakers face Holiday, Leaf, Anigbogu and the other Indiana Pacers.
Ali never got to play with Ball, Leaf and Anigbogu because he sat out the 2016-17 season while rehabilitating a knee injury. He was inconsistent last season as a sophomore, leading to a summer dedicated to improvement.
"Just getting up a lot of shots and just working with different people and playing pickup," Ali said of his offseason endeavors. "I've been working on my game and it just showed tonight."
Ali tied his previous career high of 21 points less than 41/2 minutes into the second half after making his fifth three-pointer, holding his follow-through for effect. At that point he had made all eight of his shots. A few minutes later, he finally missed a jumper, twisting his head in disappointment after the ball rolled out of the rim.
But he would finish the game with a flourish, providing a memorable moment for the former teammates whose presence inspired him.
"Just for them to be here," Ali said, "it was great."
Follow Ben Bolch on Twitter @latbbolch
---
Get the latest on L.A.'s teams in the daily Sports Report newsletter.
You may occasionally receive promotional content from the Los Angeles Times.