Rachel Garcia's bat and arm lift UCLA in softball super regional opener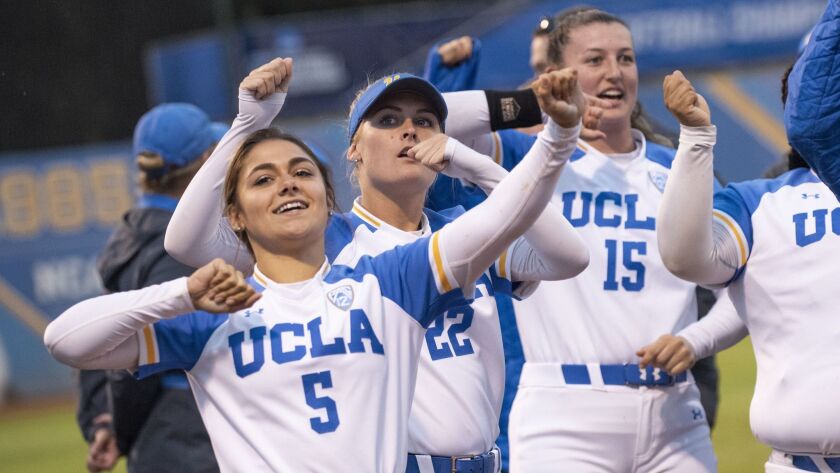 Rachel Garcia won. She high-fived coach Kelly Inouye-Perez triumphantly during UCLA softball's post-game press conference.
Garcia had plenty to celebrate from her performance against James Madison on Friday night, when the Bruins defeated the Dukes 6-1 at Easton Stadium. Her 12 strikeouts, her three-run home run, her two hits and four RBIs.
This was a different kind of victory.
"Bragging rights," Garcia said with a grin, "bragging rights."
Before the game Garcia made a bold prediction to Inouye-Perez — that all of the right-handed redshirt junior's hits would land in right field. Sure enough, that's where her home run sailed, landing in the trees beyond the fence.
She was just as successful in the circle, as the Bruins' starting pitcher, to help seal the win. UCLA faces James Madison again Saturday at 5 p.m. If the Bruins win, they will advance to the women's college world series.
"We've seen Rachel Garcia just kind of mow hitters down one at a time and use all her pitches tonight," Inouye-Perez said, "which I think is just a great sign of things to come."
Garcia struck out the first batter she faced, but in the next at-bat, junior Kate Gordon drove the second pitch Garcia threw her over the center field fence. The solo home run gave James Madison a 1-0 lead in the first inning.
"They threw a punch first," Inouye-Perez said. "And the way that our team responded is probably what makes me most proud … We threw a punch back that we were ready to play.
After that throw, Garcia held the Dukes hitless for the next three innings. She ended the game holding James Madison to two hits and two walks while striking out 12.
James Madison pitcher Megan Good started just as dominantly on the mound. Good and Garcia are two of the top-three finalists for the USA softball collegiate player of the year, and Good held UCLA to one hit in the first two innings.
Kinsley Washington was the spark the Bruins' offense needed. She hit a double to left field in the third inning, bolted for third base on a wild pitch, then scored when Briana Perez reached first base on a fielding error. Her efforts tied the game at 1-1.
"It was really important for me to get on base," Washington said, "do anything I could to get on base."
Later in the inning, with two Bruins runners on base, Garcia buried the Dukes. Garcia had struggled at the plate in the NCAA regionals, hitting one for eight in four games. Before she stepped up to bat she locked eyes with senior Taylor Pack, a ritual she repeats in many of her plate appearances. She smiled at her friend.
Sign up for our daily sports newsletter »
"She just told me to have fun and do my thing," Garcia said, "and that kind of just stuck with me that entire at bat."
After giving up a home run early on, she returned the favor, blasting her three-run home run over the right-field fence. After Garcia ran the bases, her team met her in celebration at home plate.
UCLA added two more runs to its lead in the fourth inning — a bases-loaded walk and an RBI single by Garcia. That single went to left field, but Inouye-Perez still ceded the bragging rights to Garcia.
"She totally wins," Inouye-Perez said smiling.
Every moment Friday set a promising tone for the team's super regionals run. Garcia's dominant pitching, the team's contagious offense, the explosive response to adversity. The Bruins are one win away from returning to the Women's College World Series for the fifth straight year.
They are coming closer to their goal, one right-field hit at a time.
---
Get the latest on L.A.'s teams in the daily Sports Report newsletter.
You may occasionally receive promotional content from the Los Angeles Times.