Offensive coordinator Jedd Fisch took a long journey to Westwood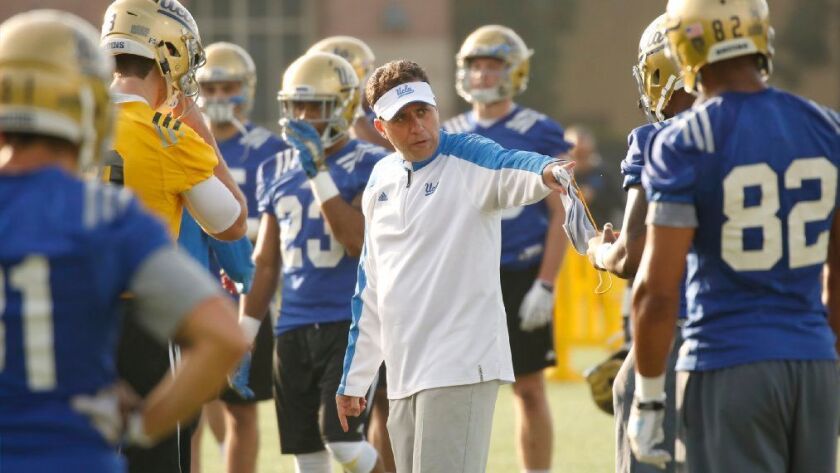 The job as equipment manager didn't come through. Neither did a position as a student assistant. Failing to land another spot as a recruiting intern could have made Jedd Fisch feel like he had struck out in his attempts to gain an entry-level position in Florida's football offices.
He was only just getting started.
Fisch asked for a meeting with Steve Spurrier, who was then Florida's head coach, and was rejected. Email was not widely used by coaches in the mid-1990s, so Fisch needed to find another way to communicate with the visor-wearing icon he longed to have as a mentor.
That part wasn't hard. All Fisch had to do was locate the car next to a parking-lot sign outside the football offices that read "Head ball coach."
Fisch started sticking notes under the windshield wiper of Spurrier's blue Buick. Lots of notes. For more than a year, he placed one there each day the car appeared. Some were handwritten. Some were typed. Most weren't complicated.
"It was kind of like recruiting," Fisch recalled this week. "It doesn't have to have a long message to have the message."
Will work for free … and love it was a mantra that would handsomely reward Fisch, leading to a graduate assistant position under Spurrier and a litany of jobs that brought him to UCLA earlier this year as offensive coordinator. He's not working gratis these days, making $810,000 in his first season with the Bruins as part of a two-year contract that makes him the team's highest-paid assistant coach.
Fisch's persistence and obsession with details, along with his inventive playcalling, have led to the 40-year-old widely being considered a head coach-in-waiting — if only he can revive UCLA's offense beginning with the season opener against Texas A&M on Sunday at the Rose Bowl.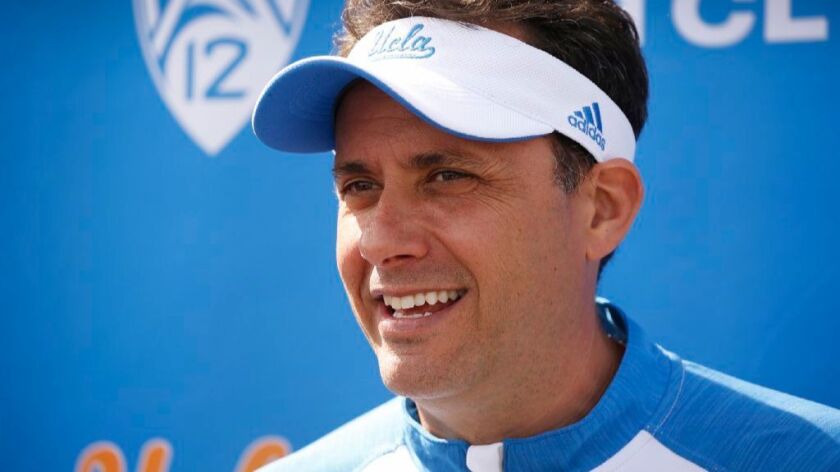 "I think he's already ready to be a head coach," said Michigan coach Jim Harbaugh, Fisch's boss the last two years. "I think he's an outstanding coach. … I'm pulling for him, excited to watch what his team does this year."
Fisch wouldn't divulge the specifics of his offense, saying only that it would feature different personnel groupings, tempos and formations while utilizing a mix of running and passing. Asked about descriptors that would apply to his offense if it was working as intended, Fisch ticked off "aggressive," "physical" and "fun."
The Bruins certainly rolled out some amusing plays during training camp, including a flea-flicker and a tight-end pass. There were a lot more quick passes and outside-the-tackle runs than there had been under Kennedy Polamalu, Fisch's predecessor.
"I like the multiplicity of it," UCLA coach Jim Mora said of Fisch's offense. "My belief has always been that you have a series of concepts in your back pocket and you pick the concepts out that best fit the skill sets of your players, and I think Jedd does a really good job of that. I think he's able to create mismatches through personnel groupings, motions — he looks for matchups, which I've always believed in."
The underpinnings of Fisch's offense and the way he relates to players were formed during two decades crisscrossing the country, where he made 11 stops at the high school, college and NFL levels before arriving at UCLA. Fisch said he borrows liberally from Harbaugh when it comes to communication with his quarterbacks and Spurrier as far as attacking a defense's weaknesses. Schematically, Fisch said he draws heavily from mentors Mike Shanahan and Brian Billick, two of the most gifted offensive minds in the history of the NFL.
Much of what Fisch learned from his former bosses is contained in a notebook he keeps in his office. Written on the cover is "One day as a head coach," a constant reminder of his end goal.
Fisch isn't afraid to advertise his displeasure, yelling "Get back in there!" during spring practice when he didn't like the way quarterback Josh Rosen broke a huddle. But there's also plenty of collaboration between Rosen and his third offensive coordinator in as many years. Fisch has given Rosen veto power over plays in an effort to enhance his comfort with the offense.
"He doesn't want me to go into a game with anything I'm less than supremely confident in," Rosen said. "At the same time, I want him to have as big of a call sheet as he wants, so … it's on me to put as much of my time into it as I can to let him have as much freedom as he can."
Continual learning is a prerequisite of being part of Fisch's offense. He distributed an inches-thick playbook that he had memorized long before he asked his players to do the same.
"He's like a computer for the offense," fullback Giovanni Gentosi said. "He'll just rattle off plays off the top of his head. It's pretty crazy."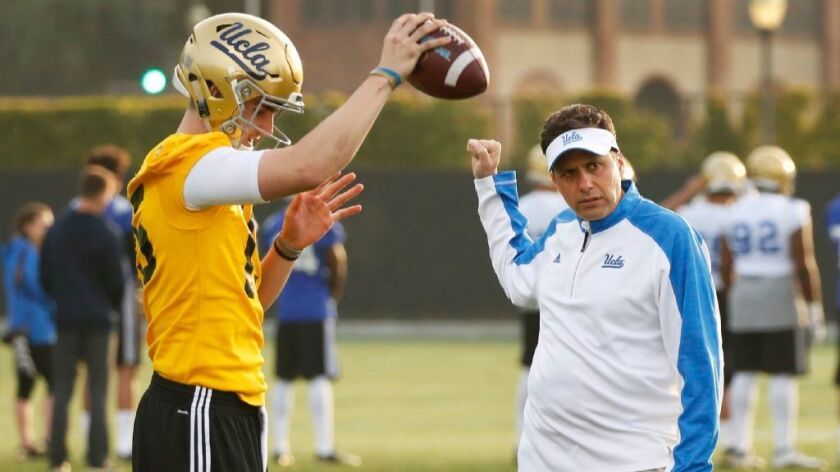 Mastering in minutiae was something Fisch felt he had to do to differentiate himself from other coaching candidates because of another glaring difference: Fisch never played football.
He was an all-state tennis player growing up in East Hanover Township, N.J., who fell in love with football through a friendship with his mother's boyfriend, who coached the sport at state power Bergen Catholic High. Fisch tagged along to practices as a ball boy, attended football camps and watched film with the coach, sparking an obsession to join the profession.
Fisch attended Florida solely because he identified Spurrier as the best college coach in the nation and intended to study whatever Spurrier would be willing to teach him. It wasn't as simple as sticking a note on his car.
Repeatedly rebuffed in his efforts to gain an audience with the coach, Fisch eventually took a job as an assistant at nearby P.K. Yonge Developmental Research School. It paid $350 for the season but proved invaluable when it led to Fisch attending a coach's clinic at Florida where he befriended two assistants who allowed him to perform grunt work while hiding him in their offices.
"I was kind of the only guy in the building that coach Spurrier didn't hire," Fisch said. "Finally, after a couple of weeks, he wanted to know who I was, so we talked for a few minutes and he said as long I stayed out of the way, I could stay around."
Menial tasks such as making photo copies eventually led to a formal job as a graduate assistant while Fisch earned his master's degree in sports management. Fisch soon found himself attending the Southeastern Conference championship game and sitting in the press box with a headset on. He was on his way.
After Florida, Fisch took jobs as defensive quality control coach with the Houston Texans, assistant wide receivers and assistant quarterbacks coach with the Baltimore Ravens and wide receivers coach with the Denver Broncos. He returned to college as offensive coordinator at Minnesota for the 2009 season before becoming quarterbacks coach with the Seattle Seahawks and offensive coordinator with the Miami Hurricanes and the Jacksonville Jaguars. He landed in 2015 at Michigan, where he coached quarterbacks and wide receivers and coordinated the passing game.
"I've been fortunate enough that almost every single move that I've made was by choice," Fisch said.
His journey nearly came to an abrupt end in 2003 when he experienced severe back pain while working for the Texans. He called the team doctor, described the symptoms and was undergoing surgery less than a day later to repair a congenital heart disorder.
"I always say football saved my life," Fisch said, "because not many people have a team doctor, a team trainer and access from a team owner to the best hospitals, the best everything in the world, and that's what fortunately happened for me in Houston."
Living what once seemed like an improbable dream has helped Fisch maintain a wry sense of humor despite every difficulty. He's had to tutor a different starting quarterback in each of the last 12 years, starting in 2006 with Steve McNair when Fisch worked with the Ravens.
That streak could be extended next season unless Rosen returns for his senior year, which is considered unlikely given he could be a top pick in the 2018 NFL draft.
"There have been a lot of new quarterbacks, man," Fisch said with a laugh. "Really hoping for two years with this one, though. I'll tell you that. Write that."
Maybe Fisch could slip Rosen a note to let him know.
Follow Ben Bolch on Twitter @latbbolch
---
Get the latest on L.A.'s teams in the daily Sports Report newsletter.
You may occasionally receive promotional content from the Los Angeles Times.