Jerry Neuheisel feels like he's home again in his return to UCLA as a graduate assistant
Jerry Neuheisel jogged across UCLA's practice field, his mop of blond hair flapping with every step.
He had happily shed the hat that usually conceals his long, flowing locks to bask in a warm, sunny morning with just a few wispy clouds overhead.
It was another reminder that the graduate assistant wasn't at Texas A&M anymore.
He was home.
"When I left Texas, it was 32 degrees, it was cold and I drove 22 straight hours and I got here to L.A. and it was 75 degrees," Neuheisel said, referring to his departure after one season coaching with the Aggies. "So on days like this, I can't wear a hat."
He actually wears quite a few in his return to the school where he played and where his father, Rick, once starred and coached. The younger Neuheisel spent part of a recent practice thwacking receivers with blue pads, simulating the bumps they might absorb in coverage near the line of scrimmage, before lofting several passes and even defending a walk-on during one route.
The relentless optimism that's a well-known family trait was also on display. Constantly. Neuheisel spent so much time applauding players' efforts that it felt as if he might be starting a new school tradition, the 88-clap.
"He's absolutely giddy to be back in Westwood," Rick Neuheisel said.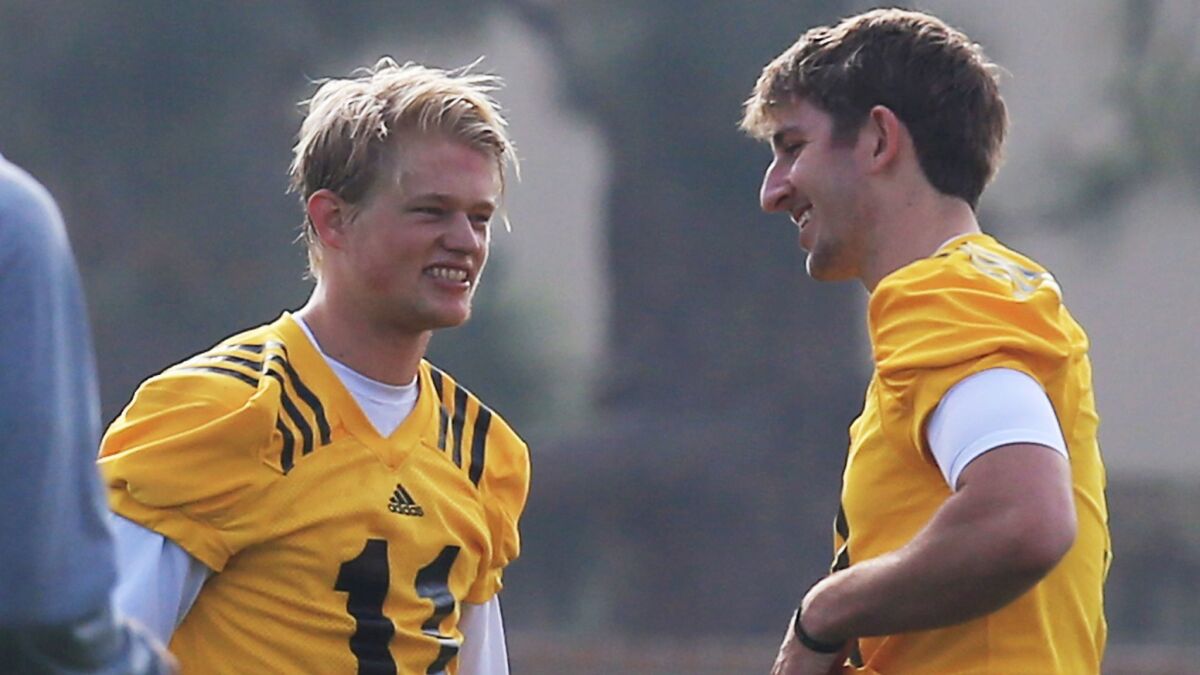 Jerry was born at UCLA Medical Center on the day of the Bruins' spring game in 1992. His delivery provided an excused absence for the only practice Rick missed during a lengthy coaching career that ended with UCLA in 2011.
"All my fellow coaches came over to see him," Rick, a receivers coach at the time under Terry Donahue, said of his son's arrival at the hospital. "He had no choice but to be a Bruin."
Jerry was a freshman at UCLA when Rick was fired after the 2011 season, but he did not join the team until the following spring. He became the backup quarterback, completing an improbable rally against Texas in September 2014 when he came off the bench after starter Brett Hundley sustained an elbow injury. Neuheisel's 33-yard touchdown pass to Jordan Payton with three minutes left provided the winning points in a 20-17 victory.
"Some of the things that happened to him while he was a player there," Rick said, "were just fantastic and dream-come-true stuff."
The ending wasn't storybook. Jerry left UCLA after the 2015 season with a year of eligibility remaining, saying that it hurt too much to remain a backup. He spent a season as the starting quarterback with the Obic Seagulls of Japan's X League, reaching the championship game, while also coaching quarterbacks at nearby Keiko University.
Then came a call from Noel Mazzone, his former offensive coordinator at UCLA who had moved on to Texas A&M.
"He said, "You're coming with me, I don't care what you say,' " Neuheisel recalled. "And I said, 'You're right, I'm coming.' I got on the next plane to Texas A&M."
Neuheisel was on the Aggies' sideline in September at the Rose Bowl when the Bruins completed the biggest comeback in school history after trailing by 34 points in the third quarter. His allegiances were split.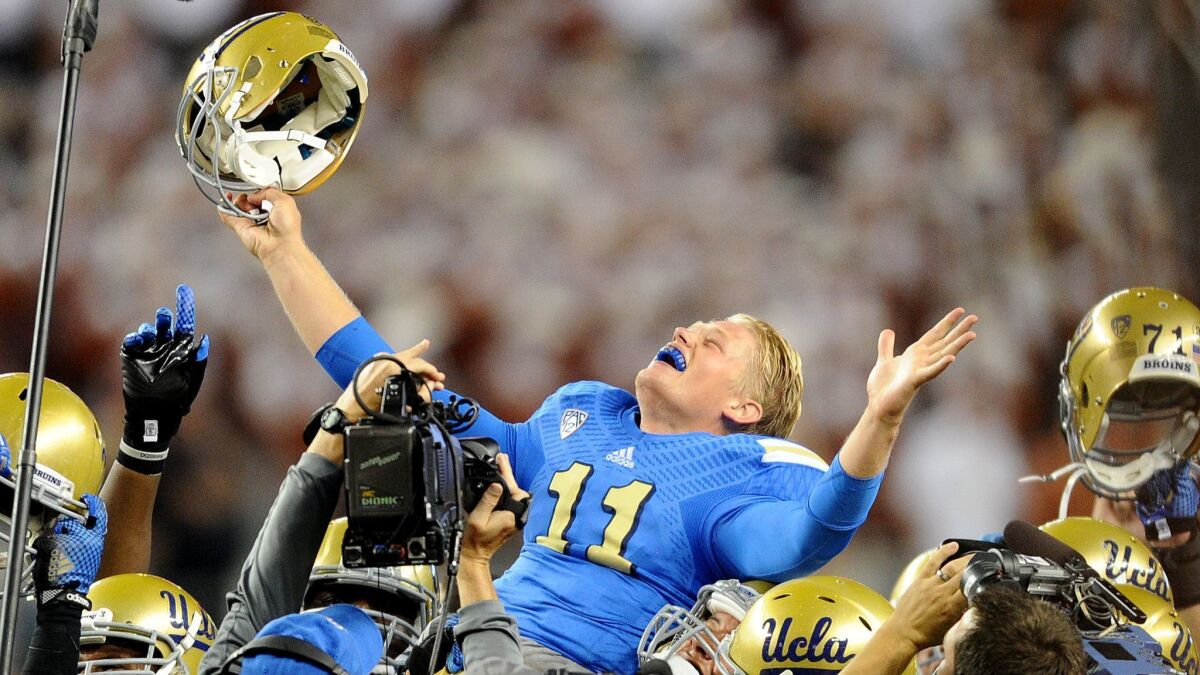 "I was dying for our guys because we put so much out there to win that game," Neuheisel said, "but part of me was excited because it was something UCLA needed, that fight. To come back and win that game was a big-time moment for this program."
Bruins coach Chip Kelly had known of Neuheisel long before inviting him to join his staff after replacing Jim Mora in November. Kelly coached against Rick Neuheisel while at Oregon and saw Jerry coach while observing a spring practice last year in College Station, Texas.
"It was just a real good fit," Kelly said, "just because institutional knowledge, guys that have been around can tell you how to get around campus and he is a great, really, really good young football coach who has a bright future."
Neuheisel works primarily with the receivers, including senior Christian Pabico, one of a handful of former Bruins teammates still on the roster. Neuheisel would figure to be the perfect stand-in for a team one quarterback short of the five needed to complete one passing drill it runs each practice, but Kelly, a former high school quarterback, fills that role.
"I'm the only guy who's not coaching in that period," Kelly explained, "so he's gotta coach."
Whenever he speaks, Neuheisel sounds like a coach … Rick Neuheisel, to be exact. The only difference is that Jerry is more rapid-fire when he talks as opposed to his father, who is more measured and deliberate. Even people who have spent significant time around both sometimes have trouble telling the difference.
"If you close your eyes and either one of them is talking, you're not going to know who's who," said Minnesota Vikings linebacker Anthony Barr, a teammate of Jerry's at Los Angeles Loyola High and UCLA. "They sound the same, a lot of their mannerisms are the same. I mean, he's his dad's son. It's very apparent.
"He's very similar to his dad, very charismatic — a funny guy, smart guy and people listen when he talks. So he has all the right tools to be a successful football coach."
Now Neuheisel is learning from one of the most successful college coaches of the last decade. Rick Neuheisel said he constantly calls his son to find out the latest thing that has wowed him about working for Kelly, who guided Oregon to major bowl games in each of his four seasons (2009-12) with the Ducks.
Rick, who attended UCLA's practice Saturday and spoke with players, said his biggest advice to his son is to look around and appreciate the coaching climb, even when you're closer to the bottom than the top.
"Enjoy every rung on the ladder," Rick said. "There's a kind of an eagerness by young coaches to want to climb and get to be a full-time coach and get to be a coordinator and then to be a head coach as fast as is humanly possible, and while we all hope that that can be the case somewhere down the road, you want to make sure that you're learning and enjoying every step along the way because as the saying goes, you make the big-time where you are."
Jerry, who will turn 26 later this month, doesn't want to move his coaching ladder again, making the rest of his ascent at his alma mater.
"This is my dream school," he said. "This is where I want to be. I would never want to leave this place and I still think I owe this place a Rose Bowl at some point, so I'm happy to be back. I was born on the campus and I've been here my whole life, so this place feels like home."
---
Get the latest on L.A.'s teams in the daily Sports Report newsletter.
You may occasionally receive promotional content from the Los Angeles Times.