UCLA's Josh Rosen isn't ready to look beyond this season just yet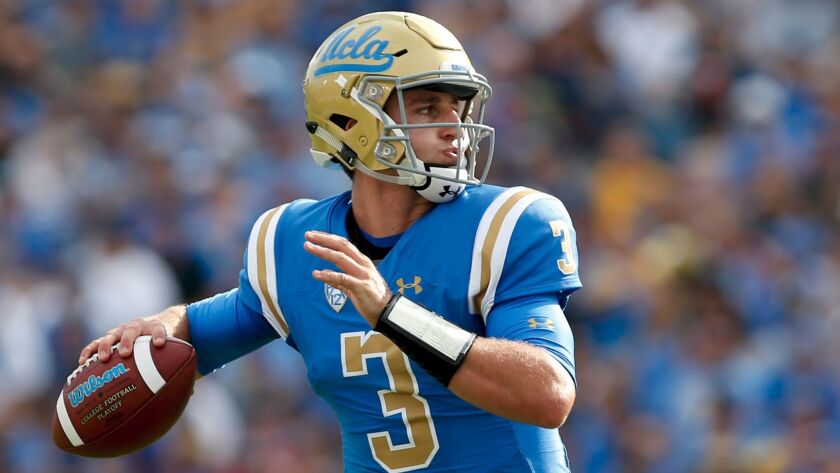 Josh Rosen lay on the practice field Tuesday morning, awaiting his turn as reporters completed an interview nearby. He sprawled his arms on the warm artificial turf, his face pointed directly toward the bright morning sky.
He wasn't basking in the glow of what might be his final days as UCLA's quarterback.
"I just want to go to .500 and then ultimately push to 7-6," Rosen said, words he probably never anticipated uttering when he arrived in early 2015 as the hotshot freshman who was expected to elevate a surging program toward greater heights.
It never happened. Not even close.
His coach was fired Sunday and his team holds a 5-6 record heading into its final home game of the season Friday against California at the Rose Bowl. Rosen's record as a starter is 16-13 in three seasons.
The Bruins went from College Football Playoff aspirations to fighting for a spot in the Cactus Bowl.
"It's just kind of disappointing because I feel like you come into a program that's 10-2, 10-2 and 9-3 and you're doing any and every thing that you can and you just can't produce the wins that you want to," Rosen said, referring to the Bruins' records during their first three years under former coach Jim Mora. Including bowl games and the Pac-12 Conference title game, UCLA finished those seasons 10-3, 10-3 and 9-5.
"It's a bummer because I'm giving everything I have and then some, and to kind of come up on the short side of it time and time and time again is really disappointing, and then when also our scholarships are guaranteed but our coaches' contracts aren't, it's a bummer."
Rosen said he had not seen Mora since the coach briefly addressed his players in an emotional farewell Sunday, telling them that he loved them, appreciated their journey together and was always just a phone call away.
Mora had been unyielding in his support of Rosen, who was widely questioned for his social commentary on Instagram and Twitter and antics such as the installation of a dorm room hot tub and the wearing of a bandanna profanely taking aim at President Trump.
"We all are forever indebted to him," Rosen said of Mora. "He has helped me grow up, mature, get closer to becoming a man. I mean, I've made a lot of mistakes and he's always been by my side when I think a lot of people maybe wouldn't."
Several UCLA players said they wanted to beat Cal as a tribute to the coach who recruited and nudged them into adulthood; a victory over the Golden Bears would likely secure the Bruins' fifth bowl appearance in Mora's six seasons.
But UCLA never won a Pac-12 championship, never appeared in a major bowl nor advanced to the four-team playoffs despite having two of the top quarterbacks in school history, Rosen and predecessor Brett Hundley.
The Bruins played USC for a spot in the Pac-12 title game during Rosen's freshman season but were knocked around during a 40-21 loss, their defense missing injured stars Myles Jack, Eddie Vanderdoes and Fabian Moreau.
Injuries have been a constant nuisance throughout Rosen's career. He missed half of his sophomore season after getting knocked to the turf and hurting his throwing shoulder against Arizona State. The Bruins finished 4-8 but were largely given a pass because of Rosen's extended absence.
"We all are forever indebted to him. He has helped me grow up, mature, get closer to becoming a man.
Josh Rosen on Jim Mora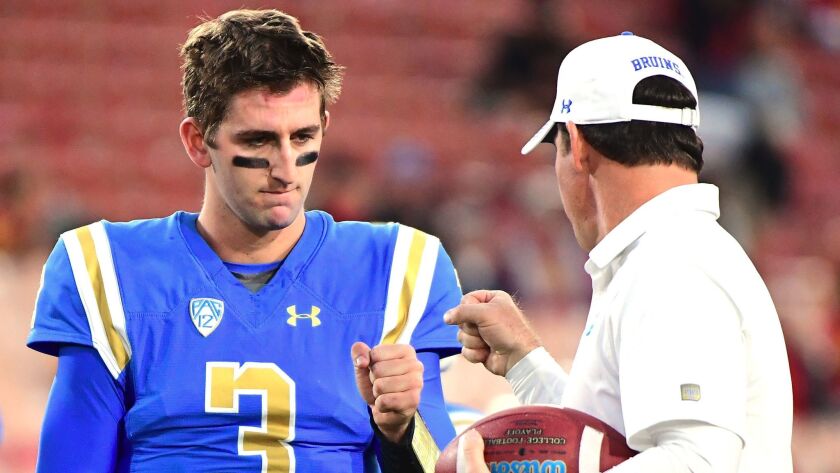 This season started with promise after the biggest comeback victory in school history, a 34-point rally against Texas A&M. But the shoddy defense that resulted in that huge deficit has largely sabotaged a prolific offense led by Rosen, whose 3,515 passing yards leave him only 226 short of passing Hundley for first place on the school's single-season list.
Rosen acknowledged that Mora's successor would figure into the calculus of whether he returns for his senior season or enters the NFL draft, where he's considered a possible top pick.
"Everything matters when it comes to a decision like that," Rosen said, "so I'll take up all the different sorts of variables into the equation."
"I haven't really started to form the equation yet," Rosen said when asked if the disappointment he's experienced as a Bruin might compel him to return in 2018 to give college football one more try. "I see what you're trying to get at but, nah. Maybe in a few more weeks I'll give you a good answer."
Follow Ben Bolch on Twitter @latbbolch
---
Get the latest on L.A.'s teams in the daily Sports Report newsletter.
You may occasionally receive promotional content from the Los Angeles Times.