Memories of Bruins' title game win in Wooden's farewell linger as UCLA and Kentucky renew acquaintances
The old Kentucky basketball coach answered the phone with pleasantries dipped in a molasses drawl. He spent the next few seconds chewing on a reporter's question like a thick wad of tobacco.
"I don't want to talk about that," he said flatly. "That was a bad moment."
Joe B. Hall went on to chat for 10 minutes about the very subject, the question no longer leading to Southern discomfort. Would he talk about John Wooden's final college game, against his Kentucky Wildcats in the 1975 NCAA tournament championship?
Why, yes, he would. Happily.
Even those vanquished by the legendary UCLA coach have long appreciated the weight of the moment. Wooden was saying goodbye on college basketball's biggest stage, one he had owned for more than a decade while leading the Bruins to nine national titles over the previous 11 seasons.
Winning was only part of Wooden's allure. He had become a life coach, his maxims applicable beyond basketball and no detail too small to draw his attention, including the proper way to pull on socks to avoid blisters. It was an approach that made him universally admired, if not beloved.
"I would have been on his side had I not been coaching against him," Hall said this week as the Wildcats and Bruins prepared to play again Saturday at Rupp Arena in Lexington, Ky.
Wooden sprang his retirement announcement on the Bruins in the locker room two days before the championship game, after they had defeated Louisville in a national semifinal. His departure had long been rumored. There was the heart attack two years earlier and an aborted plan to retire following the 1973-74 season after his wife, Nell, talked him out of it.
Pete Trgovich, then a senior guard, said this week he figured Wooden's departure was imminent because the coach had promised the signing class before his that he would be around for the entirety of their careers. But Wooden had stopped making that promise.
Even so, some people believed Wooden might continue to coach, even as he approached 65. UCLA sophomore forward Richard Washington said he dismissed senior teammate Dave Meyers' chatter about Wooden possibly calling it a career as a motivational ploy.
"I thought he was just saying that trying to fire me up, because he really wanted to win the championship that year for Wooden," Washington said this week.
The Bruins had lost to North Carolina State in a 1974 national semifinal that ended their run of seven consecutive titles. They had also lost national player of the year Bill Walton and Jamaal Wilkes from that team to the first round of the NBA draft.
What UCLA lost in star power, it seemed to gain in solidarity on the way back to the Final Four.
"We knew we had to rely on each other and we had to rely on Coach," Washington said.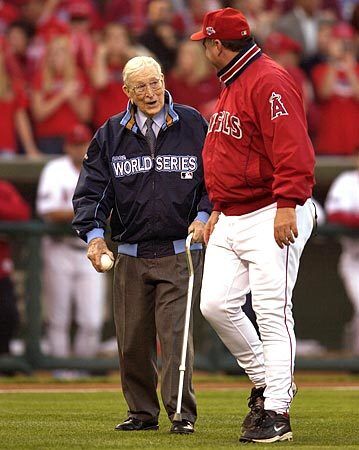 Wooden, who was a big baseball fan, walks with Angels Manager Mike Scioscia on his way to throwing out the first pitch at a World Series game in Anaheim in 2002.
(Wally Skalij / Los Angeles Times)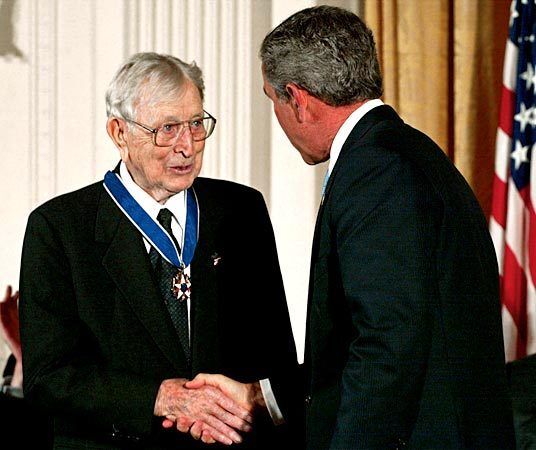 President George W. Bush shakes hands with Wooden at the White House after presenting him with a Presidential Medal of Freedom on July 23, 2003. Wooden was honored for his achievements as a coach and teacher and for a lifetime of integrity, grace, and excellence.
(Alex Wong / Getty Images)
Current UCLA basketball coach Ben Howland joined Wooden at the L.A. Coliseum in May 2008, when a plaque honoring Wooden was unveiled.
(Gary Friedman/Los Angeles Times)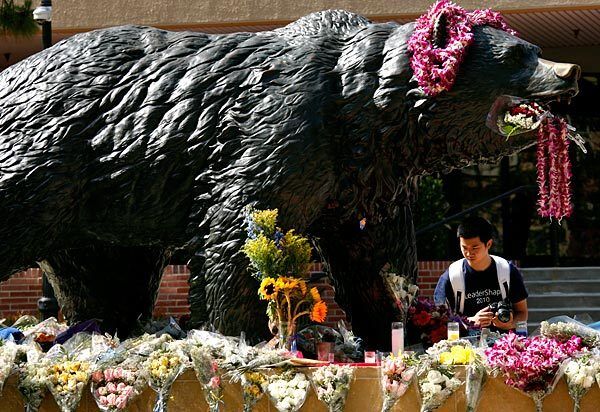 UCLA freshman Austin Quan, 19, pays his respects to the coach at a campus memorial site.
(Genaro Molina / Los Angeles Times)
Washington put UCLA in the championship game by sinking a 10-foot turnaround jumper with two seconds left in overtime against Louisville. That would become the second-most dramatic moment of the night after Wooden announced his retirement minutes later in the locker room.
The coach described his players' reaction as "quietness." The underclassmen, in particular, seemed stunned.
"It caught me completely off guard," Washington acknowledged.
Wooden then appeared before reporters to repeat his announcement. Some of the fallout was literal.
"I was sitting in the audience in a chair, and when he announced it, I fell out of my chair," Hall said.
Wooden told his players his leaving should have no impact on the title game against Hall's Wildcats at the San Diego Sports Arena. Trgovich said the Bruins didn't need an extra nudge, already believing they were the superior team with the championship pedigree.
Hall was in only his third season at Kentucky after replacing the celebrated Adolph Rupp. His team the season before had missed postseason play after finishing with a .500 record. But these Wildcats, featuring four freshmen dubbed the "Super Kittens," were deep and physical.
UCLA appeared tight early, its shots mostly missing, as if the Bruins wanted too badly to send Wooden out a winner. Kentucky went up by six points. Then Trgovich's jump shots started falling against the Wildcats' zone defense and Ralph Drollinger, UCLA's 7-foot-1 backup center and the team's only substitute in the game, started to outmuscle his counterparts around the basket after two Kentucky starters got into foul trouble.
The Bruins were ahead by a point with about 6½ minutes left when Meyers rose for a jumper and collided with Kentucky's Kevin Grevey. The whistle blew. Offensive foul on Meyers.
Meyers banged the floor with his hand in disgust, earning a technical foul. Onto the court bounded the mild-mannered Wooden.
"It was unusual to see Wooden like that," Washington said. "He very rarely lost his temper."
As a referee tried to tug Wooden by the elbow back to the bench, Hall said, he realized what he was up against.
"I saw the power that John Wooden had," Hall recalled. "I walked to the scorer's table and the referee turned and pointed his finger at me and said, 'You get back on that bench!' He talked to me like a stepchild."
Even with Wooden allowed to roam, the Wildcats were given an opening. They couldn't take it. They missed the technical free throw. They missed the front end of a one-and-one opportunity. They committed a turnover on an inbounds pass.
"It so disrupted Grevey he couldn't even see the basket," Hall said of the sequence involving Wooden coming onto the court.
UCLA got back to making its shots, allowing Wooden to resume his habit of shaking a raised fist whenever something happened to his liking. He did it after another Washington jumper fell and he did it when the final buzzer sounded and the Bruins had prevailed, 92-85, prompting sophomore forward Marques Johnson to joyfully fling the ball toward the rafters.
As cameramen, fans and reporters flooded the court, Wooden embraced Johnson and shook hands with Meyers. He hugged a woman who was crying and received a kiss on the cheek from an old friend.
Decorum was abandoned during the postgame interviews when some of the 200 reporters applauded Wooden and the end of a 27-season run that included 766 games, 620 victories and 10 national championships.
"Yes, I'm sad," Wooden told reporters that night. "Sad that I'm leaving the youngsters and all the wonderful associations I've made … you men, my coaches, other players and coaches. I haven't agreed with you on everything, but we all agree on our love for this game."
In the locker room, Wooden told his players he had never had a team he enjoyed coaching more than this one. Hall would go on to win the 1978 national championship and, like Wooden, remain fiercely loyal to his team in retirement. He turned 88 this week and will be there Saturday when the Bruins and Wildcats meet once more.
Hall sounded a bit like the late Wooden when he reflected on their only meeting as coaches.
"They're not great memories," Hall said, "but all memories are great, and every day coaching is a dream of a lifetime, win or lose."
Times researcher Cary Schneider contributed to this report.
---
Get the latest on L.A.'s teams in the daily Sports Report newsletter.
You may occasionally receive promotional content from the Los Angeles Times.