UCLA's football team, the consensus preseason favorite to win the Pac-12 Conference's South Division, is mired in fifth place.
Several reasons have been given for the collapse: the loss of quarterback Josh Rosen and others to injuries, players being held out for team rule violations, the inability of receivers to catch passes.
But the primary factor, some critics say, is Coach Jim Mora's switch from a spread to a pro-style offense while lacking the personnel to pull it off.
Before taking that leap, perhaps Mora should have retraced the steps of one of his UCLA predecessors, Dick Vermeil. Here's a bit of background:
When I arrived at UCLA as a freshman in 1973, Coach Pepper Rogers was running a high-scoring wishbone offense. It worked well against most opponents. But when the Bruins played teams with stout defenses that dared them to pass, they lost.
Surmising that UCLA could not win a Pac-8 championship utilizing a one-dimensional offense, I wrote multiple letters, published in the Los Angeles Times and Daily Bruin, arguing that the wishbone was a mistake and that a pro-style offense was required.
After UCLA lost to USC with a Rose Bowl berth on the line, Rogers bailed out and moved on to Georgia Tech.
Enter Vermeil. Plucked from the Rams' coaching staff, he had been an assistant at UCLA and Stanford and was regarded as a rising talent and strong motivator. Unlike Mora, who sometimes comes off as smug at news conferences, the charismatic Vermeil was a natural when dealing with the media, fans and students.
A few weeks after arriving on campus, Vermeil came to my dormitory for an informal chat, which drew a handful of students. My first question: "Are you switching to a pro offense?"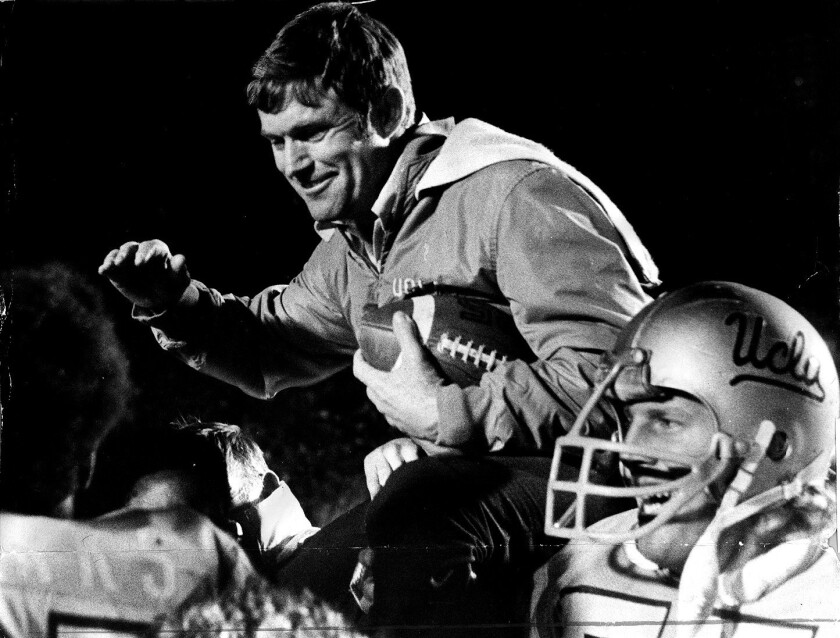 "Yes, we're going to implement a pro offense," Vermeil said. "But we don't have the right personnel for it. So I plan on using the veer offense for a couple years and then transition to a pro offense."
Vermeil never did get a chance to run the pro offense at UCLA. In his second season, UCLA defeated No. 1-ranked Ohio State, 23-10, in one of biggest upsets in the history of the Rose Bowl game. A month later, he was hired as coach of the NFL's Philadelphia Eagles.
So earlier this year, when Mora said UCLA was moving to a "multifaceted offense" that utilizes tight ends and fullbacks, a warning light went off for me. I wondered if, like Vermeil, Mora had looked before he leaped. The results indicate he did not.
UCLA has started 3-6, ranks 127th (out of 128 major college teams) in rushing, and its offensive linemen and running backs have struggled throughout the season.
Where does UCLA go from here?
Unlike Pepper Rogers, Mora is here to stay. His current buyout is nearly $15 million. More importantly, Athletic Director Dan Guerrero has already whiffed on Karl Dorrell and Rick Neuheisel, and it's doubtful he wants to go 0 for 3 on hiring football coaches. He'll stand by Mora.
So here is my advice for disgruntled Bruin fans: Ride out this transition and hope Mora recruits the right players for his new offense.
Sheehan is a Los Angeles Times design editor.
bill.sheehan@latimes.com
---