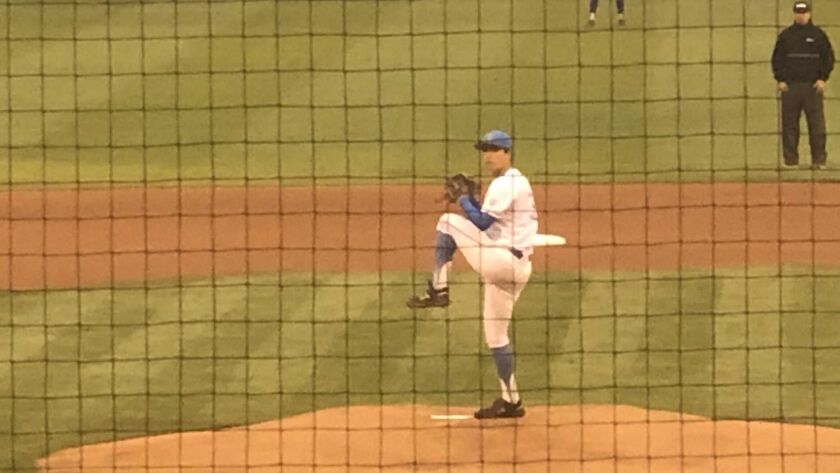 Sophomore center fielder Garrett Mitchell of UCLA has been a favorite of pro baseball scouts since his days at Orange Lutheran. Athletic, fast as a sprinter, tall and strong, he's supposed to one day be one of the best when he puts all his physical tools together.
"Mitchell always had that upside," UCLA coach John Savage said. "You could always dream on him."
There's no more dreaming needed. He's starting to perform like the star many have envisioned.
His two-run single in the fifth inning Friday helped ignite UCLA's offense and send the Bruins to a 5-2 victory over Nebraska Omaha in an opening game of the NCAA baseball playoffs at Jackie Robinson Stadium.
UCLA will play Loyola Marymount on Saturday at 7 p.m. in a battle of the only two unbeaten teams in the four-team regional.
The top-seeded Bruins (48-8) were looking a little uncomfortable through four innings, trailing 1-0 on fourth-inning home run by Brayden Eckhout.
They had collected only an infield single off right-hander Payton Kinney.
In the fifth, singles by Jack Stronach, Jeremy Ydens and Noah Cardenas loaded the bases with one out. Matt McLain tied the score with a sacrifice fly and then Mitchell drove in two more with a single to right.
UCLA fans that helped fill Jackie Robinson Stadium to a near capacity crowd of 1,748 breathed a collective sigh of relief.
During a 15-game stretch since April 28, Mitchell was hitting .486 with seven triples, three home runs, 19 RBIs and eight stolen bases. He said consistency is critical to everyone's success.
"Offensively, defensively, we know what we have to do and when we have that unified approach as a team, no one can really beat us," he said.
Ryan Garcia (10-0), the Pac-12 pitcher of the year, struck out six, walked one and gave up five hits in 81/3 innings. Kyle Mora got the save.
UCLA has won 11 consecutive games.
Loyola Marymount 3, Baylor 1
As Loyola Marymount ace Codie Paiva walked off the mound toward the dugout in the bottom of the eighth inning, Lions fans gave him a standing ovation.
Paiva allowed four hits in 72/3 innings while striking out five and walking one in helping the Lions defeat Baylor 3-1 in the opening game of the Los Angeles regional. It's the first win for Loyola Marymount in the NCAA playoffs since defeating Cal State Fullerton 6-4 in a 2000 regional at USC. Lions coach Jason Gill was an assistant at the time.
"It's a big deal for us," Gill said.
Paiva mixed his fastball, curveball and changeup in throwing 110 pitches. He came in with a 1.71 ERA as the WCC pitcher of the year. Nick Frasso, a Peninsula grad, retired the final four batters for the save.
"He did a heck of a job pounding the zone with a lot of different pitches," Baylor coach Steve Rodriguez said of Paiva.
Loyola Marymount scored a run in the second on a sacrifice fly by former El Camino Real standout Dylan Hirsch. After Baylor tied the score with a run in the bottom of the second, the Lions broke the tie with a two-run sixth.
Trevin Esquerra's double was misplayed in right field, allowing one run to score, and Tommy Delgado added an RBI single.
Delgado, a freshman from South Hills, finished with three hits.
---