Chip Kelly makes his return to Oregon, with his struggling UCLA team in tow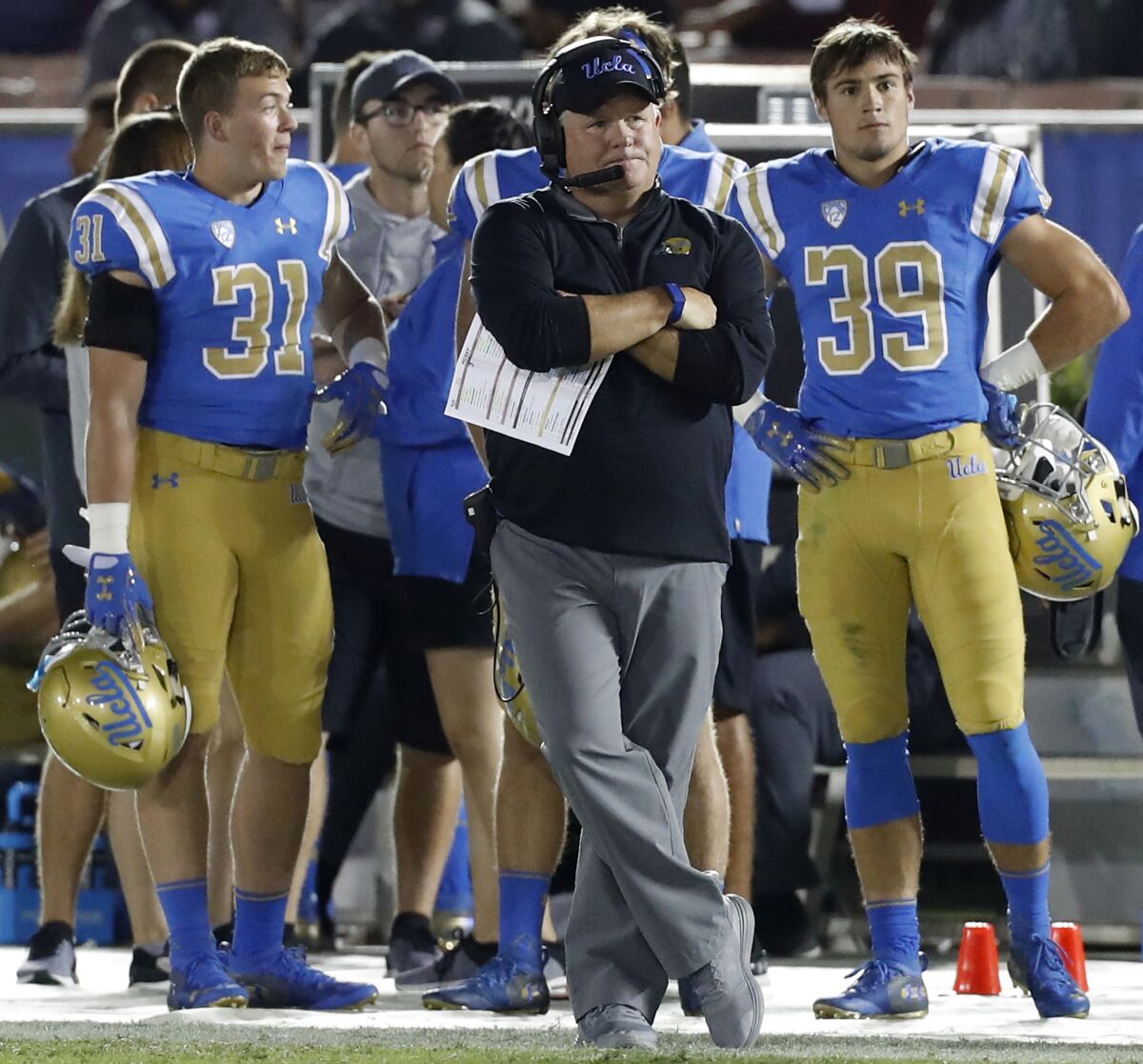 Reporting from Eugene, Ore. —
It will be hello to an old friend, nearly six years after never getting to say goodbye.
Many Oregon fans presumed Chip Kelly might be headed to the NFL after six dizzying years with the Ducks that included a 46-7 record as head coach and four major bowl appearances.
But there was no telling for certain at the time that his last game inside Autzen Stadium, against Stanford in November 2012, would represent a sendoff.
The final image of the coach as he left for a job with the Philadelphia Eagles came two months later, when local television cameras showed Kelly leaving the Ducks' football facility on a dreary Eugene morning in jeans and a black jacket with a grey backpack after bidding an emotional farewell to his players.
They weren't the only ones distraught over the departure of the coach who will return to his old home stadium on Saturday as UCLA's first-year coach.
"We hated to see Chip leave for the NFL and we groaned mightily when we saw him coming back to the Pac-12," said Ducks fan Tony Seminary, who made national headlines in 2009 when Kelly sent him a check for $439 in travel expenses after Seminary had emailed the coach in disgust over Oregon's listless play in a road loss to Boise State.
"We wish him well … except when we play him, and of course in the recruiting circles when we're competing against his program for talent. I, for one, won't be booing him, but I'm sure he'll hear some boo birds."
Among the well-wishers at the game will be Mike Bellotti, Kelly's onetime boss first as Oregon's head coach and then as athletic director. Bellotti will have made the drive to Autzen Stadium from his home in Bend, Ore., on the way to a winter residence in La Quinta, where he and his wife go to escape the Oregon gloom.
Bellotti said he expected the reception for Kelly among what's expected to be a close-to-capacity crowd to be a bit warmer than the typical chilly November day in Eugene.
"I think overall, there will be a certain amount of the crowd that will appreciate what he did for Oregon and a certain amount of the crowd that will boo the heck out of him — just the nature of the fan," Bellotti said.
Would that be because Kelly left Oregon for the NFL?
"Because he's back in the league coaching against them and maybe that he left and since he left, they fired one coach and another coach left," Bellotti said. "And so Oregon is on its fourth head coach in seven years, which is unusual because that's not the way Oregon has done business for a long, long time. They might yell at me because I'm the one who promoted him and put this whole thing in motion."
Kelly hasn't come close to matching the early success he enjoyed at Oregon in his first season with the Bruins. A loss to the Ducks (5-3 overall, 2-3 Pac-12) would give Kelly's Bruins (2-6, 2-3) as many defeats in his first season as he had in four years at Oregon.
But the often less-than-chipper coach was upbeat on the eve of his homecoming, joking about bubonic plague wiping out various players on his team and giving a deadpan response when asked if he had anywhere special to go this weekend in Eugene.
"I'm going to go to Autzen Stadium," Kelly said, "that's about the only place we've got time to go."
There won't be many reminders of Kelly's time in Oregon besides the earsplitting crowd. None of his full-time assistant coaches remains with the Ducks. The team's practice facility, the Hatfield-Dowlin Complex, was built for Kelly but not operational before his departure.
Kelly conceded during Pac-12 media day in August that returning to the stadium where his teams went 26-2, including an 18-game winning streak, "will be difficult, to be honest with you, because it's a special place. It's one of the real hallowed grounds of college football." He went on to crack that the fans' reception might hinge on the Bruins' record.
"If we don't have any wins," Kelly said, "they'll be excited when we come showing up."
Kelly was less contemplative about his return this week. He said his focus would be on beating the Ducks, not scanning the crowd, while lauding Oregon fans for creating "probably the best home-field advantage just because of the crowd and the setting and the stadium and how loud they can make it."
The decibels figure to increase once Kelly walks onto the field.
"I just don't see them booing him, I really don't," said Alex Miller, a graduate assistant under Kelly at Oregon. "I mean, maybe, but they're very smart people and he really took them to another level."
Follow Ben Bolch on Twitter @latbbolch
---
Get the latest on L.A.'s teams in the daily Sports Report newsletter.
You may occasionally receive promotional content from the Los Angeles Times.