UCLA gets back to .500 in Pac-12 play despite blowing lead against Oregon State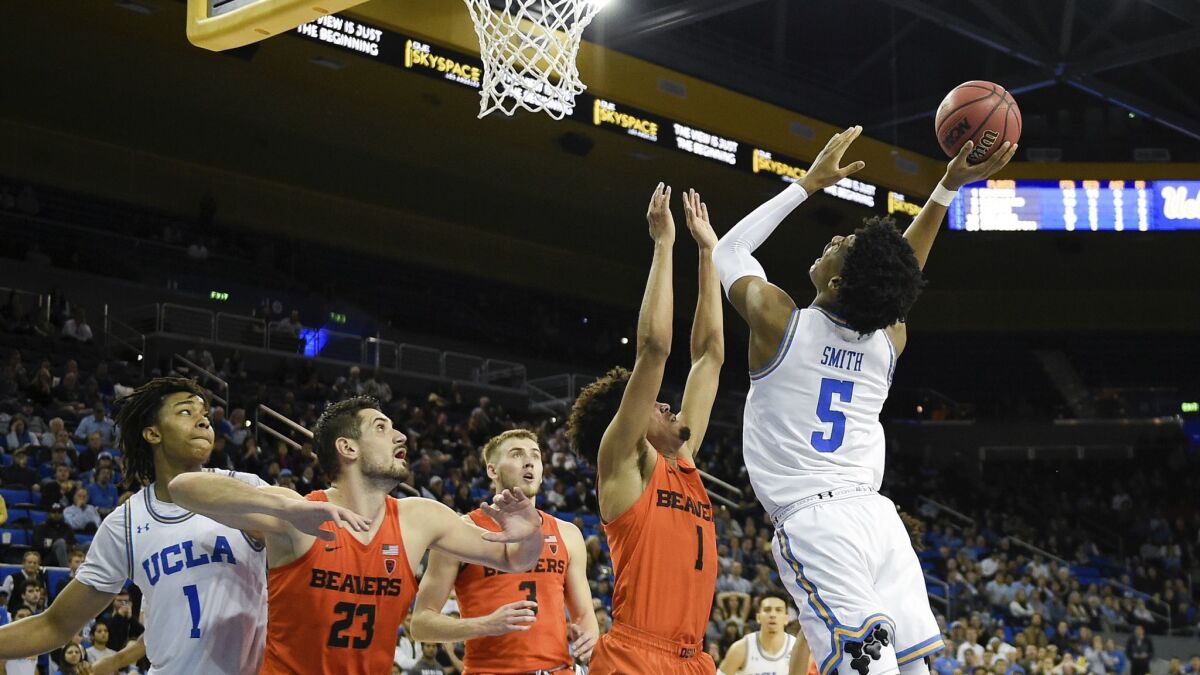 The crowd's audible unease signaled that it sensed, and feared, what was coming.
UCLA held a double-digit lead Thursday night in its first game on its home court since losing a 22-point cushion in an unfathomable defeat. The Bruins lost the lead again at Pauley Pavilion before fashioning a different, merciful ending against Oregon State.
Chris Smith put the finishing touches on his first start than more than a month, banking in a spinning layup with 21 seconds left to put UCLA ahead by a point. Everybody in blue and white could finally let out a long sigh of relief after the lead held up and the Bruins held on for a 68-67 victory over the Beavers.
"It's a huge play," UCLA interim coach Murry Bartow said. "You want a guy that can go in and make a big play like that."
Smith was fouled on the shot but missed the resulting free throw, giving the Beavers an opportunity to complete their comeback from 12 points down early in the second half.
But forward Tres Tinkle shot an airball on a three-point attempt and Oregon State fouled UCLA's Jaylen Hands with one second left. Hands missed both free throws, but Tinkle could make only an awkward heave that fell well short after grabbing the rebound.
UCLA had survived two Oregon State 7-0 runs in the second half, showing some poise and growth for a team that has repeatedly lost leads late in games this season.
"We really have to step on their throats from now on," Smith said, "instead of giving up leads like that."
Center Moses Brown finished with 14 points and 11 rebounds to lead five Bruins in double-figures scoring. Hands had 12 points and eight assists with only one turnover and Jules Bernard made eight of 10 free throws on the way to 10 points.
What qualified as UCLA's best victory of the season pulled the Bruins (14-13 overall, 7-7 Pac-12 Conference) to within one game of fourth-place Utah and USC in the Pac-12 standings, which is significant because the conference's top four teams receive a first-round bye in the Pac-12 tournament.
The Bruins' bid to get that extra day off will be challenging considering their final four regular-season games come against Oregon, USC, Colorado and Utah, teams they have gone a combined 1-3 against this season.
The Bruins looked like they were comfortably on the way to beating the Beavers (16-9, 8-5) when Hands stole the ball in the Oregon State backcourt and went in for a layup that gave UCLA a 60-49 lead with 8:01 left in the game.
But the Beavers immediately commenced their second 7-0 run of the second half to pull within 60-56. They eventually pulled even at 65-65 on reserve Antoine Vernon's three-pointer.
When Stephen Thompson Jr. (21 points) made a floater with 1:22 remaining to give the Beavers a 67-65 lead, it was their first advantage of the game. Hands made one of two free throws to pull the Bruins within one point and they got the ball back after Tinkle airballed a three-pointer. That set up Smith's go-ahead basket.
Sign up for our daily sports newsletter »
"When I got it across [midcourt], I looked up and it was just me and Thompson," Smith said. "So I figured, just attack and make something happen either for myself or my teammates."
Bartow made two changes in his starting lineup, inserting David Singleton and Smith in place of Prince Ali and Jalen Hill. Ali was sidelined with plantar fasciitis in his left foot that Bartow said could keep him out of the Bruins' game against Oregon on Saturday. Smith replaced Hill, Bartow said, because it gave his team "a more skilled guy at [power forward]."
Smith put the second-biggest charge of the night into the crowd early in the second half when he drove for a ferocious one-handed dunk over Oregon State's Kylor Kelley to put the Bruins ahead by 12 points.
"We were on the bench when it happened," Bernard said. "I ran down the bench and I was going crazy. It was an amazing play."
Then came the loudest cheers when Smith drove for the winning basket.
"What about this guy," Bartow said with a pat on Smith's chest as he passed him on his way out of the postgame news conference.
UCLA next
Saturday vs. Oregon, 7 p.m., Pauley Pavilion, ESPN2 — The Ducks will be looking for payback after their 17-point collapse in the second half of the teams' meeting last month in Eugene, where the Bruins prevailed with an improbable 87-84 victory in overtime.
Follow Ben Bolch on Twitter @latbbolch
---
Get the latest on L.A.'s teams in the daily Sports Report newsletter.
You may occasionally receive promotional content from the Los Angeles Times.