UCLA is changing its scheme and — it hopes — its attitude on defense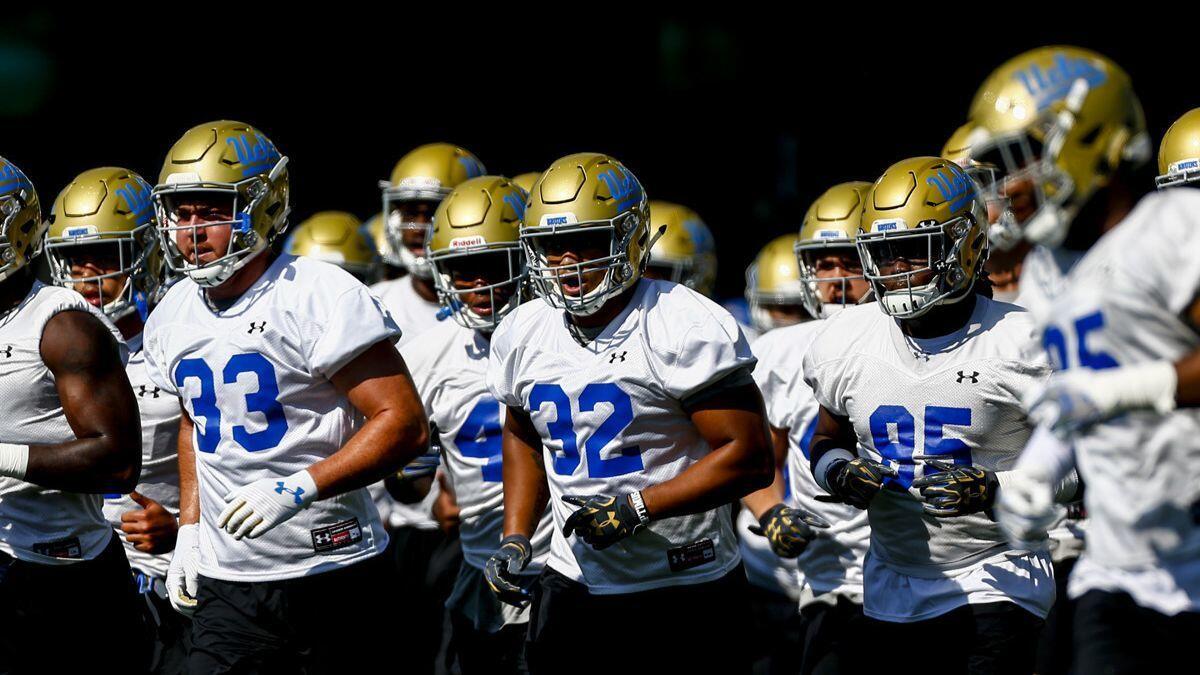 Marcus Moore tried to pack on extra pounds to play in UCLA's new 3-4 defensive alignment, which requires the linemen to take up more space while guarding a larger swath of territory.
While his weight fluctuated, he discovered that getting wider wasn't as important as being nastier.
"What really matters to me," Moore said Wednesday, "is my explosiveness, getting off the ball, striking my man and being violent with it."
That mentality has been drilled into the Bruins every morning of training camp. Defensive line coach Vince Oghobaase stationed his massive body on the back of a blocking sled Wednesday before shouting orders at the players gathered nearby.
"You've got to get angry!" Oghobaase said as the linemen struck the sled with alternating hands.
After one round of drills did not go to his liking, Oghobaase demonstrated the desired striking point and follow-through. He repeated his mantras like an echo.
"Effort!" Oghobaase said. "Violence! Technique!"
The Bruins were lacking in each of those categories last season, when they allowed a school-worst 3,736 rushing yards. It led to the dismissal of coach Jim Mora and defensive coordinator Tom Bradley and the arrival of a new scheme under successors Chip Kelly and Jerry Azzinaro.
The onus on the defensive linemen will change this season. Nose guards will have to avoid being overpowered by double teams and defensive ends will have to monitor two gaps instead of one. Coaches have asked the linemen to practice at both positions to enhance versatility and depth.
Everyone on the line appears to have embraced the team's new attacking mind-set.
"I love it," defensive lineman Chigozie Nnoruka said, "because I feel like that's the way you have to play defense — violent, assertive, really in-your-face kind of defense."
Defensive end Rick Wade also seems to have benefited from the change in philosophy because of the quicker bursts he's shown in drills after being slowed in the spring by a sprained Achilles' tendon. Wade said he's better suited for his new responsibilities, which include being matched up against guards as opposed to rushing around the edge of the offensive line.
"Just getting my hands on them, getting into them, getting my base before they get set and before they can get into me," Wade said, "is always an advantage."
Etc.
Running back Bolu Olorunfunmi and defensive back Octavius Spencer were absent from practice for a second consecutive day for unspecified reasons. … Linebacker Elijah Wade was wearing a yellow jersey, indicating he was recovering from an injury. … Receiver Audie Omotosho and offensive lineman Sam Mazzaro were full participants in practice after having been previously slowed by injuries. … Former longtime UCLA coach Terry Donahue, who guided the Bruins to four Rose Bowls in 20 years, spoke with the team before practice. "He just told us how blessed we are to be in an environment like this with some of the greatest coaches in the world, with some of the greatest facilities in the world," Nnoruka said, "so we should take advantage of everything we're given."
Follow Ben Bolch on Twitter @latbbolch
Get the latest on L.A.'s teams in the daily Sports Report newsletter.
You may occasionally receive promotional content from the Los Angeles Times.