Status of Wilton Speight for UCLA's game at Oklahoma remains up in the air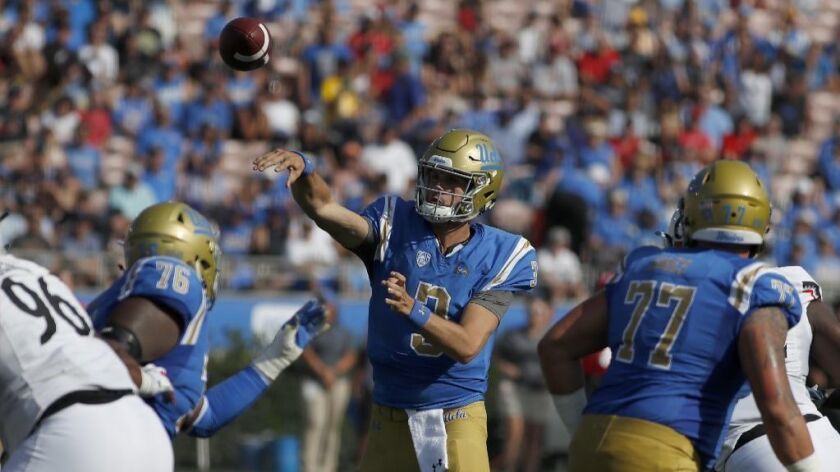 Wilton Speight gripped a football in his right hand Monday morning and made an underhanded flip to Dorian Thompson-Robinson.
The motion simulated a snap but was also a metaphor for the way things unfolded during UCLA's season-opening loss to Cincinnati on Saturday, when Speight handed the quarterback duties to Thompson-Robinson in the second quarter after suffering a back injury.
Two days later, Speight's participation during the 20-minute portion of practice that was open to reporters was limited to tossing his teammates balls and offering encouragement.
UCLA coach Chip Kelly said Speight's injury was "nothing serious" but remained unsure of his status for the Bruins' game at No. 7 Oklahoma on Saturday. Kelly doesn't have a rule that players must practice before playing but noted the obvious benefits of their participation.
"I don't think anybody's going to be successful if they don't have a week of practice and understand the game plan," Kelly said. "If that was the case, then no one should practice."
Thompson-Robinson replaced Speight against the Bearcats and would be the presumed starter against the Sooners if Speight is unable to play. Kelly said he was pleased with Thompson-Robinson's demeanor playing in his first college game as a true freshman.
"Nothing was too big for him," Kelly said. "When you talk to him after a series, he knew why [something happened], what the breakdown was or what the issue was on that play. He has a really good understanding of what we're doing."
Thompson-Robinson completed 15 of 25 passes for 117 yards but was sacked four times, lost a fumble and misfired on a fourth-down pass in the game's final minutes. He was his own harshest critic after the game.
"It needs work, definitely," Thompson-Robinson said of his performance.
Welcome back
UCLA's defense landed some reinforcements Monday.
Defensive back Mo Osling and defensive linemen Osa Odighizuwa and Moses Robinson-Carr practiced after being suspended for the Bruins' season opener for unspecified violations of athletic department rules.
Kelly said their participation against Oklahoma would be contingent on the way they prepared this week. None of the returning players was listed on the depth chart the team released Monday evening.
"Nothing's given to anyone here," Kelly said. "Everything's earned."
All three players were expected to log significant playing time before their suspensions. UCLA started true freshman Atonio Mafi and sophomore Martin Andrus along the defensive line in the absence of their suspended teammates.,
The Bruins will still be down three players against the Sooners, with tailback Soso Jamabo, tight end Devin Asiasi and center Boss Tagaola serving the second game of their suspensions for violating athletic department rules. Asiasi and Tagaloa must also sit out UCLA's game against Fresno State on Sept. 15.
Quick fixes?
After reviewing video of the opener, Kelly's to-do list sounded similar to those compiled by predecessor Jim Mora, with penalties and missed tackles among the priorities.
Kelly said the team's six penalties were correctable because four were for false starts, one was for offsides and one was for having 12 men on the field.
A bigger concern was the 15 missed tackles that Kelly said resulted in 75 yards gained after contact, including six first downs and a touchdown.
"There's a lot of things we need to clean up and that's how we approach things with them as a group," Kelly said. "We look at it very analytically and what can we improve upon and what were the mistakes that were made, what are the solutions to the mistakes?"
Etc.
Kelly, on simulating the noise the Bruins expect to hear at Oklahoma's Gaylord Family-Oklahoma Memorial Stadium: "We may get in trouble if we make it that loud in here." … Jamabo returned to practice as a full participant for the first time in about two weeks. … Linebacker Elijah Wade and defensive lineman Marcus Moore also shed the yellow non-contact jerseys they had worn in recent weeks. … Linebacker Leni Toailoa, who wore a sling on his left arm Saturday at the Rose Bowl, was absent from practice. ... Linebacker Mique Juarez walked into a trainer's shed during practice before sitting down to rest. … Left tackle Andre James said he expected the Bruins to increase their offensive tempo. … Kelly's teams never lost back-to-back games in the same season during his four years at Oregon.
Twitter: @latbbolch
---
Get the latest on L.A.'s teams in the daily Sports Report newsletter.
You may occasionally receive promotional content from the Los Angeles Times.