Busloads of fans cheer on tailbacks on both sides during UCLA-Fresno State game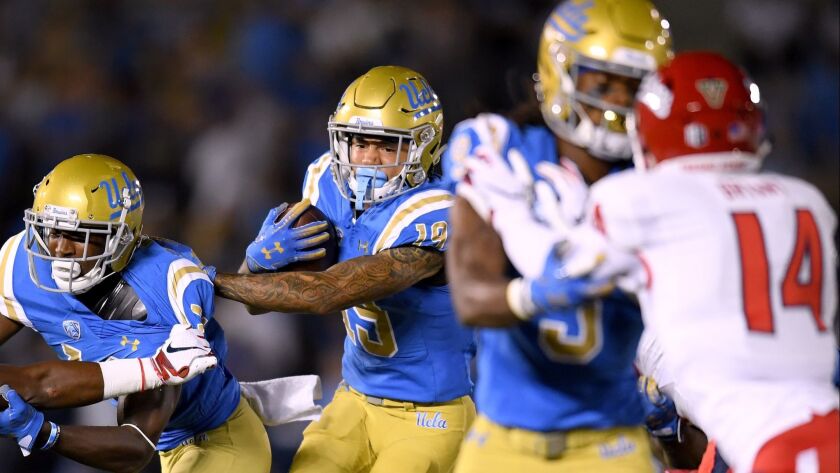 A cluster of fans inside the Rose Bowl cheered every time one UCLA tailback carried the ball.
They were equally enthusiastic about a certain Fresno State tailback.
More than 200 students from Tulare Union High arrived in Pasadena on Saturday with split allegiances, wanting their school's alumni to succeed in a college showdown.
UCLA's Kazmeir Allen and Fresno State's Romello Harris both played for the Redskins. The five busloads of students who made the three-hour drive from central California would have had a third player to track had Fresno State receiver Emoryie Edwards not broken his foot a few weeks ago.
It was the first time Allen and Harris were on the same field since 2015, when Harris was a senior in high school and Allen a sophomore. Allen replaced Harris in one of his first high school games after the older tailback suffered a broken finger, running for 321 yards and four touchdowns in a blowout victory.
Allen would eventually sprint into the record books, setting a national high school record last season with 72 touchdowns.
"I've had a kid who's faster in a 40-yard dash," Tulare Union coach Darren Bennett said, "but I've never had anybody faster when he puts his pads on than Kazmeir."
Now a redshirt sophomore with the Bulldogs, Harris spent one season at Washington State before transferring and sitting out last season. He ran for 47 yards and a touchdown during Fresno State's season-opening victory over Idaho.
Bennett arrived at the Rose Bowl strategically wearing cardinal and gold — his high school's colors.
"That way," Bennett said, "I can root for both of my players."
Bennett's teams have produced a slew of college running backs and a handful of NFL players, including Chargers tight end Virgil Green.
"We've had a lot of good players over the years," Bennett said. "Kazmeir could end up being the best one."
Allen, a true freshman, had six carries for 16 yards. Harris did not have any carries.
Back at it
UCLA senior tailback Soso Jamabo, who did not play in his team's first two games while suspended for an unspecified violation of athletic department policies, made his season debut against the Bulldogs.
Jamabo powered ahead for a two-yard gain on third and one in the first quarter, giving UCLA a first down. Jamabo also played on the Bruins' kickoff coverage team. He finished with four carries for 12 yards.
Center Boss Tagaloa and tight end Devin Asiasi did not play while completing their three-game suspension for violating athletic department rules.
They are eligible to return when UCLA opens Pac-12 Conference play Sept. 28 at Colorado.
Etc.
UCLA receiver Christian Pabico limped to the bench after appearing to sustain an injury late in the first half. Pabico had one catch for 16 yards before he was hurt. … UCLA was missing linebackers Leni Toailoa, Mique Juarez, Elijah Wade and Je'Vari Anderson because of unspecified injuries. … The Bruins featured Josh Woods on the cover of the game program in a tribute to the senior linebacker who suffered a season-ending knee injury during training camp. Woods posed next to fellow linebacker Keisean Lucier-South.
Follow Ben Bolch on Twitter @latbbolch
---
Get the latest on L.A.'s teams in the daily Sports Report newsletter.
You may occasionally receive promotional content from the Los Angeles Times.