UCLA's Chip Kelly has little to say about criticism from father of Dorian Thompson-Robinson
Chip Kelly apparently isn't one to muffle criticism, no matter the source.
The UCLA coach issued a verbal shrug Tuesday when asked about disparaging social media comments made by Michael Robinson, the father of Bruins quarterback Dorian Thompson-Robinson.
Robinson wrote on Twitter on Sunday that the Bruins suffered from "lousy coaching and play calling," described Kelly as a million-dollar coach who bears no responsibility for his team's winless start and called Kelly's four years at Oregon "simply a fluke."
Kelly's reply was to express only his support of free speech.
"I have no response," Kelly said on a coaches teleconference. "I mean, everybody's entitled to their opinion; that's what's the great thing about sports. When you win, people say good things and when you don't win, people don't say good things. That's life, you know?
"But we all have to play better here. On the offensive side of the ball, we didn't do a very good job on Saturday, so we have to call better plays, we have to execute better and we're all in this together."
Thompson-Robinson was among the Bruins who struggled during the team's 38-14 loss to Fresno State on Saturday, showing spotty touch with his passes, losing a fumble and having two passes intercepted.
Asked whether Robinson's comments could put the son in an awkward position with the team, Kelly said, "That's a question you should ask Dorian. I don't speak for other people. I love Dorian; Dorian's awesome to coach. If he makes a mistake, it's a one-time mistake. I've said that about 100 times about him so far. He's an awesome kid to coach and I've enjoyed coaching him."
Robinson posted his comments one day after the Bruins fell to 0-3 for the first time since 1971.
Responding to a Bruin Report Online tweet about Thompson-Robinson not playing well against the Bulldogs but getting no help from Kelly's play calling, Robinson wrote, "He is speaking on and about the factual… It is all about the coaching, lousy coaching and play calling… Coaching that is so bad it demands closed practices… Million dollar coach who bares [sic] no responsibility… Just random observations from a frustrated dad!"
Robinson also replied to a video of Kelly confronting his son on the sideline after his first interception of the game by pointing out the coach's struggles going back to his final season with the Philadelphia Eagles in 2015.
"Look, coach Kelly, if you wish to call him this is 4 and 26 for his last offensively called football games..." Robinson wrote. "Dorian has only played in 3 of the last 30 games... Can you say duped!"
Kelly is 7-23 with the Eagles, San Francisco 49ers and Bruins over his last 30 games.
Robinson's final tweet came in response to a UCLA podcast host questioning why Kelly did not run a semblance of his Oregon offense, even with a young roster.
"His years at Oregon was simply a fluke on his part..." Robinson wrote. "I am sure that he stood on the shoulders of the actual player callers... Random thoughts, outside looking in, closed practices..."
Robinson did not respond to a direct message on Twitter seeking additional comment.
Robinson had been more complimentary in his tweets after UCLA's first two games. Responding to a video of tailback Martell Irby picking up a blitz against Oklahoma that allowed Thompson-Robinson to complete a pass to Chase Cota, Robinson wrote, "Team, Family, Brothers are beginning to gel... Look out PAC12... No heads are hanging... U.C.L.A is coming like a storm..#4sUP"
After UCLA's season-opening loss to Cincinnati, Robinson posted a link to Kelly's postgame media session with a caption reading, "No head hanging here, not at UCLA…"
Thompson-Robinson has endured a bumpy start to his college career. He struggled during the team's opener after replacing injured starter Wilton Speight before rebounding nicely against Oklahoma and regressing versus Fresno State.
Through his first three games, Thompson-Robinson has completed 54.7% of his passes for 522 yards with two touchdowns and two interceptions. The quarterback deleted a tweet he composed before the Fresno State game reading "LET'S BE GREAT TODAY" and has changed his Twitter avatar and background to solid black.
Speight update
Kelly said Speight, who has not played since the second quarter of the opener because of a back injury, was progressing in his recovery but couldn't predict his availability for UCLA's next game.
The Bruins have this weekend off before opening Pac-12 Conference play at Colorado on Sept. 28. The team is scheduled to resume practice Wednesday.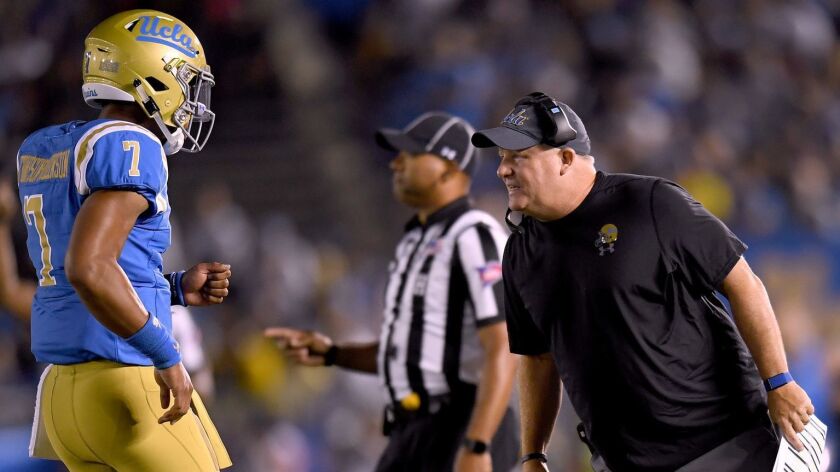 Follow Ben Bolch on Twitter @latbbolch
---
Get the latest on L.A.'s teams in the daily Sports Report newsletter.
You may occasionally receive promotional content from the Los Angeles Times.