Bruins left tackle Andre James takes the field against Arizona with a heavy heart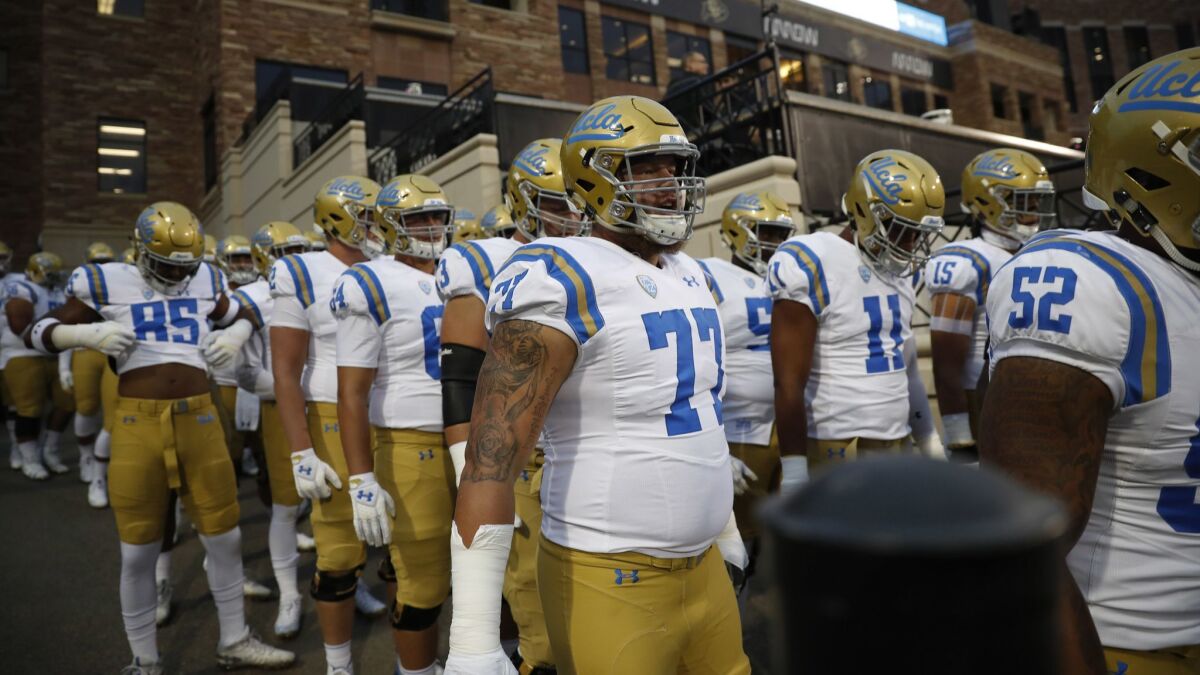 Only five days after his father's death, Andre James paid another tribute to the man he once called his inspiration.
The UCLA left tackle played against Arizona at the Rose Bowl after returning home to Utah earlier in the week for a celebration of his father's life. Marcus James died Monday after a more than yearlong battle with testicular cancer.
Andre missed practices Tuesday and Wednesday before rejoining his team. He was a game captain against the Wildcats while wearing No. 77, the number he picked this season because it represents the last two digits of his father's birth year.
Guard Christaphany Murray said earlier this week that the Bruins would rally around their teammate.
"He knows we're all brothers and we got his back every day," Murray said, "so my prayers are going to him, and whatever he has to deal with, he knows here we've got it" taken care of for him.
After finishing one round of chemotherapy, Marcus James was able to attend his son's game against Utah last November in Salt Lake City, near the suburb where Andre had grown up.
Andre also pinned a tweet on Twitter showing his dad smiling in a hospital room while looking at a television screen showing the final score of UCLA's epic comeback victory over Texas A&M last season.
"I play for things like this…" Andre wrote as the photo caption.
A farewell to 2018
This was the first game the Bruins played since learning that linebackerJaelan Phillips and tailbacks Bolu Olorunfunmi and Soso Jamabo would be lost for the season because of concussions.
Olorunfunmi had played in all six games before Saturday and Jamabo had played in three of four games after sitting out the season's first two games as part of a suspension for a violation of unspecified athletic department policies. Phillips has not played since UCLA's game against Colorado on Sept. 28.
Olorunfunmi detailed his feelings about having played the final game of his college career earlier this week on Instagram.
"Not everything goes the way we all plan that's why I believe in God plan and direction and I know I'll end up somewhere in the end," Olorunfunmi wrote. "Thank you Bruin family for your support my whole career. It sucks I won't be able to finish this one out, but this isn't the end to this chapter, my eyes are still set on the goal. And it starts from here. So if you with me, you WITH me. Thank you again Bruin Family and fans for your love I appreciate you all. #Draft '19."
In absentia
UCLA also played without linebacker Marcus Moore, who was suspended indefinitely earlier in the week for an undisclosed violation of team rules.
The Bruins have now played four games this season with at least one player suspended for disciplinary reasons. UCLA coach Chip Kelly announced before the season that six players had been suspended between one and three games.
Moore, who recently switched from defensive end to linebacker, had played sparingly this season, making three tackles in four games.
Liquid enhancements
For the first time this season, beer and wine was available in public areas at the Rose Bowl.
Fairway Eats, adjacent to the North Gate, served alcohol from the moment gates opened until 30 minutes after the end of the game. The sale of alcohol will continue for the rest of the Bruins' home games and before being reevaluated for future seasons.
Alcohol was also served as usual inside the TCL Lounge, Stella Rosa Lounge and Blue Moon Club, all private venues inside the stadium.
Etc.
UCLA tight end Jordan Wilson and long snapper Johnny Den Bleyker returned from injuries, but cornerback Nate Meadors, right tackle Justin Murphy and receiver Kyle Philips all did not play. … Donn Moomaw, UCLA's first two-time All-American who played linebacker for the Bruins from 1950-52, served as the honorary game captain.
Follow Ben Bolch on Twitter @latbbolch
Get the latest on L.A.'s teams in the daily Sports Report newsletter.
You may occasionally receive promotional content from the Los Angeles Times.