UCLA basketball flying high, and on charters, as it prepares to take on Oregon schools
UCLA's basketball team will make some news this week just by stepping on a plane. The Bruins will be taking charter flights for the first time this season.
The lack of charter flights has become a point of contention among some alumni who hope it doesn't deter top coaching candidates in the school's search to replace Steve Alford.
"When you talk to any head coach of a program that is of national note, they are chartering not just to some games but to all games," Sean Farnham, a former Bruins forward who is now an ESPN college basketball analyst, said last week. "And it's not just the elite that are doing it — Dayton charters every single flight. Dayton. Talk to anybody, it is part of recruiting. It is used against UCLA in recruiting, it is a convenience factor, it is a comfort factor."
Farnham, who is 6-foot-6, said he hated to envision what it would be like for 7-2 center Moses Brown to fly in economy class.
"Imagine how he is," Farnham said, "having to unravel his body and then go play a game."
UCLA, 9-6 overall and 2-0 in Pac-12 Conference play, will charter its entire trip to face Oregon (9-5, 0-1) on Thursday and Oregon State (9-4, 1-0) on Sunday. Previous trips to Las Vegas, Cincinnati and Chicago involved commercial flights, as well as a few of the accompanying snags. The Bruins were delayed for a few hours in Cincinnati on their way to Chicago.
"Deal with it," interim coach Murry Bartow said Monday with a laugh when asked how his players handled the delay.
UCLA is scheduled to take a mix of commercial and charter flights the rest of the season. Bartow acknowledged the lack of dedicated charter flights could be something UCLA's next coach will want to address.
"I don't think it will make a difference in us winning or losing a game," Bartow said. "Now, I think the next coach that comes in, that's something that they really need to study hard. … I mean, in the perfect world, chartering is nice."
Said Farnham: "If I was advising anyone who was going up for the job, I would say, 'Hey, you need to get a plane.' It's not like you have to have it at all times, but you need to have the ability to charter."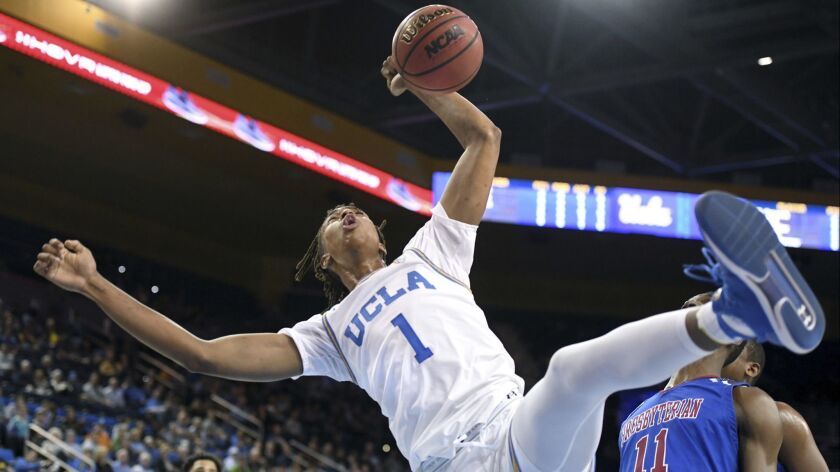 Gutty big Bruins?
With school back in session this week, Bartow said his team would have to lighten its workload. The Bruins had practiced twice a day several times during the winter break, habits that are no longer sustainable given the busier schedule.
One routine Bartow said he did want his players to continue was increasing their output in the weight room.
"We're not the grittiest, maybe toughest team," Bartow said. "We've got to raise the gritty bar and get a little grittier and I think we can do that by lifting a lot and being in the weight room a lot."
---
Get the latest on L.A.'s teams in the daily Sports Report newsletter.
You may occasionally receive promotional content from the Los Angeles Times.