As competitions go, the battle to become UCLA's starting tailback doesn't seem all that cutthroat.
Soso Jamabo, Nate Starks and Bolu Olorunfunmi are vying to replace Paul Perkins, but the contenders sound almost as if they would rather go into the season as a trio instead of a solo act.
Said Jamabo: "It's not anyone trying to separate themselves, it's just everyone trying to get better."
Said Olorunfunmi: "We're all best friends."
Said Starks: "There's a competition, but then we also love each other."
The Bruins will need more than universal admiration to replace Perkins, who finished his career as the third-leading rusher in school history with 3,491 yards and now plays for the New York Giants.
All three candidates combined for only slightly more than half of the rushing attempts that Perkins amassed last season as the workhorse. Jamabo rushed for 404 yards and four touchdowns, averaging 6.1 yards per carry. Starks gained 320 yards and scored five touchdowns with a team-leading average of 6.4 yards per carry. Olorunfunmi rushed for 190 yards, averaging 5.4 yards per carry, but did not score.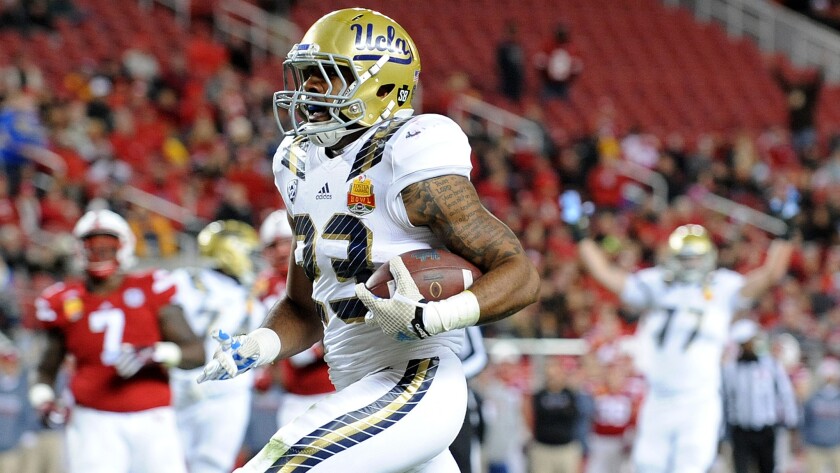 UCLA offensive coordinator Kennedy Polamalu said he would like one standout to surface but intended for all three to play. Each took turns with the first team Thursday, with Jamabo scoring a touchdown and Starks rambling for a big gain.
"You would hope in each game that one of them would kind of emerge in that game, and maybe it's the same guy in every game and we'll see," Bruins Coach Jim Mora said. "But I know this: I feel comfortable with all three of those guys playing at any time in the game and it's all because they have experience."
Starks has made the only start among the trio and has an edge in experience as a junior; Jamabo and Olorunfunmi are both sophomores.
Each features a different rushing style. Olorunfunmi is the most sturdy at 5 feet 10 and 220 pounds, with Starks comparing him to a bowling ball that knocks down defenders. The 6-3, 210-pound Jamabo is widely described as more of a finesse player who is elusive with his speed. Starks, who's 5-11 and 210 pounds, blends power and quickness, with a knack for breaking tackles.
There may be one commonality.
"I think we all run with the same tenacity," Olorunfunmi said.
Starks suggested that a different star could materialize each week based on his strengths best fitting the game plan.
Not that you'll likely hear one of the running backs lobbying for additional carries.
Said Jamabo: "Whatever happens, happens."
Said Olorunfunmi: "Whatever [Polamalu] chooses, I believe is best for the team."
Said Starks: "It's just going to be whoever's ready for whatever play."
All together now?
Starks said it feels like the Bruins are "more of a team now" as opposed to last season, when there were more cliques and selfish tendencies.
He attributed the change to Trevor Moawad, a mental conditioning coach who was hired by UCLA this summer as a consultant. Moawad has worked with Alabama since Nick Saban became coach in 2007 as well as the NFL's Jacksonville Jaguars and other teams. Mora said Moawad had been on the staff of five of the last seven college football national champions.
Accountability has been stressed in Moawad's meetings with players.
"Everybody had to look around and say, 'These are my brothers, these are the guys that we're going to be fighting with all year,' " Starks said, "and you've just got to respect those guys and have full trust in them that we're going to all do our jobs and get it done."
During one exercise, Moawad had players sit next to a teammate they rarely interacted with to get a better sense of others.
"Things like that are bringing us closer together as a team," Starks said.
Mora has also held team-building activities such as movie screenings, barbecues and a game of dodgeball. The Bruins were scheduled to go bowling Thursday night and hiking on Friday.
Disciplinary matters
Mora temporarily halted practice after a scuffle involving linebacker Lokeni Toailoa broke out, asking referees whether they would have ejected him in an actual game. Informed they would have, Mora made Toailoa leave the field.
"It's a long, lonely walk when you have to leave the field," Mora said, "and I wanted them to see that."
Mora said he also addressed the team recording all five of its penalties Thursday in the red zone. The Bruins have been among the most-penalized teams in college football in each of the last four seasons.
Quick hits
Receiver Theo Howard sat out practice because of a strained hamstring and receiver Darren Andrews was sidelined by a minor leg injury. Mora said he expected both players to return soon. … Offensive line coach Adrian Klemm said Poasi Moala was on track to start at guard next to Kenny Lacy after recovering from a broken hand that had slowed Moala for much of the last two years. … Ishmael Adams appears to have the inside track on wearing the No. 1 jersey that both he and Jamabo have worn in practice because Mora said he usually defers to veterans and Adams is a senior. … The Bruins will hold their first practice in full pads on Friday and their first two-a-day session on Saturday.
ben.bolch@latimes.com
Twitter: @latbbolch
---