Larry Brown, vagabond coach, faces UCLA, one of his many former teams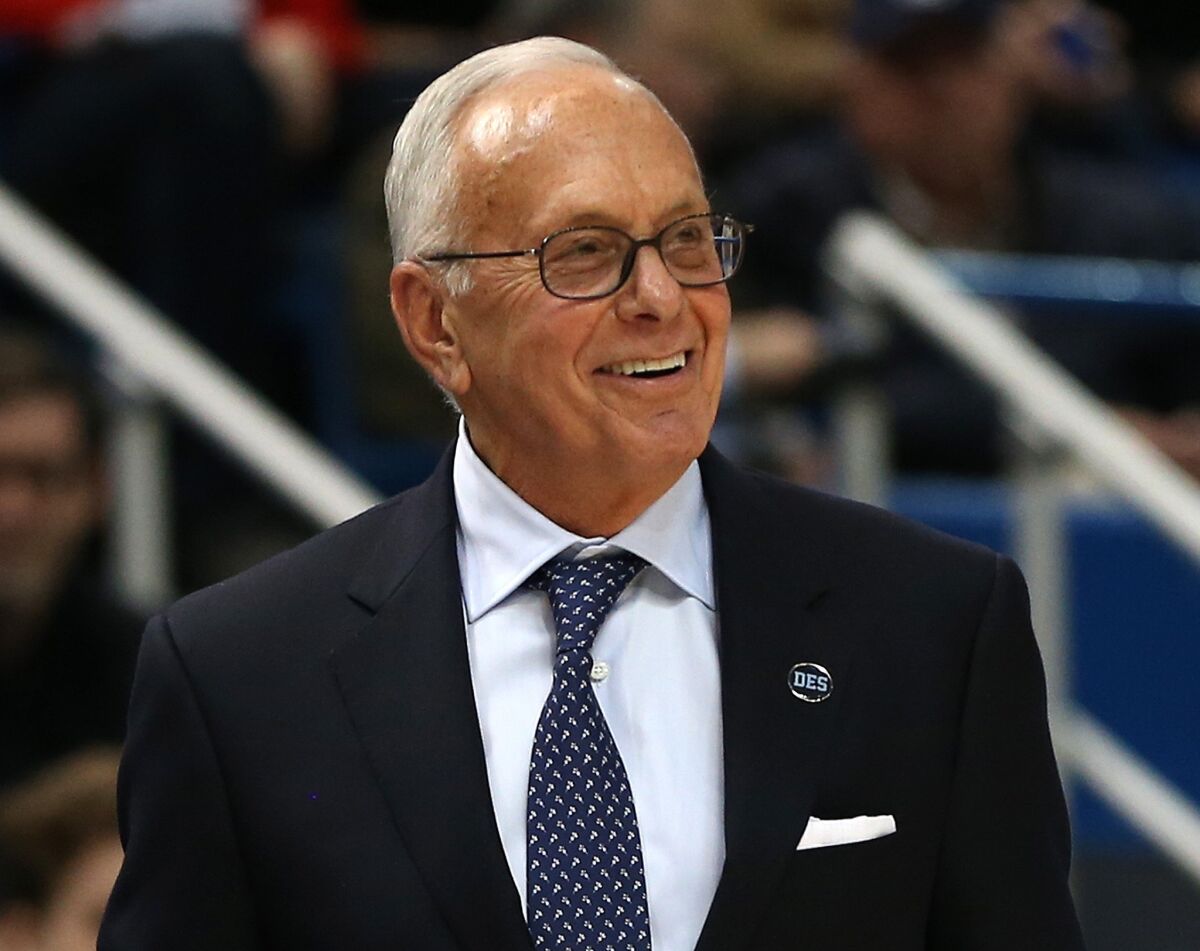 By the time Larry Brown reached his final season guiding UCLA's basketball team, he was just 10 years into a 41-year (and counting) coaching career. And already, he was becoming a star.
Nigel Miguel, an all-conference player for the Bruins, remembers when Brown walked into his house.
"It was a big deal," he said. "It would be like if John Calipari was walking in."
But Brown didn't last in Westwood. Miguel, who enrolled at UCLA in 1981, was recruited by Brown but never played for him. Brown's tenure at UCLA lasted just two seasons.
Since then, Brown has continued a Hall of Fame career with stints with 10 more teams. Perhaps no coach today can match the breadth of his resume.
Brown has coached 13 teams in the ABA, NBA and college. He has led eight different professional teams to the playoffs. He is the only coach ever to win both an NCAA championship and an NBA championship.
Never before, though, has Brown coached against the Bruins. That is about to change.
Brown, 74, is the coach of Southern Methodist, UCLA's opponent in its NCAA South Regional opener Thursday in Louisville, Ky. In his third season with the Mustangs, Brown has resurrected a long-struggling program and led it to its first NCAA tournament since 1993.
Brown and UCLA's shared past is brief, but not without twists. Brown took the UCLA job in 1979 and led the Bruins to the 1980 national championship game in his first season. In 1981, he left for the NBA's New Jersey Nets.
The season after he left, UCLA was put on NCAA probation and forced to vacate its title-game appearance after the NCAA found players had received impermissible benefits. Brown said the timing was coincidental.
"I happened to be the coach when they finally made the ruling, but I wasn't involved with any of that," he told Grantland.com in 2013.
Gary Maloncon, who would become a UCLA captain, said Brown told Bruins recruits he might leave for the NBA, but he encouraged them to stay.
"Overall, all the guys that have played for him and the guys that he recruited, nobody has anything bad to say about him," Maloncon said.
In conversations at the time, Brown said he wanted to stay in Westwood, but the pull of the NBA was too strong, Maloncon said.
Seven years later, in 1988, when UCLA was again looking for a coach, Brown seemed like an ideal fit. At the time, he was the coach of Kansas, which he, and All-America forward Danny Manning, had just led to the NCAA championship.
UCLA athletic director Peter Dalis flew Brown to Los Angles to discuss the position. When Brown left, Dalis believed Brown had accepted the offer.
When Brown returned to Kansas, though, he told a throng of cheering students and fans that he had a change of heart.
On Monday, a reporter asked him what it meant to play against the team he coached more than three decades ago. Brown said he hadn't thought much about it.
"I thought I coached everybody," he said, and he laughed.
---
Get the latest on L.A.'s teams in the daily Sports Report newsletter.
You may occasionally receive promotional content from the Los Angeles Times.