The pace figures to be breathtaking as UCLA opens spring football under Chip Kelly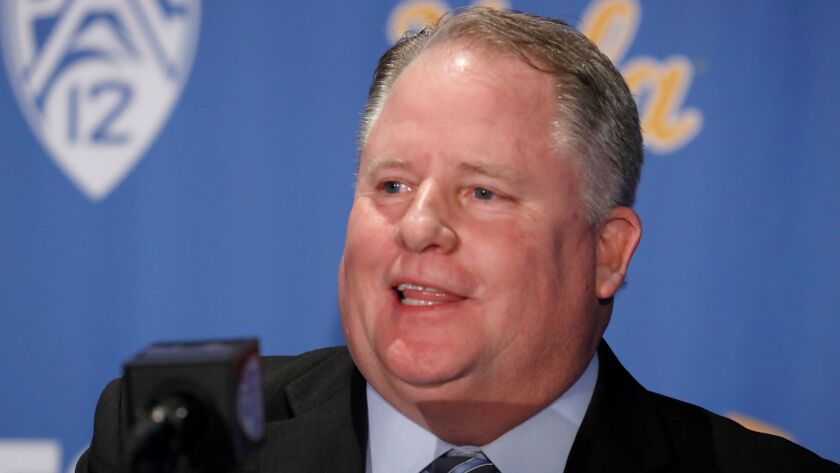 By the time you read this sentence, UCLA could have run its first five plays of spring football practice under Chip Kelly.
That might be only a slight exaggeration. Kelly was widely considered the biggest hire in the history of Bruins football in part because of the ability of his teams at Oregon to play at a pace that left opponents sucking air.
Playing fast means wearing down opposing defenses as games progress. That's why the Ducks routinely outscored their opponents by staggering margins in the fourth quarter.
Of course, UCLA's roster doesn't feature De'Anthony Thomas and Marcus Mariota, the stars of teams that helped Kelly go 46-7 with the Ducks from 2009 to 2012.
"Those players have all graduated," Kelly said in November when asked how closely his UCLA offense might resemble the one he ran with the Ducks.
Thankfully for Kelly, he has shown he can win big at the college level no matter who graces his roster. Kelly's ability to exploit mismatches and get his teams in superior condition have provided ample advantages that the Bruins hope to utilize in the quest for their first Rose Bowl game appearance since 1999.
Spring practice begins Tuesday. Here are the biggest questions for the Bruins:
How closely will UCLA's style mirror Kelly's teams at Oregon?
While the Bruins will presumably look a lot like the Ducks did under Kelly, they may also feature some important differences. Kelly said he intended to play to the strengths of his players, only a small fraction of whom he has recruited to fit his style.
"Anything you do with any scheme you run," Kelly said, "has to be tailored to the personnel you have."
Defensively, UCLA is expected to move to an attacking 3-4 scheme that emphasizes forcing turnovers. For all of the buzz about his offense, Kelly credited his defense at Oregon for generating the success he enjoyed; the Ducks led the nation with 131 takeaways during his four seasons.
Fans should get an early feel for Kelly's intentions during the spring. There should be loads of plays jammed into the two-hour practices because Kelly emphasizes repetition designed to make his schemes feel as simple as putting on a pair of socks.
Who will replace Josh Rosen at quarterback?
A definitive answer probably won't come until fall camp. True freshman Dorian Thompson-Robinson, who's expected to battle redshirt sophomore Devon Modster for the starting job, won't arrive on campus until this summer.
That leaves Modster, redshirt sophomore Matt Lynch and redshirt freshman Austin Burton to make their case for a head start in the competition leading up to the spring game on April 21. Graduate transfer K.J. Carta-Samuels could join the trio later this month once he completes his undergraduate degree at Washington.
Modster appeared fully capable of running an offense last season in the handful of games in which he replaced an injured Rosen, completing 64.6% of his passes for 671 yards with four touchdowns and no interceptions. He also led the Bruins on the last-minute drive against California that produced the game-winning field goal.
Thompson-Robinson, Modster and Lynch are all strong runners as well as passers, giving Kelly the versatility he prefers in a quarterback.
Can the spread offense revive the running game?
It's easy to forget that Oregon featured a run-first offense under Kelly given the success the Ducks also enjoyed in the passing game. But Kelly's spread formation leaned heavily toward the ground, running on about two-thirds of its plays.
Receivers are a critical component of Kelly's blocking schemes, triggering some of the longest runs, thanks to their efforts downfield against linebackers and safeties. Who will be running through those holes is the big question.
It should be fascinating to see the pecking order among returning tailbacks Soso Jamabo, Bolu Olorunfunmi and Brandon Stephens as well as newcomer Kazmeir Allen, one of the fastest sprinters in California. Kelly will also be able to utilize junior Joshua Kelley, one of the standouts of fall camp last year who had to sit out the 2017 season because of transfer rules.
UCLA's running game probably can't get any worse than it was the last two seasons, when it averaged 113.4 yards per game in 2017 (ranking No. 115 nationally) and 84.3 yards in 2016 (No. 127).
What new wrinkles will Kelly fold into his sports science program?
Customized protein shakes, hydration tests and GPS trackers were all devices Kelly used at Oregon and during NFL stops with the Philadelphia Eagles and San Francisco 49ers in an attempt to gain another edge.
They were designed to build strength, prevent injuries and assist players in recovery from demanding practices. Kelly has also historically told his players that he wants them to sleep at least 10 hours a night.
What college player couldn't get on board with that?
Will there be widespread position changes and defections?
There are lots of enticing possibilities.
Receiver Demetric Felton to running back? Defensive end Jaelan Phillips to outside linebacker? Cornerback Darnay Holmes to almost anywhere on offense?
Kelly has had more than three months to assess his roster and decide how much tinkering he would like to do in the spring to maximize his players' strengths.
There also figure to be the inevitable departures of those who either can't or don't want to adapt to Kelly's methods or his preference for open competition and players who are versatile, smart, big and athletic. He isn't for everyone, though he has a loyal following among those who like to win.
Twitter: @latbbolch
---
Get the latest on L.A.'s teams in the daily Sports Report newsletter.
You may occasionally receive promotional content from the Los Angeles Times.