UCLA hopes a reduction in turnovers leads to more victories on the field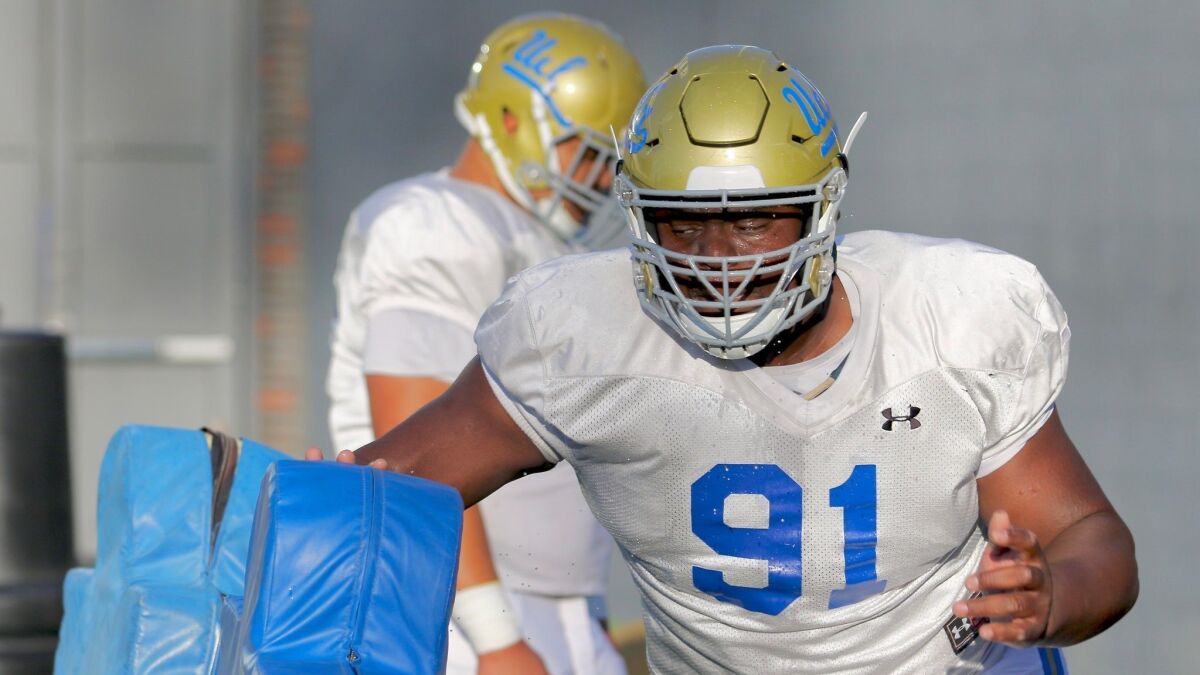 UCLA held its fifth spring football practice Thursday morning and second-year coach Chip Kelly addressed the improvement he sees as the Bruins hope to contend for the Pac-12 South title after finishing 3-9 last season — tying the school record for most losses in a season.
The 1940 team, coached by Babe Horrell, went 1-9 as a member of the Pacific Coast Conference.
"Our goal is just consistent improvement by each individual player," Kelly said. "Going into [practice] No. 5, our players are better than they were going into No. 1 so we've accomplished that. But we're not really a goal operation when it comes to spring ball, it's how does each individual become a better football player when they're out here, their knowledge and understanding of the game, then applying it to the field, and we're seeing improvement from our guys so we're pleased with that."
The inability to hold on to the ball hurt the Bruins last season and while they have made strides so far this spring, Kelly believes they are still a work in progress.
"It's not your imagination … we've done a better job, but even one is unacceptable," Kelly said. "We had two [turnovers] last practice — an interception where the receiver ran the wrong route and a fumbled exchange. Our standard and our benchmark is zero, so if you go through a training session with zero you're good. The problem with that is our goal on defense is to have multiple [turnovers], so if the offense has zero then the defense didn't have a good day and if the defense has multiple then the offense didn't have a good day. Sometimes in spring ball it's a back-and-forth deal, that's what makes you better. Iron sharpens iron."
Asked about the development of the defensive line, Kelly said his young group is getting used to college life and the speed of the game.
"Everything for those guys has just slowed down," he said. "They got thrown into the mix when they were true freshmen, so a lot of it is still figuring out how to walk around campus, let alone playing a college football game. They've got a better understanding of calls, fronts, alignments, things like that. They've got to learn how to win one-on-one battles."
Kelly called sophomore defensive lineman Otito Ogbonnia a "sky's-the-limit guy," whose potential is off the charts. "He's very explosive obviously, you can look at what he does in track and field. Size-wise he's well over 300 pounds right now and carries it really well. He should be a really disruptive force on the defensive line for us. He's smart, an intelligent football player and we're excited about how he progresses in Year 2."
Ogbonnia also throws the shotput and discus for the Bruins' track and field team.
"For me, it's about playing faster," Ogbonnia said. "Last year I was worried about making mistakes. Now, I have a solid idea of how the defense works. We've really improved on finishing our pass rush. I know we're going to get there. I've been doing track, I had a couple of indoor meets and another one this weekend, but we have some home meets coming up, so I won't miss many [football] practices. I'm pretty versatile. I can play left end or nose [guard]."
Anderson is back
Senior inside linebacker Je'Vari Anderson missed the 2018 season with concussions, but he worked diligently through the protocol and even had an interception in the first spring practice March 5.
"He's obviously very athletic," Kelly said of Anderson. "He can run, he's a sideline-to-sideline guy and he's a physical player, so we'll see as he progresses. The one thing Je'Vari did was he kept up with everything. So this isn't a whole new defense or special teams concept to him, he has a pretty good understanding of what we're trying to get accomplished."
Smooth move
Kelly cited the quick transition of junior Matt Lynch from quarterback to tight end.
"Matt's done a really nice job and has picked things up very quickly," Kelly said. "He was very cerebral as a quarterback, so the jump to another position has been great. He's really coachable. Whatever they tell him in meetings, you see it in practice that day. So I'm excited to see where it goes, because he's seen it from a quarterback perspective, now he's just seeing it from a different position."
Lynch, who weighs 225 pounds, will battle for playing time with Devin Asiasi and Jordan Wilson.
"It's different, but it's a lot of fun, especially learning a whole new side of the offense," Lynch said after practice. "I'm going into my fourth year. I wanted to do anything I could to get on the field, so I approached coach Kelly after talking to my family and just asked what the options were and I kind of put it on him like, 'Hey, what about switching to a blue jersey or being on special teams?' I'll do anything. I'm that kind of kid so if that's what you want to do I'll give 100% every day. At quarterback you have to know every install, so I kind of know what to do, now it's just working on little techniques to improve on."
---
Get the latest on L.A.'s teams in the daily Sports Report newsletter.
You may occasionally receive promotional content from the Los Angeles Times.