Aside from safety, Chip Kelly's first UCLA spring game goes 'according to plan'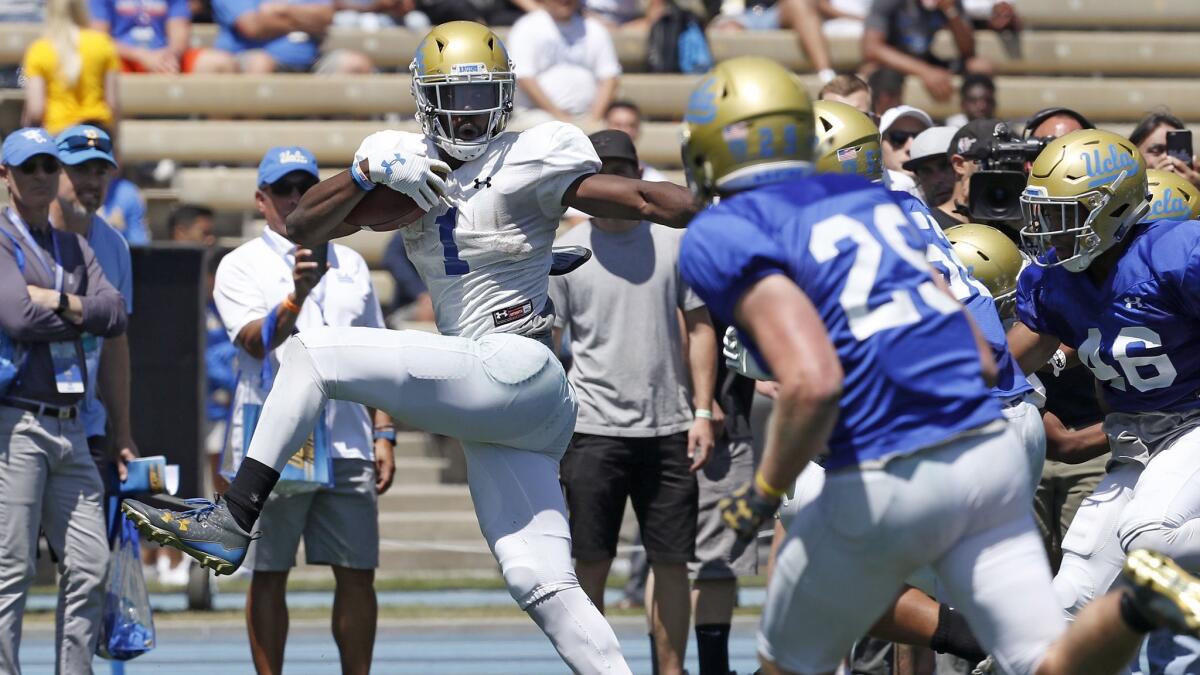 The plays were basic, the pace s-l-o-w. The game ended after only two quarters and the quarterback who might throw UCLA's first pass of the 2018 season was milling about in street clothes.
In other words, the Bruins' first spring football game under coach Chip Kelly was packed with more oddities than meaningful takeaways.
Defensive back Shea Pitts likely will never again be ejected for targeting … and be allowed to return because his team didn't have enough depth to absorb his absence.
Long snapper Johnny Den Bleyker probably will never again line up alongside just a punter and punt returner … and fling a ball through the back of the end zone, leading to a safety.
"Everything went according to plan except for the safety," Kelly said after the White team prevailed 16-10 over the Blue on Saturday at Drake Stadium. "I did not think that we would have a safety."
Just being able to stage a game might have been the biggest triumph of the day. Concerns over a lack of depth because of injuries — combined with the fact that a large group of freshmen won't join the team until this summer — had forced Kelly to consider alternate formats.
The Bruins ultimately got to hold the game they wanted, with each team running about 40 plays, a sufficient number to call it a game by what's normally halftime. The White team featured the first-team defense and the Blue the first-team offense. Players didn't know for which team they would play until finding their jerseys hanging in their lockers.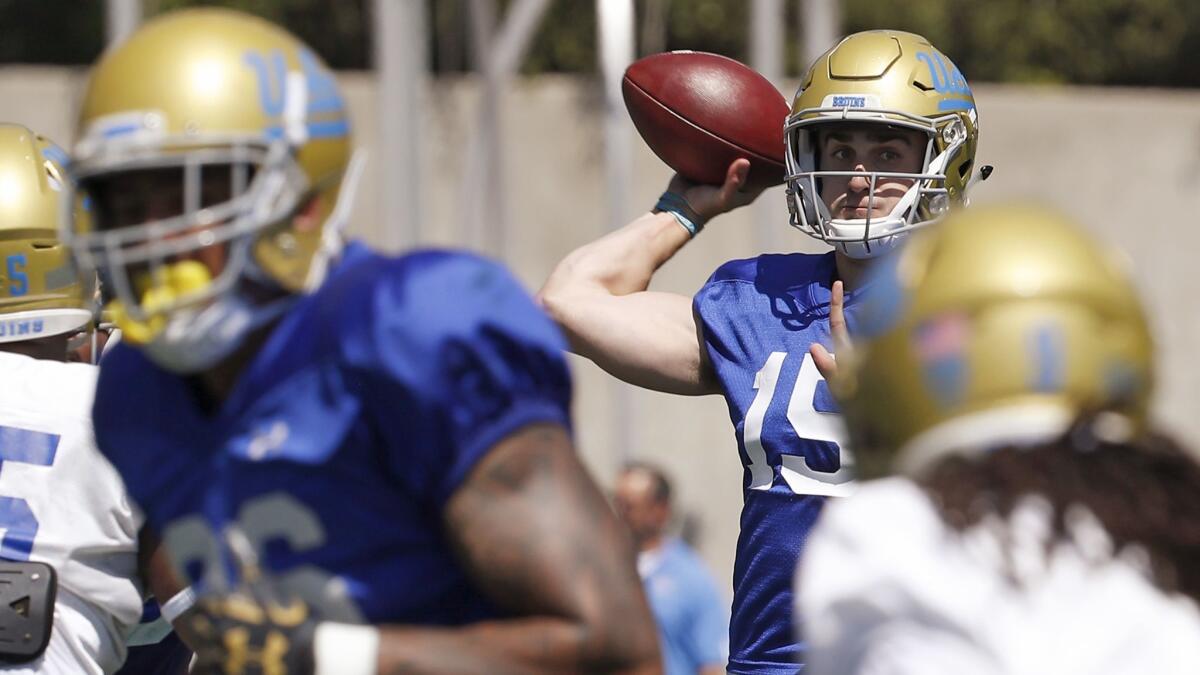 Former Bruins quarterback Josh Rosen watched from the sideline, as did future Bruins quarterbacks Dorian Thompson-Robinson and Wilton Speight, who are expected to join the team before training camp.
Freshman Austin Burton was the best of the current Bruins quarterbacks, completing six of eight passes for 110 yards and a touchdown, albeit against the second-team defense. Burton hit Damian Alloway in stride for a 58-yard completion and later connected with Demetric Felton on a 34-yard gain.
The other three quarterbacks each had a pass intercepted, but they weren't exactly running the offense the Bruins expect to unveil in their season opener against Cincinnati on Sept. 1 at the Rose Bowl.
"We just wanted to get some plays in, get out in front of everybody and show them a little bit of the basics," said redshirt freshman quarterback Matt Lynch, who completed three of 11 passes for 35 yards with one touchdown and one interception. "But we still have a lot behind the scenes."
The Bruins hope those under-the-radar efforts can spark a quick turnaround after going a combined 10-15 the last two seasons, leading to the hiring of Kelly and a new way of doing things.
"Every little detail is like the biggest issue," left tackle Andre James said. "I think that's great. That's [the difference] between the wins and losses, honestly, just the little stuff."
James said footage of practice breakdowns have included squares placed over players who are not executing properly and circles over players who are doing what coaches want.
"It rolls a little bit, the play goes," linebacker Krys Barnes said of the footage players watch in meetings, "and then there's a square [over you], like 'Dang it!' You kinda feel bad about it, but you just learn your lesson and move on from it and then hopefully the next time you come in there, you don't have that same square."
Barnes might have earned a circle when he intercepted quarterback Devon Modster's second pass of the game. Defensive backs Mo Osling and Elijah Gates also had interceptions, and converted tight end Moses Robinson-Carr preserved the White's victory when the defensive lineman sacked Modster on the final play of the game after a botched snap.
Kelly watched most of the game a few yards onto the field from the White team's sideline, occasionally roaming closer to the plays. He said he was pleased the game provided coaches with lots of film to assess after slowly layering in his schemes over the five weeks of spring practices.
Not that players expect what they've seen so far is necessarily what they'll get by the season opener.
"They just kept coming all spring ball, so who knows when they'll stop," Lynch said of Kelly's plays. "He's got everything of the mind up his sleeve."
Follow Ben Bolch on Twitter @latbbolch
Get the latest on L.A.'s teams in the daily Sports Report newsletter.
You may occasionally receive promotional content from the Los Angeles Times.