For UCLA, it's Love and loss at Stanford
Reporting from Palo Alto —
It was more of the same in a series that seems stuck on repeat.
UCLA had some momentum and some hope against Stanford. Then things fell apart in a big way.
Crucial mistakes by Bruins receivers and a badly faltering defense were at the center of the latest implosion, helping the Cardinal run away with a 58-34 victory Saturday night before 48,042 at Stanford Stadium.
Stanford notched a 10th consecutive victory over the Bruins despite shuffling through three quarterbacks after starter Keller Chryst was hurt midway through the first quarter. Somewhat surprisingly, its offense did not solely consist of tailback Bryce Love from the moment Chryst left the game — although Love certainly did his part, shredding the UCLA defense for 263 of the Cardinal's 405 yards rushing.
"I can't remember ever being around a run defense that gives up so many big plays in my career," Mora said. "It's something we've worked really hard on."
Cardinal backup quarterback K.J. Costello, who alternated series with Ryan Burns, completed his first two career touchdown passes and ran for another score. Love had a 69-yard touchdown run that extended the Cardinal's cushion to 51-34 in the fourth quarter, part of a run of eight consecutive Stanford drives that ended in scores.
UCLA's offense continually stumbled over itself. Receiver Theo Howard dropped a potential touchdown and lost a fumble after making a catch. Bruins receiver Christian Pabico also lost a fumble after making what appeared to be a first-down catch.
"A lot of things were going right and then all of a sudden they started to go wrong," UCLA coach Jim Mora said after his most lopsided loss to the Cardinal.
Those errors hurt Josh Rosen's bid to rally the Bruins (2-2 overall, 0-1 Pac-12 Conference) after the quarterback acknowledged earlier in the week that there would be special significance to beating Stanford (2-2, 1-1) given that Mora had never beaten the Cardinal since coming to Westwood.
Rosen completed 40 of 60 passes for 480 yards and three touchdowns with two interceptions and the Bruins managed a semblance of a running game with Soso Jamabo's 100 yards in 12 carries making him the first UCLA tailback to reach triple digits in rushing yards since Paul Perkins in November 2015.
It wasn't nearly enough to keep Mora from falling to 0-7 against the Cardinal after the UCLA defense let Stanford pile up 553 yards of offense.
Things had unraveled for UCLA in the third quarter when Pabico appeared to have a first down on a third-and-20 play. Pabico caught a pass from Rosen and was surging ahead amid a scrum of players when Stanford cornerback Quenton Meeks stripped the ball and cornerback Alameen Murphy recovered.
UCLA's defense appeared to hold when Stanford lined up for a 50-yard field goal, but the Cardinal were called for delay of game. That brought Stanford's offense back onto the field, facing fourth and sixth, and the Cardinal converted when Costello completed a nine-yard pass to tight end Dalton Schultz.
After a few big runs by Love, fellow running back Cameron Scarlett plunged into the end zone for a one-yard touchdown that gave the Cardinal a 37-20 lead. It was pretty much the ballgame.
UCLA was hoping that its run game could take another step toward respectability while making its offense more dynamic. Power run games had helped USC and San Diego State control the game during victories over Stanford in recent weeks.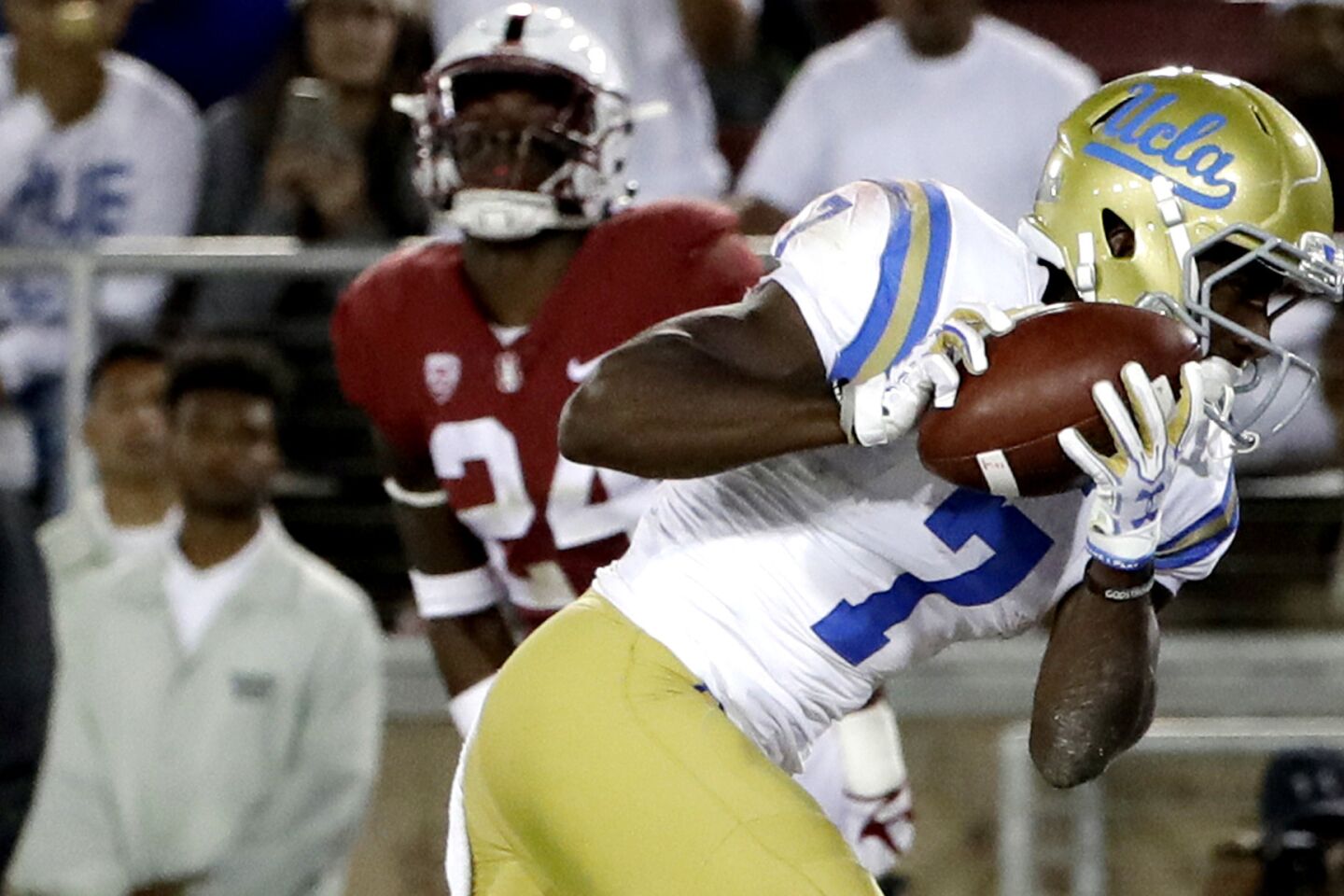 UCLA wide receiver Darren Andrews catches a touchdown pass during the first half.
(Marcio Jose Sanchez / Associated Press)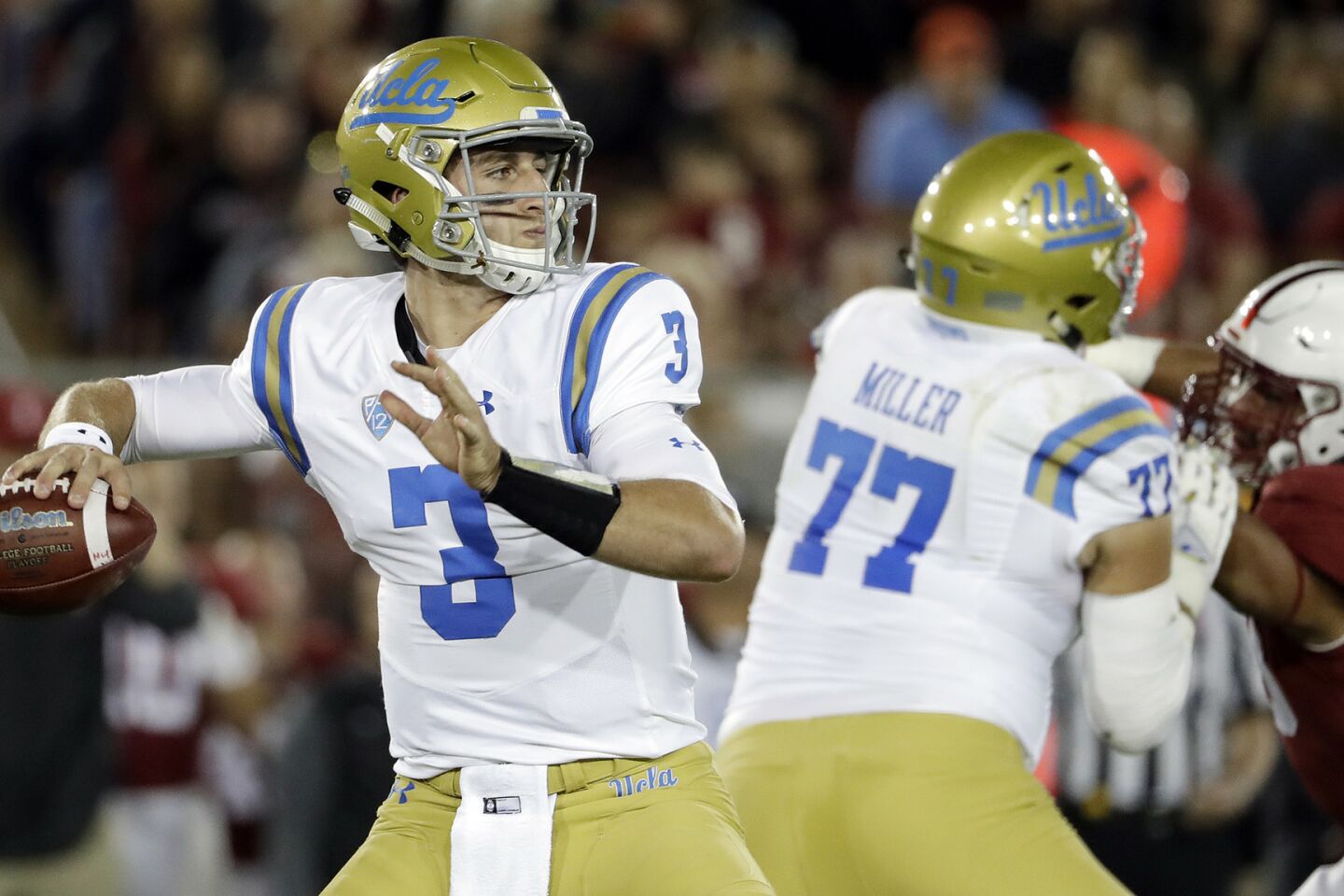 UCLA quarterback Josh Rosen prepares to throw a pass against Stanford during Saturday's game.
(Marcio Jose Sanchez / Associated Press)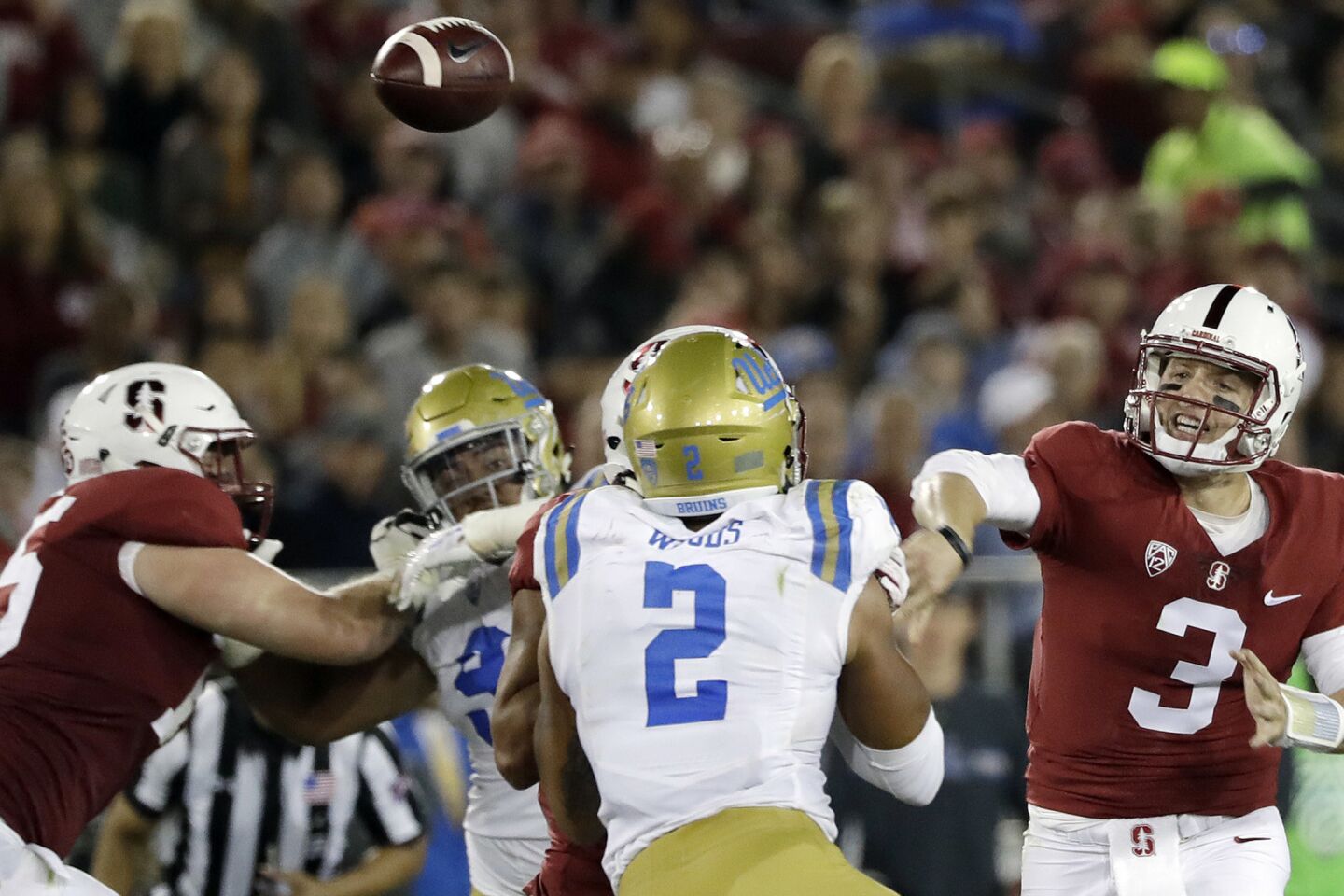 Stanford quarterback K.J. Costello throws a pass during Saturday's game against UCLA.
(Marcio Jose Sanchez / AP)
Cardinal running back Cameron Scarlett leaps over the Bruins' defensive line to score a touchdown during the first half.
(Marcio Jose Sanchez / Associated Press)
Stanford running back Bryce Love leaps past UCLA defensive lineman Jacob Tuioti-Mariner (91) during Saturday's game.
(Marcio Jose Sanchez / AP)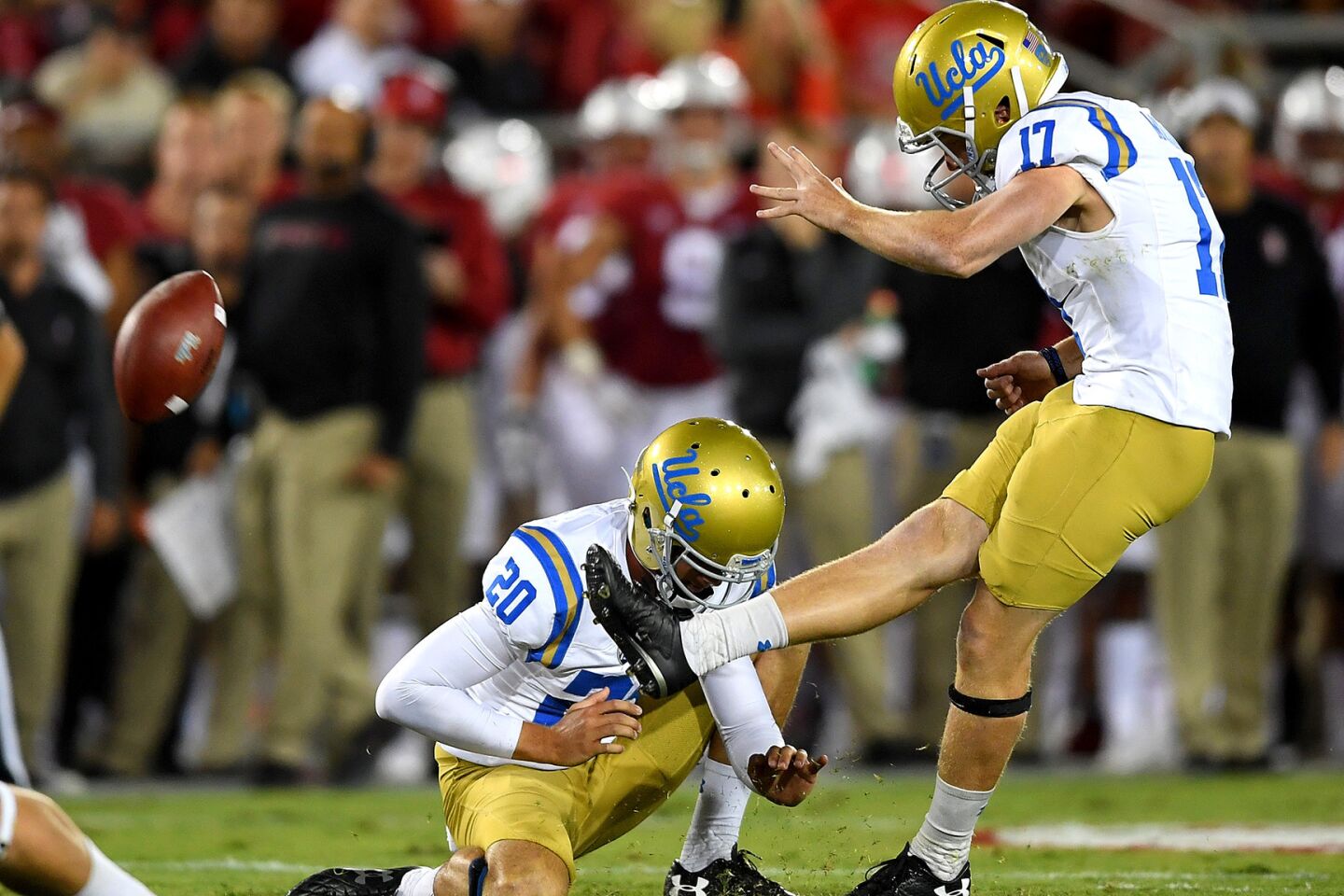 Bruins kicker JJ Molson converts a field goal against the Cardinal during the first quarter.
(Thearon W. Henderson / Getty Images)
Cardinal wide receiver Trenton Irwin makes against UCLA defensive back Denzel Fisher during the second half.
(Marcio Jose Sanchez / Associated Press)
UCLA wide receiver Jordan Lasley gets past Stanford cornerback Malik Antoine on a 39-yard scoring pass play during the second half.
(Marcio Jose Sanchez / Associated Press)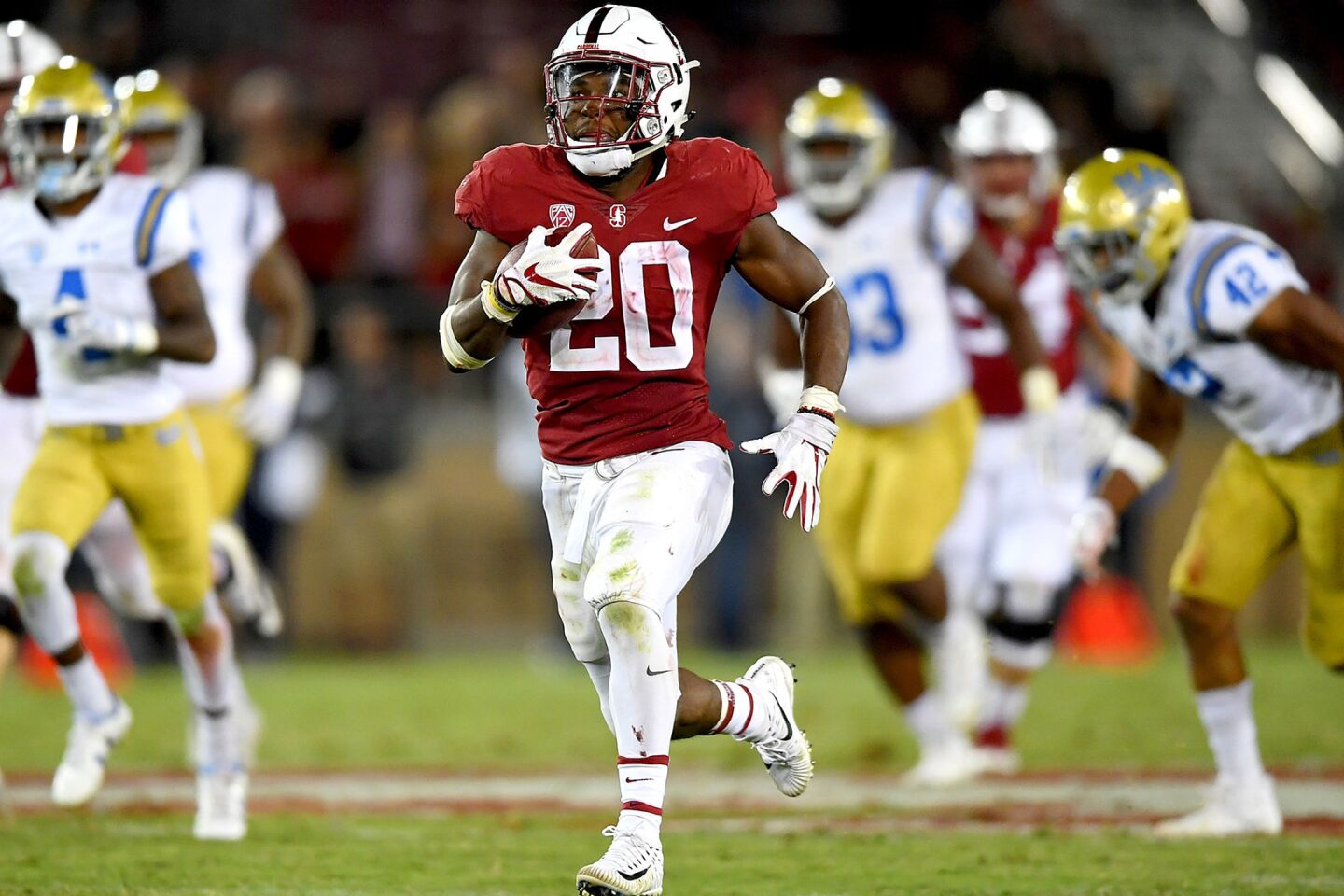 Cardinal running back Bryce Love breaks into the clear against the Bruins for a 69-yard scoring run to give Stanford a 51-34 lead in the fourth quarter.
(Thearon W. Henderson / Getty Images)
There was some significant progress for the Bruins late in the first quarter. Jamabo, playing for the first time since the season opener, cut outside for a 49-yard run that was longer than any UCLA had managed last season. Jamabo added a three-yard touchdown run early in the third quarter that pulled the Bruins to within 23-20.
The Bruins' uphill slog to nowhere started before halftime.
Howard made a catch but fumbled in the second quarter after the ball was stripped by Stanford cornerback Alijah Holder and Cardinal linebacker Kevin Palma recovered at the Bruins' 30-yard line. Stanford kicker Jet Toner's third field goal of the game, a 39-yarder on the final play of the first half, gave the Cardinal a 23-13 lead.
"We screwed our defense over multiple times," Rosen said. "I think in the first half they [Stanford] only really drove the field once."
The Bruins had largely contained Love before letting him loose late in the second quarter. Love generated runs of 32 and 27 yards before Scarlett dived into the end zone on a two-yard touchdown run that tied the score at 13-13.
Rosen brushed off a shaky first quarter to lead the Bruins 71 yards for a score in only five plays early in the second quarter. Rosen connected with receiver Jordan Lasley over the middle for a 48-yard gain before finding Darren Andrews open in the back of the end zone two plays later for a 12-yard touchdown that nudged the Bruins ahead, 13-6.
UCLA squandered a chance to extend that lead on its next drive when it reached the Cardinal three-yard line before Howard dropped a pass at the goal line on third down and kicker J.J. Molson's chip-shot field goal was blocked by defensive tackle Harrison Phillips, shifting the momentum squarely in Stanford's favor.
"It definitely changed it and did not help at all," Rosen said.
UCLA lost safety Adarius Pickett in the first half when he was called for targeting and ejected after delivering a hit on Schultz.
Stanford lost Holder in the third quarter after he was called for targeting on a hit he put on UCLA receiver Eldridge Massington.
Chryst went down midway through the first quarter when he was sandwiched by UCLA defensive end Jacob Tuioti-Mariner and Pickett.
Mora said he believed that UCLA was still capable of "great things" this season despite having lost two in a row heading into a game at the Rose Bowl next week against Colorado, the defending Pac-12 South Division champion.
"I promise UCLA fans we will rise up," Mora said. "We will absolutely rise up. We hear them down there celebrating. It's excruciating. I promise you this. Every man in that room, every woman that comes on this trip with us, every female, every male, we're all doing our best and we just have to find a way to be better."
Follow Ben Bolch on Twitter @latbbolch
Get the latest on L.A.'s teams in the daily Sports Report newsletter.
You may occasionally receive promotional content from the Los Angeles Times.