Jaylen Hands helps UCLA hold off Stanford rally in Pac-12 tournament victory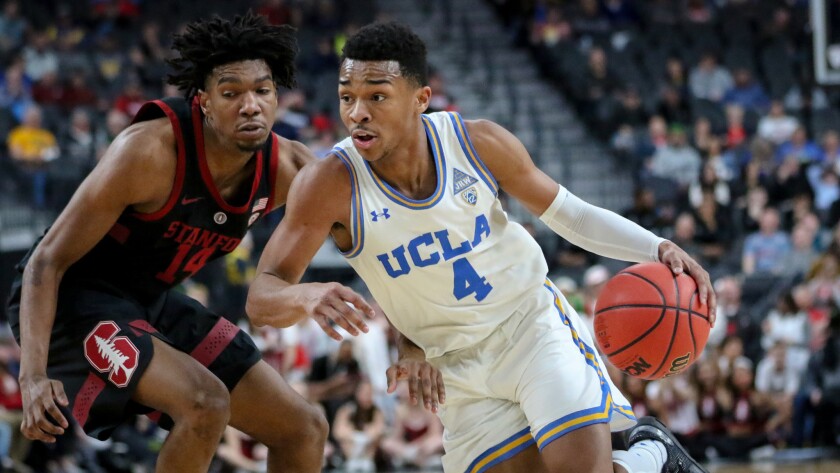 Reporting from Las Vegas —
UCLA is testing the theory that you can find salvation with an end-of-the-season tweak.
Almost strictly a zone defense team under interim coach Murry Bartow, the Bruins played man to man in the second half of their final regular-season game and liked it so much they brought that wrinkle with them to the Pac-12 Conference tournament.
What followed was one of their finest defensive showings of the season.
UCLA put Stanford on such a lockdown for most of their first-round game Wednesday evening at T-Mobile Arena that even a sloppy finish could not tarnish the seventh-seeded Bruins' 79-72 victory over the 10th-seeded Cardinal.
Point guard Jaylen Hands slapped the ball toward the court and yelled "Wooooo!" after the Bruins refused to give up the entirety of the 26-point lead they had built with 131/2 minutes to play. Hands almost singlehandedly nudged UCLA into a quarterfinal against Arizona State by tallying 22 points and a career-high 11 rebounds.
About the only thing that could dampen the Bruins' mood afterward was when news trickled out that freshman guard David Singleton had suffered a broken foot after landing awkwardly in the final minute. He had to be helped off the court and will sit out the rest of the season.
Singleton finished with eight points and six rebounds, but his steadying presence helped the Bruins team far beyond his modest statistics. The absence of the long-range shooter known as "Sniper" will be deeply felt when the Bruins (17-15) face the second-seeded Sun Devils (21-9) on Thursday.
"My Guy!!!!" Hands tweeted in response to Singleton announcing he was done for the season. "U Balled out all year."
UCLA is still playing because it flustered the Cardinal (15-16) with flailing arms and active feet, refusing to give up its usual assortment of open shots. Bartow said he didn't intend to play man-to-man defense for the entire game but stuck with it after it helped the Bruins take an early lead.
The Bruins had played so much zone defense in recent months that going to man presented an almost unscouted look. The Cardinal certainly seemed confused while making only seven of 25 three-point shots (28%). KZ Okpala and Daejon Davis, Stanford's two leading scorers, combined to score only nine points on four-for-17 shooting.
"It deterred them from doing a lot of things that they're used to doing," Bruins forward Chris Smith said, referring to the defense that put the clamps on a team that had whipped the Bruins by 24 points last month.
Sign up for our daily sports newsletter »
Smith finished with 14 points on six-for-seven shooting, and Jalen Hill had 12 points and 10 rebounds while supplanting starter Moses Brown as the primary center in the second half. Brown had two points and five rebounds in 14 minutes in his return from a one-game suspension for an unspecified conduct violation.
UCLA survived a scary finish involving the play in which Singleton was injured. Singleton leaped to contest Bryce Wills' three-point shot but ended up fouling him as the shot went in with 16 seconds left. Wills made the resulting free throw to pull Stanford to within 77-72, but Hands made two more free throws and the Cardinal missed their final three-point shot before Hands pulled down the rebound.
UCLA's happy ending was preceded by an equally joyful opening.
The Bruins avoided one of the sluggish starts that have plagued them lately, holding Stanford to two points over the first four minutes as the Cardinal made only one of their first 12 shots and committed five early turnovers.
The problem for the Bruins was that they couldn't fully convert. UCLA held only a 9-4 lead before Stanford tied the score. But Smith's pull-up jumper started a 17-5 run that Hands ended with a steal and a two-handed dunk as the Bruins built a 36-22 halftime lead they extended well into the second half.
The tone for the defensive turnaround started in practice this week.
"We went real hard in practice Monday and Tuesday," sophomore forward Kris Wilkes said, "played a lot of five-on-five, man-on-man stuff and we got in each other's butts, really."
The defensive switch also helped in the accountability department for a team whose effort has wavered in the zone.
"We took our matchups personally so when someone tried to drive on us, we tried our best to stay in front of them and also our help defense did a pretty good job," freshman guard Jules Bernard said. "We got a few charges and a lot of blocks, so it helped us a lot."
UCLA next
Thursday vs. Arizona State, 6 p.m., T-Mobile Arena, Pac-12 Networks — The Bruins scored the game's first 11 points but could not sustain the strong start during an 84-73 loss to the Sun Devils in January at Pauley Pavilion in the teams' only previous meeting this season.
---
Get the latest on L.A.'s teams in the daily Sports Report newsletter.
You may occasionally receive promotional content from the Los Angeles Times.