Pac-12 basketball: 'There's so many darn good teams'
Eleven months ago, USC was a bottom-dwelling team in what was widely considered a middling major-college basketball conference. The Trojans had sunk so low that, after one particularly dispiriting loss, Coach Andy Enfield used the post-game news conference for an impromptu defense of his program.
"We are so excited for this group," Enfield said. "We are so optimistic that we're going to be an excellent basketball team in the Pac-12."
At the time, it was difficult to tell if even Enfield believed it. Arizona had a stranglehold on the conference. Only a couple teams were anywhere close.
But a year has made a big difference. USC's turnaround has been the biggest surprise in the Pac-12. The Trojans have a record of 11-2, including a win over nationally ranked Wichita State. And their resurgence is emblematic of the conference as a whole, which observers say is as deep in talent as it has been in several years.
Arizona Coach Sean Miller said the Pac-12 has never been better in the seven seasons he's guided the Wildcats. USC, Miller said, is just "one of probably seven or eight examples that we can use as coaches where we're a better conference than we've been."
UCLA opens the Pac-12 season at Washington, with USC at Washington State, on Friday. As the conference season begins, all but two of the league's teams are ranked in the top 100 of the Ratings Percentage Index (RPI).
Even teams that finished at the bottom of the conference last season have proven dangerous. USC has one of the Pac-12's best backcourts. Washington has defeated Texas and Texas Christian. Colorado has lost just two games, both to ranked opponents.
Utah Coach Larry Krystkowiak said he hasn't had time to watch many games involving Pac-12 teams during nonconference play. So, as he started his preparation for the conference season, he was startled.
"I thought we'd done a good job win-loss wise, at 11-2," Krystkowiak said. "And we're fifth in the conference." (The Utes are tied with three other teams, occupying the second through fifth spots.)
When the Utes traveled to play Duke at Madison Square Garden early in December, the reporters and basketball officials Krystkowiak spoke with all told him the same thing: "They all thought from top to bottom, it was the strongest league in the country," Krystkowiak said.
At the very least, it can make a strong case. The Pac-12 is second — behind the Big 12 Conference — in overall winning percentage. Pac-12 teams have seven wins against top-25 teams, second only to the Atlantic Coast Conference.
The conference has marquee wins against Duke (by Utah), Kentucky (by UCLA) and at Gonzaga (by UCLA and Arizona).
Despite its overall depth, it doesn't have a team ranked in the top five of the Associated Press media poll. No. 8 Arizona remains the favorite, with one of the conference's best big men, Kaleb Tarczewski, and perhaps its best freshman, Allonzo Trier.
But the rest of the conference has closed the gap. Oregon returns most of a team that made a run to last season's Pac-12 tournament final. Utah may have the best player in the conference, Jakob Poeltl, who is averaging 17.8 points and 9.7 rebounds per game. And California, with its talented recruiting class, should improve with experience.
"I don't think in the preseason you can really pick an order," said Oregon State Coach Wayne Tinkle, whose team's only losses are to second-ranked Kansas and a difficult Valparaiso team.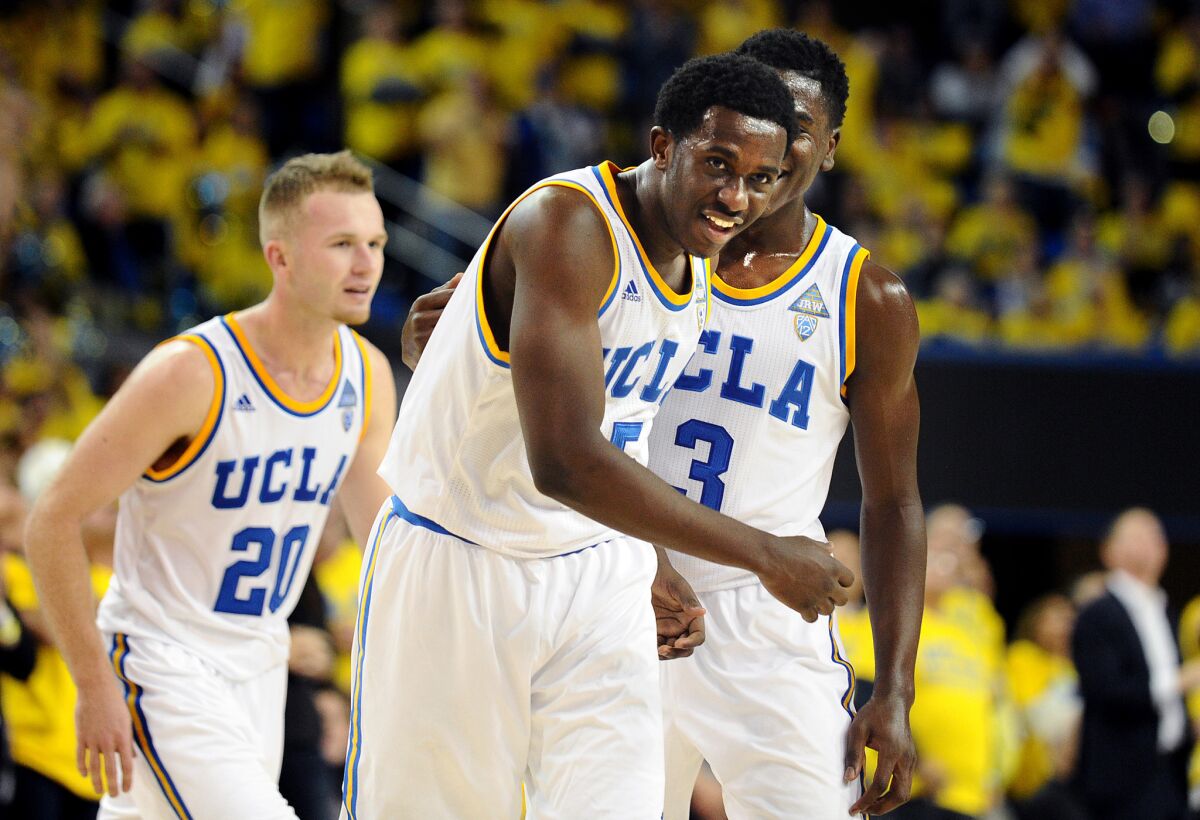 Then there's UCLA, which has shown the ability to beat the best teams in the nation. The Bruins have played the toughest schedule in the conference, according to basketball statistician Ken Pomeroy.
But between big wins, UCLA has appeared uninterested against mid-major opponents. Has its schedule provided a test run for the deep Pac-12 schedule? Or does it portend more letdowns against less forgiving foes?
"Hopefully it prepares you for the league that we're getting ready to start in," UCLA Coach Steve Alford said.
There won't be much room for error.
Multiple Pac-12 coaches have said they believe any team in the conference is capable of winning any game.
"There's so many darn good teams," Tinkle said.
---
Get the latest on L.A.'s teams in the daily Sports Report newsletter.
You may occasionally receive promotional content from the Los Angeles Times.