UCLA walk-ons know their role and have the tweets to prove it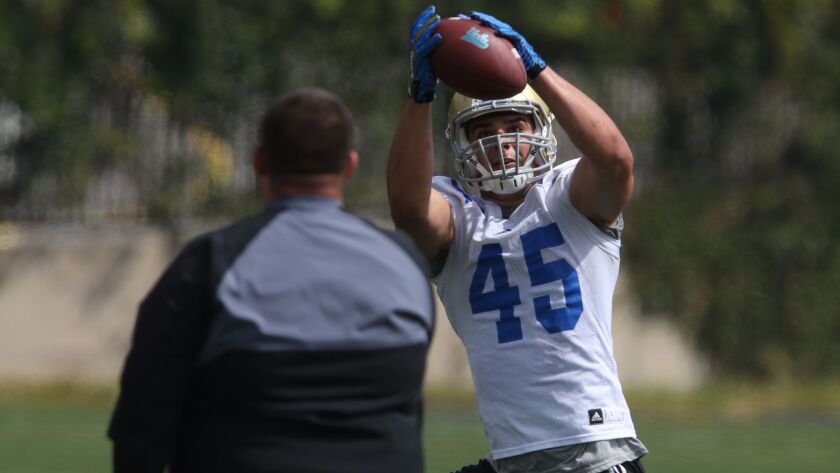 Theirs was a story that had to be told, even at their own expense.
A tweet tabulated their efforts during a recent football practice: One player logged a sprained ankle, more than 200 miles on a stationary bike and vomiting. Another player was credited with zero practice repetitions but 300 pushups and 27 high-fives.
What UCLA's walk-ons lack in size and skill seems to enhance their creativity. Their shortcomings are broadcast via the Twitter account @UCLAwalkons, with inventive dispatches purportedly documenting "the daily trials and tribulations of the finest walk-ons in America."
No stumble, missed assignment or clobbering by a scholarship player goes unmentioned. One video shows Michael Mapes, a 5-foot-8, 180-pound defensive back, getting bowled over by 250-pound tailback Jalen Starks. On the very next play, Starks pulverizes Mapes in identical fashion.
"We called it the speed-bump technique," cracked walk-on receiver Brad Sochowski, one of the creators of a page that has more than 1,400 followers.
The account is intended to place a humorous spin on the everyman plight of players who toil in anonymity alongside more-celebrated teammates. Sochowski and fellow creators Justin Rittman and Giovanni Gentosi hatched the idea last season after coming across a similar site run by a Pac-12 Conference rival.
"We saw that Stanford had made one," Rittman said, "so we thought we were funny enough to make one too."
Passwords were distributed among walk-ons, and the first tweet was sent in October, the day before a game against Arizona State. It featured a picture of reserve defensive lineman Alex Rassool and noted that "although he has the worst hands on the team, and possibly in America, [Rassool] does get our vote for best hair."
The site provided the scoop when star quarterback Josh Rosen was injured against the Sun Devils, noting that former walk-on Mike Fafaul had entered the game.
Most of the tweets are whimsical. One played off the Internet meme showing a young couple in bed, backs turned to each other with worried expressions. The woman pondered whether her boyfriend was thinking of other girls. The man wondered whether the head coach knew his name.
A feature called #WalkOnDoppleGangerThursday displayed photos of walk-ons next to celebrity look-alikes, with Rittman compared to Spock from "Star Trek" and punter Stefan Flintoft shown opposite Squints Palledorous from "The Sandlot."
As word of the Twitter account spread, it gained a loyal following among other players and coaches who wanted in on the joke.
"Being a former walk-on," tight end Caleb Wilson said, "it makes me laugh to see those guys having fun."
One unbending rule of the site is that only walk-ons can be featured. Scholarship players who ask for a mention are rebuffed.
"It's like, 'Well, do you pay to go to school?' " Sochowski deadpanned, mimicking a conversation with a teammate. " 'Then you can't get on. It's as simple as that.' "
Gentosi, whose specialty was editing pictures and videos, had his password revoked in the spring. His crime? He was awarded a scholarship. A giant red X was scrawled over his picture on the Twitter page, where his exile was explained.
"It brings us great sorrow to say that we lost one of our own founding members," the tweet read. "[Gentosi] has been put on scholarship. We lost a good 1."
UCLA's walk-on ranks will be further thinned in the coming weeks with Flintoft and receiver Christian Pabico among those vying to win the team's final scholarship. The site recently displayed a reporter's tweets about Pabico's rise from obscurity alongside a picture of a morphing SpongeBob SquarePants and the caption, "When the walk-ons start evolving."
"We give them a hard time," Rittman said of the promoted walk-ons, "but that's the goal for everyone, so when it happens to one of our friends, we're obviously excited for them."
Sochowski had a moment of glory last season when he caught a 13-yard pass near the end of a blowout victory over Nevada Las Vegas. Rittman, a reserve fullback, is seeking his first game action after converting from defensive end.
Running the site has had some perks. Sochowski and Rittman have found that coaches other than the ones who teach their positions now recognize them. They also have learned through their correspondence with other walk-on Twitter sites that UCLA's non-scholarship players are treated better than many of their counterparts across the country.
Walk-on Twitter pages might even represent a growth industry. A recent tweet on UCLA's site doubles as an ad for an internship under Sochowski and Rittman, with the listed requirements including a willingness "to live and die for the red scout team beanie."
A note to those freshening up their resumes: The ad is fake.
Sochowski and Rittman have pondered their real-life Twitter account successor, with Mapes emerging as a leading candidate based on his self-deprecating brand of humor and interest in sharing his shortcomings with the social media masses.
"It gives them an inside view of, 'Oh, if I went out for football and I was a walk-on, this is probably how it would go,' " Sochowski said of the site. "You're not always going to win every time, but you're going to try."
Follow Ben Bolch on Twitter @latbbolch
---
Get the latest on L.A.'s teams in the daily Sports Report newsletter.
You may occasionally receive promotional content from the Los Angeles Times.