UCLA Bruins allow 17 points in second half in comeback win against Washington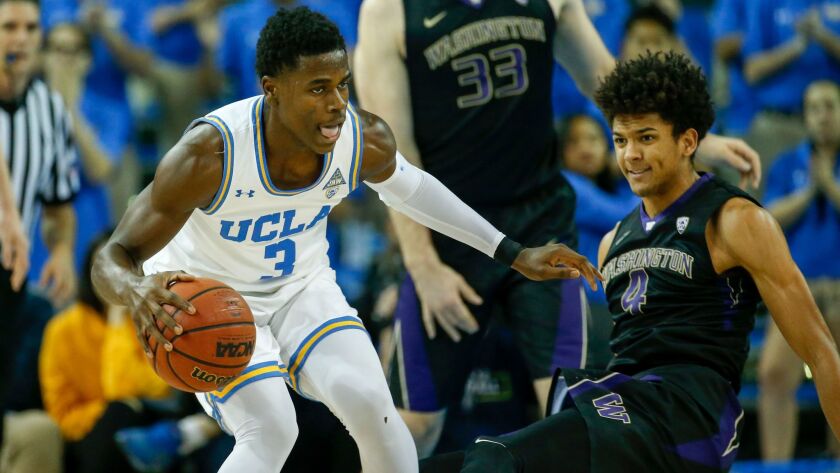 UCLA played the first half Sunday as if it had somewhere to be for New Year's Eve. It definitely wasn't Pauley Pavilion.
The Bruins looked uninterested against Washington, their indifference compounding a sluggish start in which they couldn't make shots, grab rebounds or avoid turning the ball over.
All of which made what followed even more startling.
UCLA possessed almost all of the pep after a defensive adjustment sparked a come-from-behind 74-53 romp in which the Bruins closed the game on a 45-10 surge over the final 17 minutes.
"You go on a run like that, your effort has gone to another level," UCLA coach Steve Alford said after his team won its fourth consecutive game. "We grew up tonight."
The Bruins (11-3 overall, 2-0 Pac-12 Conference) swung everything in their favor after switching to a 1-2-2 zone while applying traps that didn't fluster the Huskies (11-4, 1-1) so much as they energized UCLA.
Forward Kris Wilkes scored a game-high 21 points and guard Aaron Holiday scored 12 of his 14 points after halftime to help UCLA outscore Washington, 46-17, easily wiping out the 43-29 deficit the Bruins faced early in the second half. UCLA's 35-point turnaround over the balance of the game was also made possible by the Huskies missing all 15 of their three-pointers in the second half while making only six of 35 shots (17.1%).
"We were just very active, and we were baiting them to shoot it," said Bruins guard Prince Ali, who scored 12 points. "They shot it and they weren't making very many shots, so it worked for us, and we were able to get out in transition because of it."
Washington made only two of 27 three-pointers (7.4%) for the game and 19 of 68 shots (27.9%) after looking like it might be on the way to a runaway victory in the early going of the only scheduled meeting between these teams this season.
Washington's 2-3 zone defense and inside-out approach on offense befuddled UCLA while helping the Huskies build leads as large as 13 points in the first half. Washington was also just plain tougher, grabbing three offensive rebounds on the same possession, prompting Ali to twirl in disgust after the last one.
Holiday committed four of his team's eight turnovers in the first half, which were one more turnover than the Bruins had in the entire game against Washington State on Friday. With Holiday and Thomas Welsh having combined for only seven points on two-of-11 shooting at the game's midpoint, it felt like UCLA was lucky to be down only 36-28.
Nearly everything else went the Bruins' way, Wilkes making a steal and a layup to put them ahead, 54-52, with 5:32 to play. UCLA never trailed again as the Huskies scored only one point over the game's final 8:04, missing their final 12 field goals.
"In my opinion, they were the tired team late and we were not," Alford said, "and that's encouraging because I thought we showed some maturity."
Thursday at Stanford, 7 p.m., Maples Pavilion, FS1 — The Cardinal (6-8 overall, 0-1 Pac-12 Conference) coughed up a 17-point lead with 9 1/2 minutes left during a 77-74 loss to rival California on Saturday.
Follow Ben Bolch on Twitter @latbbolch
---
Get the latest on L.A.'s teams in the daily Sports Report newsletter.
You may occasionally receive promotional content from the Los Angeles Times.