UCLA's sloppy play leads to 69-55 loss at Washington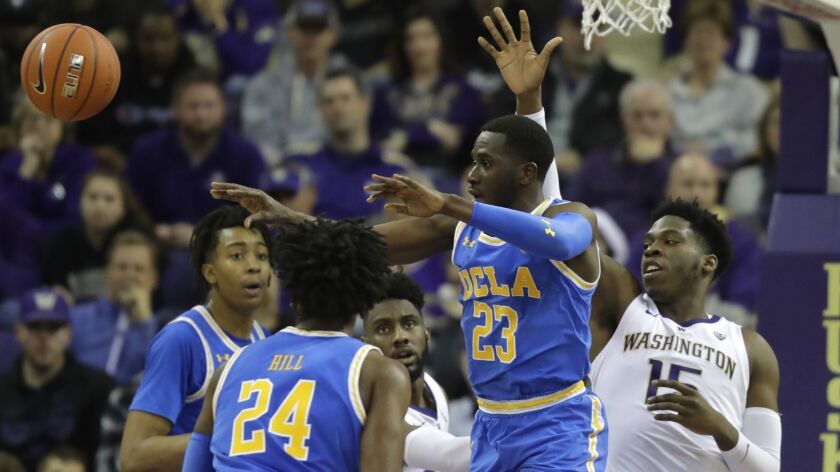 Reporting from Seattle —
UCLA lost the ball dribbling in transition. It lost the ball driving into the paint. It lost the ball on an inbounds pass. It lost the ball on a jump pass. It lost the ball on an entry pass. It lost the ball on a lob that sailed out of bounds. It lost the ball moving it around the perimeter while hearing the buzz of an expiring shot clock.
The Bruins did not invent ways to turn over the ball Saturday afternoon against Washington but checked off a healthy inventory of conceivable blunders.
Perhaps most distressing was that it was only halftime.
UCLA committed 18 of its 23 turnovers in the first half at Alaska Airlines Arena, the flurry of mistakes turning a promising start into a 69-55 loss that ended the Bruins' two-game winning streak in disheartening fashion.
"What happened was we just started turning the ball over at a record-breaking rate," UCLA shooting guard Prince Ali said after contributing four turnovers to the tally. "I think that was the game right there."
The Bruins (12-10 overall, 5-4 Pac-12 Conference) actually did not set a school record. That came on this same court in January 2003, when UCLA committed 29 turnovers against the Huskies but somehow came away with a 10-point triumph.
The Bruins were also no strangers to sloppy play in recent months, committing a season-high 24 turnovers during a December loss to Liberty and stumbling their way into 23 turnovers last month against Oregon.
They appeared well on the way to a new low by halftime Saturday, when Washington scored 19 points off the turnovers and the howling sellout crowd of 10,000 had started to fluster the visitors almost as much as the Huskies' 2-3 zone defense.
"Away games, you get into the crowd, the crowd gets into you a little bit — I know it shouldn't — but that happens and you turn it over a little bit," said UCLA forward Kris Wilkes, who scored 20 points but missed all five of his three-point attempts. "You know, instead of coming to a stop, you travel coming into the lane, you commit charges and that doesn't help out a lot."
Turnovers were the predictable talking point at halftime. But as if upholding a tradition, the Bruins opened the second half with another miscue. Point guard Jaylen Hands threw a lob into the paint that center Moses Brown didn't expect, one of Hands' game-high five turnovers to go with his four assists and eight points.
UCLA interim coach Murry Bartow praised his team for sustaining its fight amid a list of faults that also included making only four of 15 three-point attempts. The Bruins won the rebounding battle 33-29 and forced the Huskies into 17 turnovers but never shaved more than one point off their eight-point halftime deficit.
"We did enough good things there to win," Bartow said, "but we needed 15, 16, 17 more points and when you turn it over 23 times, you just eliminate all that."
Guards David Crisp and Jaylen Nowell each scored 15 points and forward Matisse Thybulle had seven steals to go with his 14 points for the Huskies (18-4, 9-0), who became only the ninth Pac-12 team since the 1978-79 season to win its first nine conference games. Washington got there in large part by making 11 of 24 three-pointers (45.8%), many of them without a defender in the vicinity.
It was hard to remember by game's end that the Bruins had forged an early eight-point lead thanks to full-court pressure that forced Washington turnovers on three consecutive possessions.
UCLA assumed ownership of the out-of-control play the rest of the way. The Bruins' 12th turnover came less than 12 minutes into the game, giving them one more than they had committed Wednesday night during an easy victory over Washington State.
After arriving in Seattle, UCLA did the tourist thing and visited the Pike Place Fish Market. Players pulled out their cellphones and held them aloft as a fishmonger hurled the day's catch into the massive hands of Brown.
The Bruins left town without reeling in the big one.
In the final minute, Ali could only hang his head after losing the ball while dribbling toward the basket, a fitting bookend to a lost afternoon.
"We thought we could really get them in their house," Ali said. "It would have been a big win, but I'm sure we'll see them again, so I'm looking forward to that."
UCLA next
Wednesday vs. Colorado, 6 p.m., Pauley Pavilion, Pac-12 Networks — Colorado has stumbled throughout the first half of Pac-12 Conference play but won both games against the Bruins last season, including a 68-59 victory at Pauley Pavilion.
Sign up for our daily sports newsletter »
Follow Ben Bolch on Twitter @latbbolch
---
Get the latest on L.A.'s teams in the daily Sports Report newsletter.
You may occasionally receive promotional content from the Los Angeles Times.