UCLA recovers after sloppy start to blow out Washington State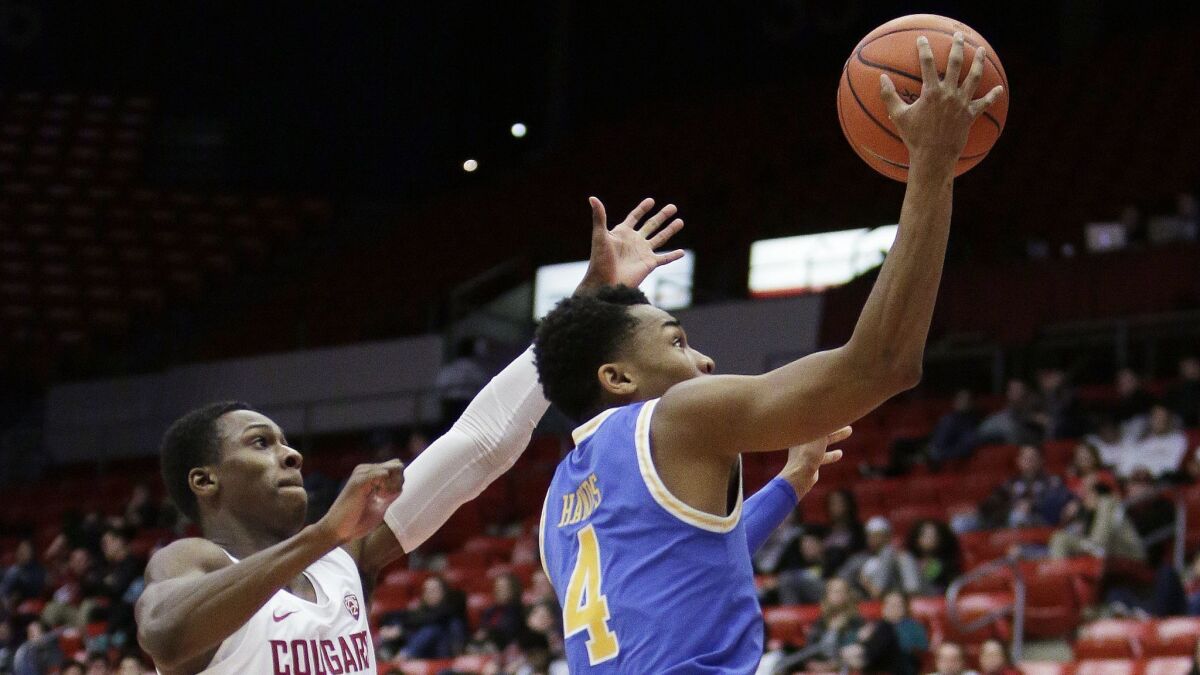 Reporting from Pullman, Wash. —
No one had to say anything to Jaylen Hands when he took a seat on the bench less than 21/2 minutes into the game.
The UCLA point guard was yanked after the Bruins' first five possessions went astray Wednesday night. There was a turnover, a charging foul, a missed shot, a flagrant-1 foul on Moses Brown and another turnover. Hands was responsible for two of the blunders, including one in which he stumbled on a drive to the basket and lost the ball out of bounds.
"I would have taken myself out too because I was wilding out," Hands said. "I just knew I had to chill out and went back in and do what I do."
Hands returned in plenty of time to savor a breezy 87-67 victory over Washington State at Beasley Coliseum in which he was in the midst of the Bruins parlaying zippy ball movement into unusually hot shooting.
UCLA made 12 of its first 14 shots in the second half, largely as a result of continually finding open shooters. Hands flung a ball to Jalen Hill, whose touch pass to Brown resulted in a dunk. Hands found Kris Wilkes along the baseline for a driving one-handed dunk. Hands threw a lob to Brown for another dunk.
The passing led to one of the Bruins' best shooting displays of the season. They made 58.8% of their shots, 47.4% of their three-pointers and a healthy chunk of free throws, one of the nation's worst teams from the line sinking 18 of 24 attempts (75%).
It was the first time UCLA had made at least 40% of its three-pointers since a victory over Hawaii in late November, ending a 13-game shooting funk.
Brown, Wilkes and shooting guard Prince Ali each finished with 16 points to lead five Bruins in double figures.
"That means we're spreading it around and moving it," said UCLA interim coach Murry Bartow, whose team easily solved Washington State's mix of defenses that included 1-3-1 and 2-3 zones as well as man-to-man.
It helped that the Bruins (12-9 overall, 5-3 Pac-12 Conference) owned the interior against the outmanned Cougars (8-13, 1-7), holding a 36-23 rebounding advantage and a 40-20 edge in points in the paint.
"The coaches emphasized to us we've got to attack the paint," said Brown, who grabbed a game-high seven rebounds to go with two steals and one block. "They just told us they were weak inside, they didn't have any shot-blockers."
Washington State didn't get much production outside of forward Robert Franks Jr. (21 points) and guard C.J. Elleby (15). No other Cougar scored more than six points.
This was a game the Bruins needed to win to bolster their chances of gaining a top-four seeding in the Pac-12 tournament, which would give them a bye into the quarterfinal round. UCLA is in a four-way tie for third place in the conference standings alongside USC, Arizona State and Arizona.
"Maybe I need to start thinking about that a little bit," Bartow said when asked about getting a top-four seeding, explaining that he had been caught up in the day-to-day aspects of a team he took over a month ago.
His focus on free throws might be paying off. Brown made four of seven from the line, twice sinking two in a row, and acknowledged afterward that he had grown wary of people talking about his struggles in that department.
"Absolutely," said Brown, who entered the game making only 33.3% of his free throws. "I'm just tired of getting fouled really hard and going to the free-throw line and missing. It's a waste of energy and it's kind of a turnover if you're up there and miss both."
Hands also had a last laugh of sorts after his horrid start. He finished with a team-high eight assists along with his five turnovers and 10 points on a night the typically error-prone Bruins committed only 11 turnovers. Only one of Hands' turnovers came in the second half, showing that his benching had had its intended effect.
"The one thing he knows I hate offensively is, I hate turnovers," Bartow said. "So he had four turnovers in the first half but in the second half he really played well and I thought he was a big key for us."
Sign up for our daily sports newsletter »
Follow Ben Bolch on Twitter @latbbolch
Get the latest on L.A.'s teams in the daily Sports Report newsletter.
You may occasionally receive promotional content from the Los Angeles Times.