UCLA athletic director Dan Guerrero will retire in June 2020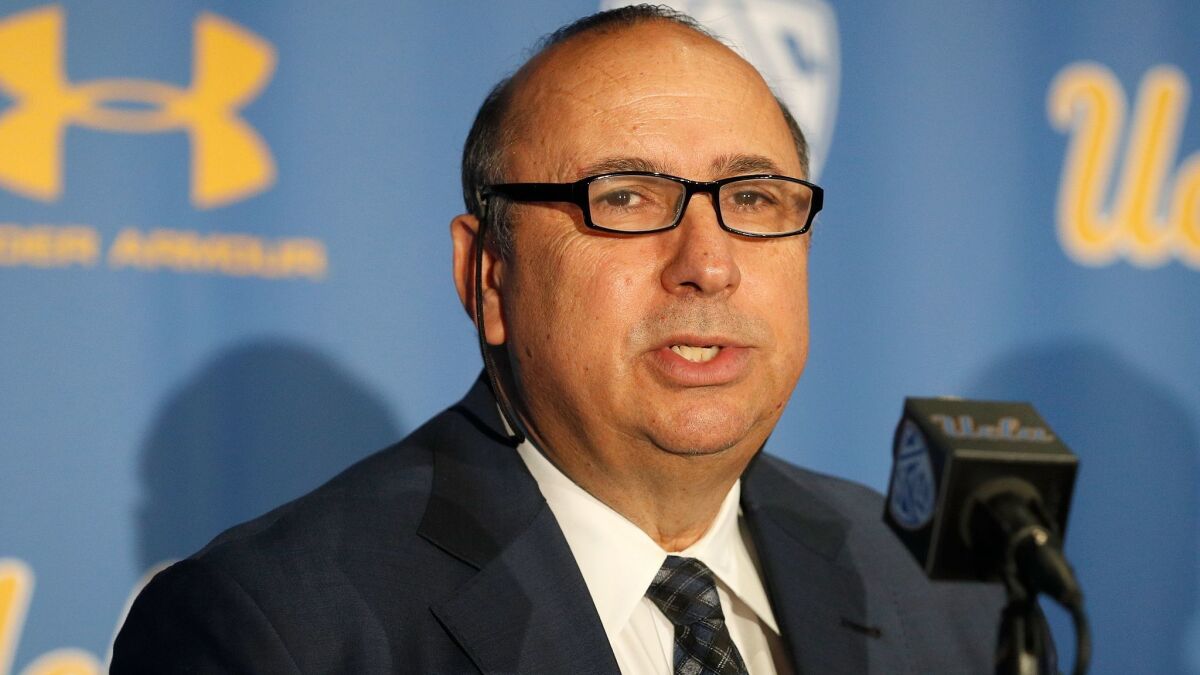 Dan Guerrero, the UCLA athletic director whose 17-year tenure has been accompanied by wild success in almost every measure besides the school's two biggest sports, will retire at the end of June.
Guerrero's retirement plans became public Thursday after the UC Regents unanimously approved a six-month extension of his contract that was previously set to expire in December. UCLA Chancellor Gene Block requested that Guerrero stay on the job until June 30 to allow the school additional time to find his successor.
Guerrero, 67, called his retirement decision "bittersweet" in a statement released by UCLA, noting that it was sparked largely by his recently having overcome an undisclosed form of cancer and the arrival of a second granddaughter.
"For these reasons, it is time for me to step aside and for UCLA athletics to flourish under new leadership while I focus on my health and on my family," Guerrero said in the statement. "In the remaining year ahead, we still have a great deal of work to do and championships to win, and I look forward to every minute of it."
The departure of Guerrero leaves openings in the athletic director's chair at both of Los Angeles' major college programs. USC announced last week that Lynn Swann had resigned after a three-year stint marred by scandal.
A professional search firm contracted by UCLA will commence a national search for Guerrero's replacement, according to the school.
Fresno State athletic director Terry Tumey, a former All-Pac 10 Conference nose guard who played on the Bruins' last team to win the Rose Bowl in 1986, is widely considered among the front-runners to become Guerrero's successor. Other candidates could include Utah athletic director Mark Harlan, a former UCLA senior associate athletic director for external relations, and Josh Rebholz, the Bruins' current senior associate athletic director for external relations.
The Bruins have won 32 NCAA championships under Guerrero, the most by any school under its current athletic director. UCLA has also vastly enhanced its facilities and fundraising efforts in recent years while experiencing less favorable results in football and men's basketball.
UCLA has not won a Pac-12 Conference championship in football or appeared in a major bowl game during Guerrero's tenure, and the school has not added to its record haul of 11 men's basketball national championships. The Bruins did appear in three consecutive Final Fours under coach Ben Howland, reaching the championship game in 2006.
But recent success in either major sport has been elusive. The basketball team has missed the NCAA tournament in two of the last four seasons, and the football team is off to a second consecutive 0-3 start under coach Chip Kelly in the wake of its first back-to-back-to-back losing seasons since the 1960s. UCLA recently paid a combined $15.6 million in buyouts after firing coaches Jim Mora (football) and Steve Alford (basketball).
"I often say we're in the feel-good business," Guerrero, a former Bruins second baseman who received his bachelor's degree from the school in 1974, told The Times in 2016. "When those teams win, everyone in the Bruin family feels really good. And when they don't win, there's disappointment."
A Twitter account titled "DaysSinceUCLAWasGood" provides a daily update on the failures, noting Thursday that it had been 7,607 days since UCLA's last conference championship in football and 12,314 days since its last Rose Bowl victory.
On the plus side, UCLA's infrastructure has never been better. Guerrero has overseen roughly half a billion dollar's worth of facility upgrades since his arrival in 2002, including the $180-million-plus refurbishment of the Rose Bowl and the $136-million renovation of Pauley Pavilion.
The school opened the $35-million Mo Ostin Basketball Center in 2017, not long after opening the $75-million Wasserman Football Center.
Next on the agenda is the construction of a $35-million academic support center for athletics that will be built as fundraising milestones are reached. Ostin, the music mogul and UCLA alumnus, has pledged $15 million for the facility that will be named in his honor.
The new facilities are largely a result of enhanced fundraising efforts that have generated more than $300 million for the athletic department under Guerrero, who will make $984,667 in salary this year, with another $105,000 possible in performance bonuses. The department's annual budget has ballooned from $42 million upon his arrival to more than $130 million after securing a record $280-million apparel deal with Under Armour.
Guerrero has been viewed as an influential figure nationally, serving on the National Assn. of Collegiate Directors of Athletics as well as the NCAA Division I men's basketball committee. Sports Illustrated named Guerrero one of the 101 most influential minorities in sports in 2003.
But not all of the headlines have been positive. UCLA was recently implicated in the college admissions scandal when former men's soccer coach Jorge Salcedo was accused of accepting $200,000 in bribes to help enroll two students using fake athletic profiles. This led to one player making the roster of the women's soccer team that was the 2017 national runner-up despite never playing the sport competitively.
Salcedo has pleaded not guilty to conspiracy to commit racketeering.
There were also allegations of parents paving the way for their children's admission to UCLA as athletic recruits by pledging donations to the athletic department. A Times story last month detailed how the school has admitted at least 18 students as athletic recruits who were either children of coaches or administrators or had strong ties. Only a portion of those students had strong athletic credentials.
During his nearly two decades running one of the nation's most robust athletic departments, Guerrero has become a polarizing figure among fans.
While some appreciated the facility upgrades and success in sports such as women's water polo, others expressed outrage in the school's failures in its two major sports. Guerrero was booed during his last public appearance at the Rose Bowl in September 2017, when he was introduced during UCLA's game against Texas A&M.
Dan Guerrero's reputation as UCLA's athletic director is hurt when someone is admitted who isn't a real athlete.
As UCLA's new men's basketball coach charmed a small audience after the formal portion of his introductory news conference, the school's athletic director was in the corner of the room addressing his own situation.
---
Get the latest on L.A.'s teams in the daily Sports Report newsletter.
You may occasionally receive promotional content from the Los Angeles Times.