March Madness: UCLA cruises past Abilene Christian and into the Sweet 16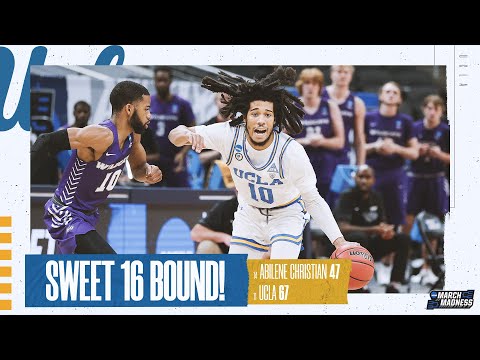 Highlights from UCLA's 67-47 win over Abilene Christian in the second round of the NCAA tournament on Monday.
INDIANAPOLIS —
The dance moves broke out in front of the UCLA bench.
Guard David Singleton started the fun with a little jig before his teammates joined in, locking arms and bopping in a joyous circle.
After three games in five days that involved a draining overtime comeback, two late-night bus rides and solitary stays in cluttered hotel rooms that their coach likened to a fraternity house, the Bruins had more than enough energy left in their reservoir to boogey.
The way they played Monday inside Bankers Life Fieldhouse, it may not have been the last dance.
Sustaining a defensive resurgence and avoiding the flurry of turnovers that could have ended its season, 11th-seeded UCLA stomped 14th-seeded Abilene Christian 67-47 in the second round of the NCAA tournament.
The Bruins (20-9) will be sticking around the nation's new college basketball capital awhile longer after advancing to a regional semifinal for the first time since 2017. They will play second-seeded Alabama on Sunday at Hinkle Fieldhouse after becoming only the fifth First Four team to make it to the second weekend of the tournament since the NCAA adopted that format in 2011.
"I give our players absolutely all the credit in the world," Bruins coach Mick Cronin said after advancing to his first regional semifinal since he guided Cincinnati there in 2012. "They made today's game look a lot easier than it was. It was not easy in person."
Needing to be smart and composed against a team known for hectoring its opponents into turnovers, UCLA emphatically checked both boxes while adding lockdown defense. The Bruins held the Wildcats (24-5) to 29.8% shooting and committed only eight turnovers against a team that had forced 23 during its first-round upset of third-seeded Texas.
Chances are you've heard Ryan Gesas if you've been watching UCLA's March Madness run. Here's how he ended up in a crazy video with Martin Jarmond.
Cronin had joked before the game that he didn't want his team to stumble its way into four turnovers before the first television timeout. The Bruins only had three turnovers by halftime, all unforced after Jules Bernard and Jake Kyman stepped out of bounds and Cody Riley committed a charging violation.
UCLA held a 31-21 lead at the game's midpoint courtesy of an 18-0 run in which the Bruins held the Wildcats scoreless for nine minutes and removed any remaining doubt with a 14-1 run to start the second half.
UCLA's Johnny Juzang scored 17 points and Riley powered his way to 12 points and 12 rebounds for a team that appears to be just hitting its stride after entering the NCAA tournament with four consecutive losses. Three of the teams that downed the Bruins during that stretch also made it to the regional semifinals, a reminder that UCLA wasn't exactly going down against weaklings.
"We never broke down and separated or nothing like that," Riley said. "We always stayed together."
Abilene Christian never flummoxed UCLA for any extended period with its small, scrappy guards. The Bruins spaced the court and used the Wildcats' aggressiveness against them, continually moving the ball until they found a defender out of position.
"Just let them make the mistakes as far as pressuring up or being in the gaps too much," Riley said, "and just skip the ball and get open shots."
Singleton beat the pressure on one play before throwing a lob to Riley for a dunk that extended UCLA's lead to 41-22. By the time the Wildcats finally forced turnovers on back-to-back plays in the second half, they faced a deficit far too great to overcome.
Long after losing top players Chris Smith (knee injury) and Jalen Hill (personal issues), the Bruins suddenly appear like a Final Four threat largely because of a stifling defense reminiscent of what it had been a year ago before the pandemic halted the college basketball season.
They held Michigan State to 36 points over the final 25 minutes before holding Brigham Young and Abilene Christian well below their season averages for scoring, embracing a message written on the whiteboard in the locker room that read "Defense is why we're alive and defense is why we'll survive in this tournament."
UCLA coach Mick Cronin has helped transform the Bruins into a Sweet 16 team. What else can he and his talented roster of players accomplish this weekend?
The fatigue factor was a bigger worry. Cronin said it was the first time in his career he had his players watch the coaches conduct a walk-through Sunday in which the four bald men showed what they wanted the team to do defensively. Players finally got to work on some of those techniques themselves Monday before the game.
They earned top marks for their performance several hours later, prompting their most spirited celebration of the tournament. Guard Jaime Jaquez Jr. hurled his towel toward a super fan the team has embraced over the last week and a boisterous eight-clap broke out inside a concourse.
As the UCLA players raced onto the court before the second half, Queen's "Don't Stop Me Now" blared over the loudspeakers. About an hour later, the Bruins were still going, their season alive, their dance moves unleashed, no one wanting this run to end anytime soon.
"I came to Westwood for a reason," Cronin said, "and we've got games to win."

Get the latest on L.A.'s teams in the daily Sports Report newsletter.
You may occasionally receive promotional content from the Los Angeles Times.