No. 2 UCLA forges March Madness-caliber thriller in OT win over No. 4 Villanova
They gathered near midcourt for a quickie huddle in the final seconds, arms around shoulders, a few players hopping in glee after things had seemed so bleak only minutes earlier.
Tyger Campbell chest-bumped Jaime Jaquez Jr. in a prelude to more celebrating, Jaquez flapping his arms to increase the din inside a rollicking Pauley Pavilion.
In an early season showdown that lived up to the hype, second-ranked UCLA overcame its offensive impatience and inability to get stops by wiping out a 10-point deficit in the second half of a pulsating, 86-77 overtime victory over fourth-ranked Villanova before a sold-out crowd of 13,659.
"We were relentless, they were relentless too," said UCLA coach Mick Cronin, whose team forced the Wildcats to miss six consecutive shots late in the game. "Nobody should have lost this game."
The Bruins (2-0) prevailed after opening a 74-69 lead in the extra period that came courtesy of a Johnny Juzang jumper and Campbell sucking in the defense by driving toward the basket and passing to Jaquez for a three-pointer.
UCLA students waiting outside Pauley Pavilion for Friday's basketball game describe a scene similar to the deadly surge at the Astroworld Festival.
After not attempting one free throw until there were 5 minutes 29 seconds left in regulation because it continually hunted jump shots, UCLA made all 12 free throws in overtime to avoid any additional late drama.
The Bruins played with a swagger in the extra period, having returned every player from the team that completed four overtimes in its final seven games last season.
"Just an inner confidence that we've been in this situation," Jaquez said, "that helped us lock down the stretch."
The pageantry for the first nonconference game involving top-five teams at Pauley Pavilion in nearly three decades was piled on thick. Students camped out overnight for tickets and the list of luminaries included actress Jessica Alba and Dodgers manager Dave Roberts, the former Bruins baseball star who was the honorary captain.
UCLA unveiled a surprise befitting the occasion before tipoff. After a spotlight was fixed on doors leading to the UCLA locker room, boxing ring announcer Michael Buffer emerged in a white tuxedo jacket, took a microphone and did his "Let's get ready to rumble!" schtick.
The energy inside the arena, combined with a physical opponent that has won two national championships since 2016, pushed the Bruins toward March intensity in mid-November.
"This is where we have the most fun and are the most present and it's a blast, I would say," said Juzang, who scored 25 points on nine-for-24 shooting after a relatively quiet six points in the first half. "So we definitely looked forward to this one and the atmosphere was great, the fans showed so much support, such a great turnout and the energy was amazing."
The Bruins forced overtime after wiping out a 60-50 deficit over the final nine minutes of regulation. UCLA sophomore guard Jaylen Clark, subbed in for Juzang for defensive purposes in the final minute, came up with a huge rebound that allowed Jules Bernard to bank in a hanging floater to tie the score with 30 seconds left.
Clark also had his hand in the final play of regulation, heavily contesting Justin Moore's driving layup that missed and grabbing the rebound at the buzzer.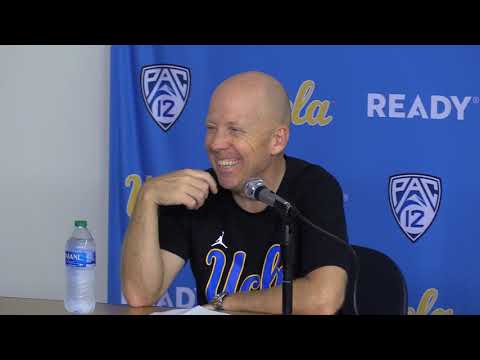 "Jaylen Clark goes after every ball," Cronin said. "You've got to have a guy like that."
Jaquez added 21 points and 13 rebounds for the Bruins and Bernard had 16 points and nine rebounds.
Jermaine Samuels scored a team-high 20 points for the Wildcats (1-1), who made only two of nine shots in overtime.
Juzang started the second half with a torrid shooting display reminiscent of his NCAA tournament scoring spree. He made his first five shots, connecting on a straightaway jumper, a three-pointer in transition, a runner in the lane, a spin move that he followed with a jumper and one more jumper to sustain the Bruins' chances in the back-and-forth game.
Unfortunately for UCLA, Villanova was even hotter, making nine of 11 shots while taking a 60-50 lead on Collin Gillespie's three-pointer. The Bruins sent their fans into one more frenzy, back-to-back three-pointers by Campbell making it 60-56 to help his team commence its comeback.
UCLA played without redshirt senior forward Cody Riley, who sprained the medial collateral ligament in his left knee during the season opener and will be reevaluated next week. Riley is expected to miss at least a handful of games, likely including the Bruins' next showdown that was already on students' minds in the final seconds.
"We want 'Zaga!" the students chanted, referring to a matchup against top-ranked Gonzaga in Las Vegas on Nov. 23. "We want 'Zaga!"
After seeing how UCLA basketball behaved in this first monumental matchup of the season, it's legitimate to view them as the best team in the country.
The way UCLA played in a taut game against a powerhouse, the Bruins could be the team everyone else in the nation wants to take down.
"I mean we're UCLA, so we always have a target on our back," Campbell said, "it's just a bigger target this year because we're pretty highly ranked right now."

Get the latest on L.A.'s teams in the daily Sports Report newsletter.
You may occasionally receive promotional content from the Los Angeles Times.