No. 2 UCLA withstands Long Beach State upset bid, pulls away to 100-79 win
UCLA is unbeaten and averaging 93.7 points per game, winning with a formula that might not be built for long-term success.
The Bruins are outscoring everybody while continually faltering on defense.

For the record:
12:13 a.m. Nov. 16, 2021A caption on this story's main photo misidentified the UCLA player passing the ball from the floor. The player is Johnny Juzang, not Cody Riley.
The trends continued Monday night during second-ranked UCLA's 100-79 victory over Long Beach State at Pauley Pavilion that was far less pleasing to Bruins coach Mick Cronin than the score might indicate.
"If I had a pair of sneakers," Cronin said, "I think I could score on some of our guys tonight and I turned 50 this summer."
If UCLA closes out the season with wins over USC and California, it will finish the season 8-4. Would that be enough to save Chip Kelly's job?
Cronin was alluding to his team's inability to stop Long Beach State's Joel Murray and Colin Slater, who combined for 57 points while making 23 of 30 shots (76.7%). The Bruins tried different lineups. They put different defenders on Murray and Slater. Nothing worked.
"When you give up 57 points to two players, that's obviously unacceptable," said UCLA guard Jules Bernard, whose 22 points and career-high seven assists were secondary story lines. "Especially for us. Our standard for defense is set at a high bar."
Using a small-ball lineup for much of the second half that featured guard Jaylen Clark and guard-forward Jaime Jaquez Jr. as its big men, the Bruins (3-0) averted a major upset. It was more relief than rejoicing after UCLA used a 28-13 surge to persevere through its ragged defensive effort.
"They know when I'm extremely upset [and] there's three options," Cronin said. "You try to teach and coach, then that doesn't work, you've got option two and that's scream and yell. Then option three, run in practice or sit in the game. So we're on option three.
"We don't have the right mindset, which is where I come in, it's my job."
Cronin said he told reserves Clark, Peyton Watson, David Singleton, Kenny Nwuba and Jake Kyman after the game that if they got to play, exerted effort on defense and didn't turn the ball over, he wouldn't put his starters back in the game.
"Right now," said Cronin, who also credited the Beach for its scoring outburst, "just trying to search for somebody who can actually guard the ball, help when you're supposed to help, follow the scouting report defensively."
UCLA's Johnny Juzang countered some sluggish defense with 25 points, though he needed 21 shots to get there, to lead five Bruins in double figures. UCLA won comfortably enough that it was able to insert walk-on guard Russell Stong in the final minute, pleasing the crowd that had chanted it wanted him to play.
Jaquez scored 17 points and Tyger Campbell had 15 for UCLA, which prevailed after shooting 57.9% in the second half to Long Beach State's 46.2%.
Three days after their thrilling overtime victory over Villanova, the second-ranked Bruins suffered an across-the-board hangover. The sellout crowd and boxing ring announcer Michael Buffer and his "Let's get ready to rumble!" spiel were gone, and so was UCLA's crisp play.
There was audible unease inside the arena when Slater sunk a jumper to give the Beach (1-1) a five-point lead late in the first half before the Bruins rallied to take a 48-45 lead at the game's midpoint.
The defensive toughness the Bruins unveiled late in the game against Villanova that sparked their comeback from a 10-point deficit was nowhere to be seen.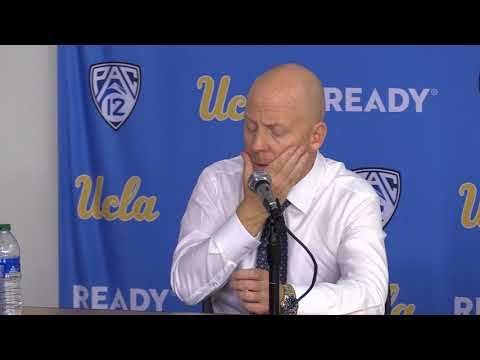 "I know everybody's happy we beat Villanova, but the game was at home," Cronin said. "To me, that game shouldn't have even come down the way it came down. We've got a lot to learn."
How hard will it be to keep winning when his defense is playing at this level?
"Completely unsustainable. Completely," Cronin said. "You cannot win on the road if you don't defend."
For long stretches Monday, it looked as if the Bruins might not be able to prevail at home. That the game was played qualified as a triumph given what happened a year ago.
After seeing how UCLA basketball behaved in this first monumental matchup of the season, it's legitimate to view them as the best team in the country.
Long Beach State was on its team bus, ready to make the short drive up the 405 to Pauley Pavilion for its season opener against UCLA. The Beach never made the trip, the game was canceled because of COVID-19 issues on its roster.
A makeup game in December got called off too because of the same problem. Long Beach State coach Dan Monson recently joked that the Bruins, who would go all the way to the Final Four, started winning too much so he had sent his players to superspreader events.
Nearly a year later, the Beach made the trip and the teams got to play. The Bruins learned how much further they have to go.
Get the latest on L.A.'s teams in the daily Sports Report newsletter.
You may occasionally receive promotional content from the Los Angeles Times.