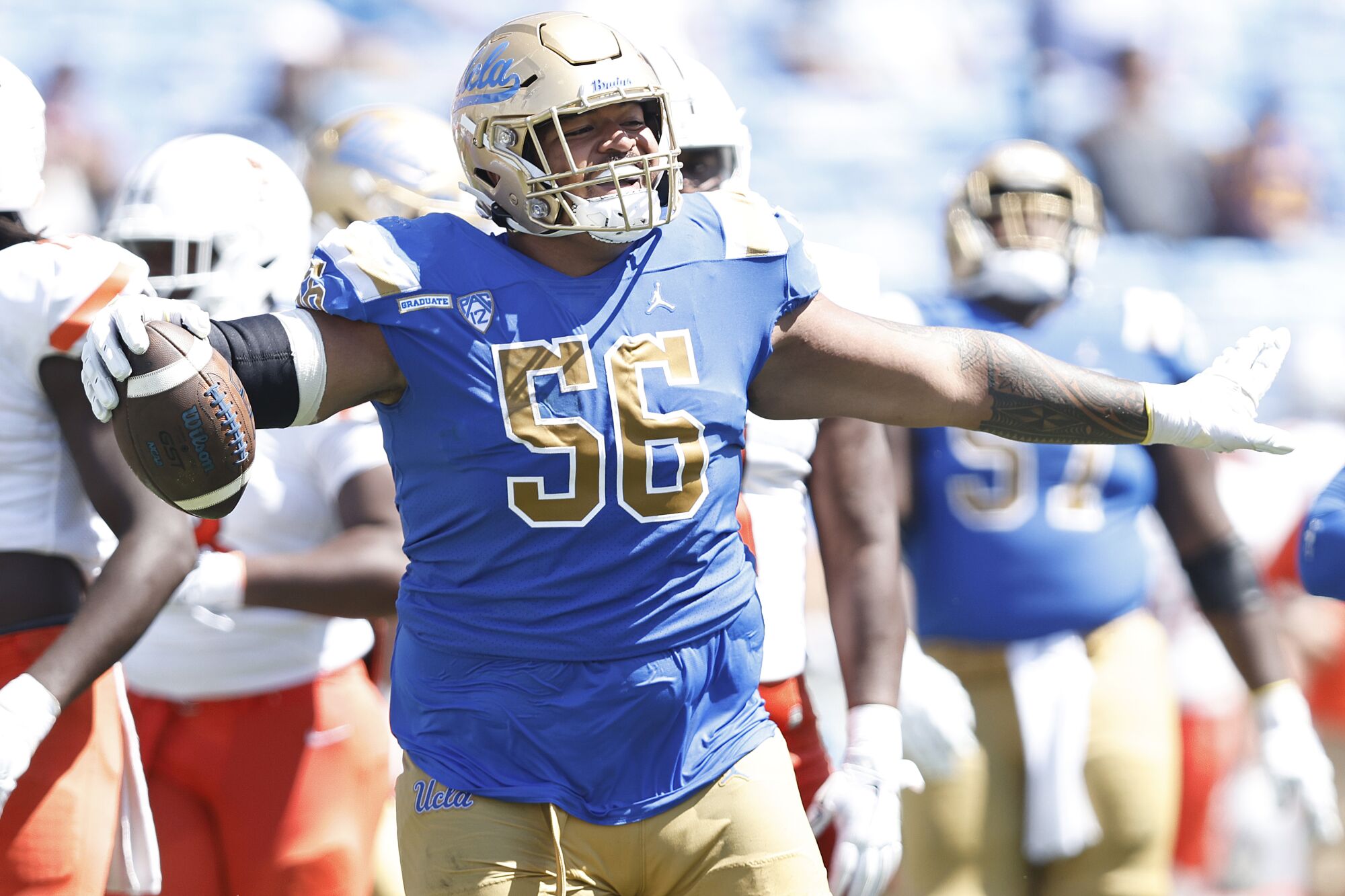 As offensive lineman Atonio Mafi transitions from UCLA to the NFL, he is sharing his journey with Times staff writer Ben Bolch through a weekly diary leading up to the draft April 27. This week, Mafi discusses the importance of mental health.
Having two teammates end their UCLA football careers over mental health challenges was a huge wake-up call.
What it said to me was that this could happen to anybody.
In both instances, I never saw it coming. Martell Irby was always loud, always smiling, the center of attention who always seemed to be having a great time. Thomas Cole had lots of friends and was especially tight with the other freshman offensive linemen.
Both were carrying a secret burden that became too much to bear. It's a reminder that we all have to take care of ourselves and constantly check in with those we care about to make sure they're really OK no matter how they appear on the outside.
It's not always easy to be vulnerable and share feelings. Football culture is all about powering through difficulties, staying strong and tough despite any obstacle. At UCLA, we had to push through a lot of things to succeed. As much as we knew they helped us, workouts, practices and late-night study sessions could be draining and you had to find a way to replenish your mind as well as your body.
Over the years, both in college and as I prepare for the NFL draft, I've found that balance is the biggest thing. You have to know when to take a break and when to acknowledge that something is bothering you. It probably helps that I wear my emotions on my sleeve. If I'm feeling good, you'll see me dancing like I did during warm-ups in college. If I'm down, I'll share those feelings with my friends on the team.
Talking about problems always makes me feel better. There's the release of saying what's wrong out loud as well as the encouragement and suggestions that come from those listening.
Since I left UCLA, my No. 1 confidant has been my cousin, Devin Asiasi, the former Bruins tight end who is now with the Cincinnati Bengals. We grew up together in the Bay Area and our families are close, so Devin might as well be another brother. He also knows the ins and outs of making the NFL, so his advice and support always really resonates with me.
Another big thing for me is visualization. Before I get out of bed each morning, I'll linger for a bit thinking about each part of my schedule throughout the day, whether it's a specific workout or drills with the other offensive linemen, and make a mental checklist of things to get done.
Over the years, both in college and as I prepare for the NFL draft, I've found that balance is the biggest thing. You have to know when to take a break and when to acknowledge that something is bothering you.
— Atonio Mafi
Sundays always involve a trip to church. It's been a constant in my life because my dad is a music director at St. Timothy's, our home church in the Bay Area. During my training for the draft, I've been going to Our Lady of the Assumption with Zack Kuntz, a tight end from Old Dominion who works out with me here in Florida. Church always makes me feel centered and closer to home.
Prayer is also huge. I start and end every day thanking God for making everything possible and praying for so many people — family, friends, teammates, deceased relatives and family members in prison. I also pray that I meet a woman who's right for me and I'm right for her. I always end it praying that I'm able to get drafted in the NFL and that at the end of the day, I'm focused on glorifying God and always being humble and staying away from hubris.
UCLA football player Thomas Cole and his family explain how his mental health struggles escalated with the hope his story can help others.
To me, staying humble includes being grateful. That's why I type something I'm thankful for on my iPhone at the end of every day. I have a long list because it's something I like to do. Some days it's something simple like having a great workout and other days it's things like having a great meal with the boys.
Recently, I've had two new things to celebrate. Martell is back in football at Arizona and plans to play for the Wildcats next season. Thomas has gone home to play for Cal Poly. I'm so thankful they're doing better and have found the support they've needed to keep playing the game they love.
If you or someone you know is struggling with suicidal thoughts, seek help from a professional and call 988. The United States' first nationwide three-digit mental health crisis hotline, 988 will connect callers with trained mental health counselors. Text "HOME" to 741741 in the U.S. and Canada to reach the Crisis Text Line.
Get the latest on L.A.'s teams in the daily Sports Report newsletter.
You may occasionally receive promotional content from the Los Angeles Times.