Kyla Ross' perfect score on uneven bars helps Bruins defeat Oregon State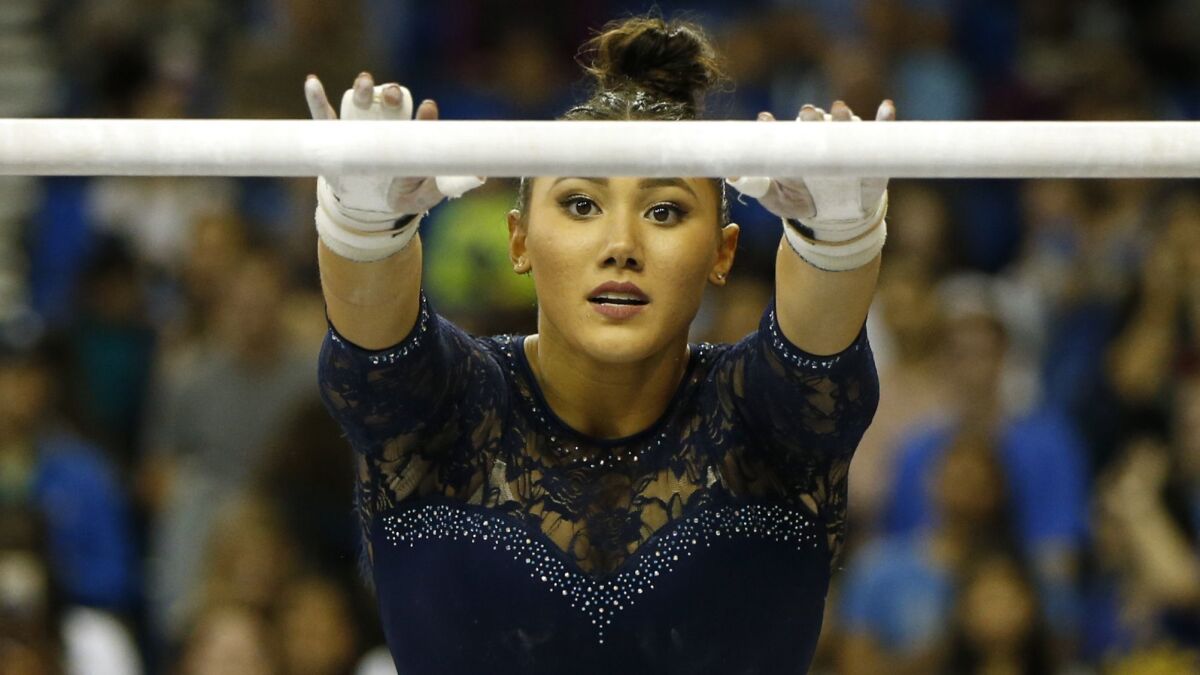 Only seven gymnasts have earned seven or more perfect 10s in UCLA history.
Junior Kyla Ross became one of them Saturday when she executed a flawless uneven-bars routine. Ross' 10 was part of a season-high score of 197.900 for No. 3 UCLA, which defeated No. 10 Oregon State.
Ross' perfect score was her second on uneven bars this season, bringing her to the seventh-most 10s in UCLA history. Ross said she got her confidence Saturday by getting in rhythm before her routine.
"I think it really kept the energy going," Ross said of her performance.
With the win, UCLA improves to 7-0. Only Oklahoma has earned a higher score in a meet this season — 198.05.
The meet drew a crowd of 6,505 in Corvallis, Ore. Oregon State scored a season-high 197.450 against the Bruins, 1.35 more than the team's previous season high. Coach Valorie Kondos Field called the competition a "head-to-head battle."
But the Bruins rose to the occasion.
For the fourth time this season, Ross was named all-around champion of the meet, scoring 39.650. Felicia Hano was co-champion in vault, and Nia Dennis was named the champion on beam, a rotation that saw each UCLA gymnast score better than 9.8.
Behind Hano's career-high 9.950 vault score, the Bruins earned a season-high score in the rotation, at 49.3.
Coach Valorie Kondos Field was most encouraged not by the Bruins' strong performances, but by their response to mistakes.
"In the first few meets, we had them make mistakes, and they shut down," Kondos Field said. "And we've talked and worked a lot on that, and they didn't do that tonight… I think that is a sign of a great athlete."
---
Get the latest on L.A.'s teams in the daily Sports Report newsletter.
You may occasionally receive promotional content from the Los Angeles Times.