UCLA's Kevon Looney among 19 prospects invited to NBA draft green room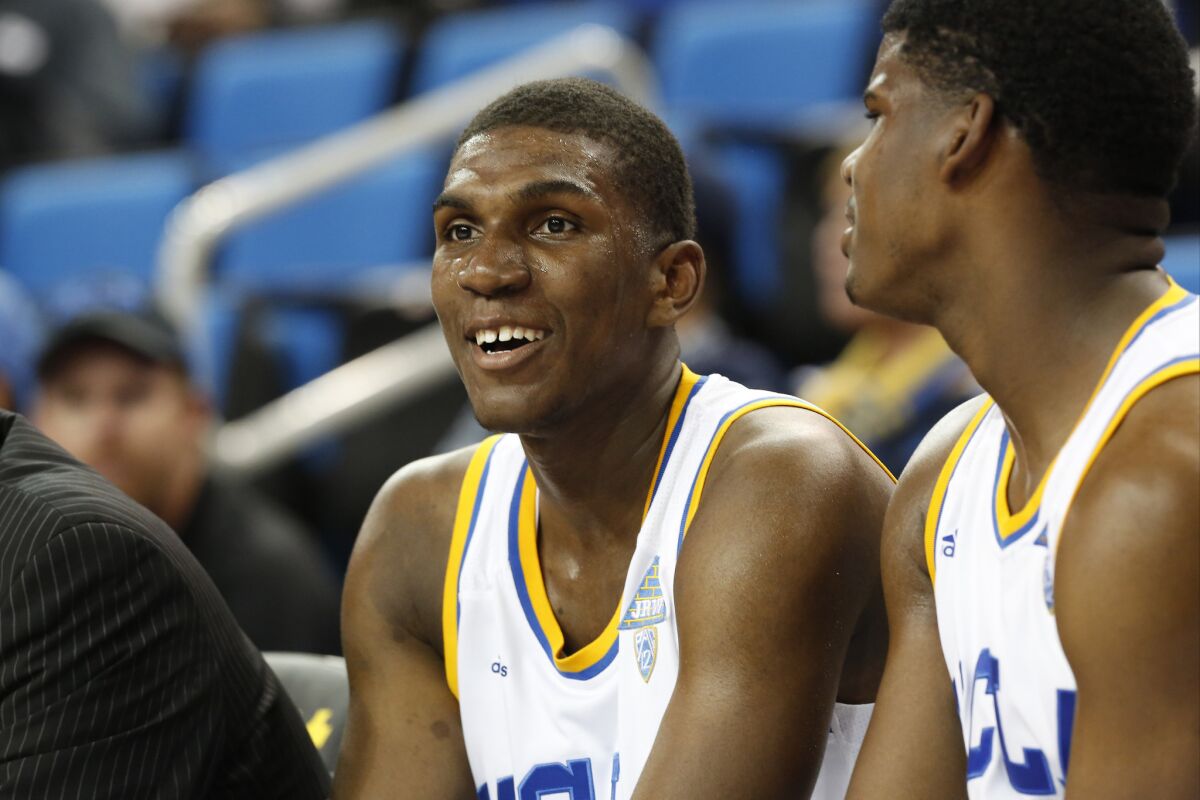 Former UCLA forward Kevon Looney is among 19 players that have been invited to spend some time in the Barclays Center green room during the NBA draft on Thursday in Brooklyn, N.Y.
An invitation to the green room is reserved for players expected to be selected in the first round, though that's not always the case.
In 1998, Rashard Lewis famously languished in the green room in front of a television audience through the entire first round and into the second before the Seattle Super Sonics used the 32nd overall pick on the 18-year-old making the jump from high school to the NBA.
He later admitted to crying in the restroom away from the television cameras after the Houston Rockets, his hometown team, passed over him three times.
For Looney, the only tears on draft night will probably come from joy.
The 6-foot-9 swingman is ranked as the 19th best overall prospect by DraftExpress.com, which first reported the invitee list, and in Broderick Turner's NBA Mock Draft on Sunday, he had Looney going to the Toronto Raptors with the 20th overall pick.
In his only season at UCLA, Looney averaged 11.6 points with 9.2 rebounds per game.
Potentially joining Looney in the draft day festivities Thursday night is Norman Powell. The 6-foot-4 guard is projected to be a second round pick. Powell led the Bruins in scoring as a senior with 16.4 points per game.
Last year, Zach LaVine (Minnesota Timberwolves) was the only UCLA player invited to the green room, but three Bruins in all, including Jordan Adams (Memphis Grizzlies) and Kyle Anderson (San Antonio Spurs), were selected in the first round with pick Nos. 13, 22 and 30.
UCLA has produced 112 total draft picks, tied with Kentucky for the most from a single school. That could change on draft night. Three of the seven Wildcats who declared for the draft have been invited to the green room.
NBA Green Room Invitees
Player, Position, Last Team
Karl-Anthony Towns, PF/C, Kentucky
Jahlil Okafor, C, Duke
D'Angelo Russell, G, Ohio State
Kristaps Porzingis, PF, Spain
Justise Winslow, SF, Duke
Emmanuel Mudiay, PG, China
Stanley Johnson, SF, Arizona
Devin Booker, SG, Kentucky
Willie Cauley-Stein, C, Kentucky
Frank Kaminsky, PF, Wisconsin
Trey Lyles, PF, Kentucky
Myles Turner, C, Texas
Cameron Payne, PG, Murray State
Kelly Oubre Jr., SF, Kansas
Bobby Portis, PF, Arkansas
Jerian Grant, PG, Notre Dame
Sam Dekker, SF, Wisconsin
Rondae Hollis-Jefferson, SF, Arizona
Kevon Looney, PF, UCLA
Follow Matt Wilhalme on Twitter @mattwilhalme
---
Get the latest on L.A.'s teams in the daily Sports Report newsletter.
You may occasionally receive promotional content from the Los Angeles Times.