The Times' NBA mock draft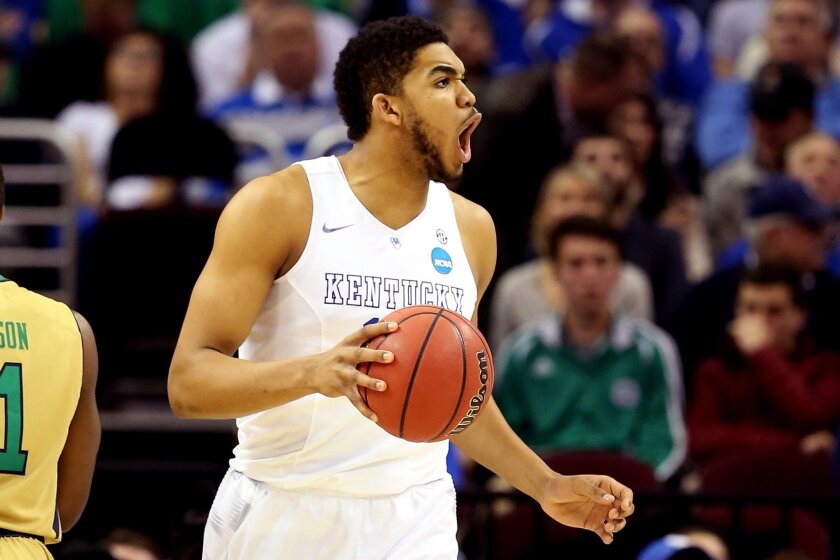 TEAM: player, last team, position, height, weight. Turner's comment
1. MINNESOTA: Karl-Anthony Towns, Kentucky, PF/C, 7-0, 248. Kentucky Coach John Calipari says Towns "likes Minnesota." So there you go.
2. LAKERS: Jahlil Okafor, Duke, C, 6-11, 270. A consolation prize? Really? This kid will get it done down low.
3. PHILADELPHIA:Kristaps Porzingis, Spain, PF, 7-0, 230. What, you didn't expect the 76ers to go out of the box? Considered Dirk Nowitzki-like.
4. NEW YORK: D'Angelo Russell, Ohio State, PG/SG, 6-5, 193. Has some Stephen Curry-type skills. Really good fit in Phil Jackson' beloved triangle offense.
5. ORLANDO: Willie Cauley-Stein, Kentucky, C , 7-1, 242. Not much of an offensive threat, but a versatile defender and strong rebounder.
6. SACRAMENTO: Emmanuel Mudiay, China, PG, 6-5, 200. Good size for a point guard. Big-time athlete.
7. DENVER: Justise Winslow, Duke, SF, 6-5, 222. Athletic, runs the court and is a playmaker.
8. DETROIT: Mario Hezonja, Spain, SG/SF, 6-8, 200. Can shoot the three-ball really well. Is athletic.
9. CHARLOTTE: Devin Booker, Kentucky, SG, 6-6, 206. Another of those Wildcats who has potential to be better in the pros because of shooting ability.
10. MIAMI: Frank Kaminsky, Wisconsin, PF, 7-1, 231. Big body who is working on being a "stretch" 4/5.
11. INDIANA: Cameron Payne, Murray State, PG, 6-2, 183. Will be a solid point guard in Mike Conley mold.
12. UTAH: Myles Turner, Texas, C, 7-0, 239. Jazz looking for more size. Turner can stretch floor with his shooting and also is a good defender.
13. PHOENIX: Stanley Johnson, Arizona, SF, 6-7, 242. Great body. Has combination of speed and power, and will be a good defender.
14. OKLAHOMA CITY: Kelly Oubre, Kansas SF 6-7, 203 Thunder loves athletes. Oubre is a very good athlete with potential to be a two-way player.
15. ATLANTA: Trey Lyles, Kentucky, PF, 6-10, 241. Hawks always looking for shooters with size. Lyles can be that "stretch four."
16. BOSTON: Bobby Portis, Arkansas, PF, 6-11, 246. Has size Celtics yearn for and do-it-all type of game.
17. MILWAUKEE: Sam Dekker, Wisconsin, SF, 6-9, 219. An in-state local kid. Nice complete game. Improved stock in NCAA tournament.
18. HOUSTON: Jerian Grant, Notre Dame, PG, 6-5, 198. Rockets need point guard to relieve pressure off James Harden. Grant has size and is versatile.
19. WASHINGTON: Montrezl Harrell, Louisville, PF, 6-8, 253. A more athletic Ben Wallace whose motor doesn't stop. Will rebound, play defense.
20. TORONTO: Kevon Looney, UCLA, PF, 6-9, 222. Raptors looking for size and versatile players. Looney can play small and power forward.
21. DALLAS: Tyus Jones, Duke, PG, 6-2, 185. Made big-time shots for Blue Devils in NCAA championship game. Smart and tough.
22. CHICAGO: Justin Anderson, Virginia, SF, 6-6, 231. A physical defender who can play multiple positions.
23. PORTLAND: Rashad Vaughn, UNLV, SG, 6-5, 199. Insurance if Trail Blazers lose free agent Wesley Matthews. Vaughn can score.
24. CLEVELAND: Rondae Hollis-Jefferson, Arizona, SF, 6-7, 211. Needs work on his jump shot, but can defend and is a very good athlete.
25. MEMPHIS: R.J. Hunter, Georgia State, SG, 6-5, 185. Has a nice outside stroke, and the Grizzlies need offense.
26. SAN ANTONIO: Guillermo Hernangomez, Spain, C, 6-11, 255. Spurs will leave him overseas to keep cash off their salary cap books.
27. LAKERS: Delon Wright, Utah, PG, 6-5, 190. Good size for point guard. Local kid who went to Leuzinger High in Lawndale.
28. BOSTON: Christian Wood, UNLV, PF, 6-11, 216. Needs work on his game and body, but is considered a good athlete with upside.
29. BROOKLYN: Terry Rozier, Louisville, PG, 6-2, 190. Tough, athletic defender. Needs work on being "true point guard."
30. GOLDEN STATE: Nikola Milutinov, Serbia, C, 7-0, 220. Will stay overseas because Warriors must pay Draymond Green big money.
---
Get our high school sports newsletter
Prep Rally is devoted to the SoCal high school sports experience, bringing you scores, stories and a behind-the-scenes look at what makes prep sports so popular.
You may occasionally receive promotional content from the Los Angeles Times.