Sam Darnold leaving USC early for the NFL draft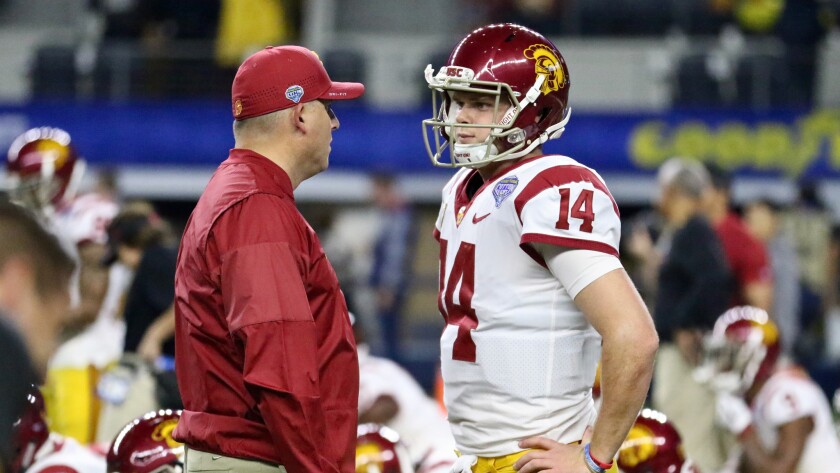 Sam Darnold will give up his final two years of college eligibility and declare for this spring's NFL draft, the USC quarterback said Wednesday.
The announcement, made first on Instragram, came as no surprise. Darnold is projected as a high first-round pick coming off a season in which he became the first USC quarterback to throw for more than 4,000 yards.
"After talking to my immediate family, very close friends and many people who have helped me throughout my life, I have made the decision to declare for the 2018 NFL draft," said Darnold, who went on to thank his coaches at San Clemente High, several coaches and officials at USC as well as Trojans fans.
"I have been blessed that my life has been full of memorable moments and wonderful people. The people who have been involved in making me the man I am today have prepared me for the life and decisions that I have to make in the future."
Darnold's decision came on the same day UCLA's Josh Rosen said he would also be leaving school early, entering a crowded quarterback draft class that will include Wyoming's Josh Allen, Heisman Trophy winner Baker Mayfield of Oklahoma and, possibly, 2016 Heisman winner Lamar Jackson of Louisville.
USC coach Clay Helton responded to Darnold's announcement with a social media post of his own.
"Thank you Sam Darnold for being the person, player and man of character that you are!" he wrote on Twitter. "You are the true example of what it means to be a Trojan!"
NFL scouts love Darnold's size — 6 feet 4, 220 pounds — and his strong, accurate arm. But the quarterback had trouble with turnovers this season and his stock might have taken a small hit in last week's Cotton Bowl, when he passed for 356 yards but was also sacked eight times, fumbled twice and had a pass intercepted that was returned for a touchdown in a 24-7 loss to Ohio State.
He had 13 passes intercepted this season and lost nine fumbles — the 22 turnovers more than 94 college teams committed in 2017. In less than two full seasons as a starter at USC, Darnold completed 64.9% of his passes for 7,229 yards and 57 touchdowns, with 22 interceptions, and a quarterback rating of 153.7. In his 24 starts, USC went 20-4, winning a Pac-12 Conference title and a Rose Bowl.
In the run-up to last week's Cotton Bowl, Darnold, 20, repeatedly said he had not made a decision about his future, promising to consult family and coaches first. Wednesday's announcement came 12 days before the deadline to declare for the draft.
Last year's top draft pick, defensive lineman Myles Garrett, signed a four-year, $30.4-million contract with the Cleveland Browns. No. 2 pick Mitchell Trubisky, the first quarterback selected, got a four-year, $29-million deal from the Chicago Bears.
Darnold has not made a decision on which agency will represent him.
Tee Martin, USC's offensive coordinator and a former NFL quarterback, said there was never any doubt Darnold had the ability to play on Sundays.
"Going back to high school and summer camp, it was just different," Martin said of Darnold. "We had lot of really good players. And he would throw a ball and I'd look back and it was the Darnold kid. Every time I'd look back, it was the Darnold kid."
Darnold redshirted his freshman year at USC, which meant he played on the scout team in practice.
"For the first time in my career, I would go over and watch the scout team," Martin said. "To watch what he was doing because it was unbelievable."
The first pick in this spring's draft belongs to the Cleveland Browns, who are 1-31 over the last two seasons. The next four selections will go to the New York Giants, Indianapolis Colts, the Browns (with a pick obtained from Houston) and the Denver Broncos, teams that were a combined 12-52 this season.
But Darnold said last week he would fine playing in any of those cities.
"It's been such a dream of mine to play in the NFL," he said. "And for an organization to put their trust in me to be able to go out there and play football for them, I think any opportunity to play for anyone would be amazing."
Darnold, who said he is seven classes shy of a degree in communications, leaves USC after guiding the Trojans to an 11-win season, the school's best since 2008.
And he's not the only one departing USC.
Five senior starters — center Nico Falah, safety Chris Hawkins, all-conference linebacker Uchenna Nwosu, defensive lineman Josh Fatu and wide receiver Steven Mitchell Jr. — played their last game for USC last week. As many as six juniors — including tailback Ronald Jones II and wide receiver Deontay Burnett — are facing decisions about the NFL draft.
Darnold's move could have an influence on what those players to do. Others who could leave include linebacker Cameron Smith, who led the team in tackles the last two seasons, defensive lineman Rasheem Green and all-conference tackle Toa Lobendahn.
Darnold's departure could open a spot for J.T. Daniels to compete for the starting quarterback job as a true freshman. Daniels, the L.A. Times player of the year as a junior at Mater Dei High, announced last month that he would attempt to reclassify up to the class of 2018, allowing him to enter college a year early.
USC also has a player who replaced Darnold as quarterback once before: Jack Sears, another San Clemente High product. He redshirted this season as a freshman.
---
Get the latest on L.A.'s teams in the daily Sports Report newsletter.
You may occasionally receive promotional content from the Los Angeles Times.