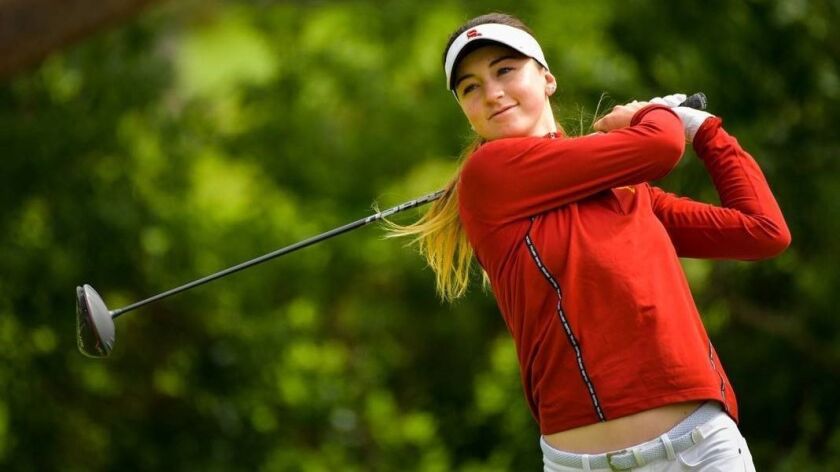 Gabriela Ruffels' parents encouraged her to play as many sports as she wanted growing up. But, for as much as they wanted her to be well-rounded, the daughter of Ray Ruffels and Anna-Maria Fernandez might as well have been predestined to pursue a career as a professional tennis player.
On one side of Gabriela's family tree stood Ray Ruffels, a three-time Australian Open semifinalist in singles who had reached the Wimbledon and U.S. Open final round in mixed doubles with partner Billie Jean King. On the other side sat Fernandez, the national collegiate player of the year at USC in 1981 who went on to win five Women's Tennis Assn. doubles titles.
By the time Ruffels was a teenager, she found herself on the same path. The family had moved from Laguna Niguel to Ray Ruffels' native Australia, where she enrolled in a tennis academy in Melbourne. There, she was being home-schooled, which is the trend for the sport's elite talent. Her days were spent alternating between gym workouts and court time, and another major tournament or international trip was always looming.
"I was only 14, and I couldn't imagine doing that the rest of my life," Ruffels said. "I just said, 'I've had enough.' "
Ruffels confronted her burnout from tennis and stopped playing competitively. She wasn't doing much of anything for a period of months, which felt foreign to her. One day, Fernandez took Ruffels to a driving range. She figured her daughter may like golf.
"I loved it from the first second," Ruffels said.
Driving led to playing nine, and then a full 18, and then to Ruffels getting her first set of clubs at 15. Today, the beneficiary of Ruffels' sudden turn toward the links is the USC women's golf program, which takes a No. 1 seed into the NCAA championships Friday in Fayetteville, Ark.
Ruffels, a sophomore, is one of the Trojans' top scorers with an average of 72.53 and a first-place finish in the fall at the Windy Cindy Collegiate Championship. She recently finished third at the Pac-12 championship.
Ruffels joined USC last season as an early enrollee, contributing to the team's push to the NCAA semifinals just months after moving onto campus. Her rise in golf has been accelerated, which shouldn't surprise anyone who knows her early years.
Sign up for our daily sports newsletter »
"I can attribute that to my tennis," Ruffels said. "When I came into golf, I felt like I had an athletic background that helped me progress quickly. I knew what it meant to work hard, to be elite in your sport and how to handle pressure, nerves. I feel like my years in tennis weren't a complete waste."
When Ruffels decided to take a break from tennis, her parents already had experience with a child leaving their chosen sport. Gabriela's older brother, Ryan, also played competitive tennis and fell in love with golf. At 17 and ranked 13th in the World Amateur Golf Ranking, Ryan Ruffels turned pro and played his first PGA Tour event in 2016. Ryan hasn't been able to find a consistent place on the tour and has made most of his starts on the PGA Tour Latinoamerica.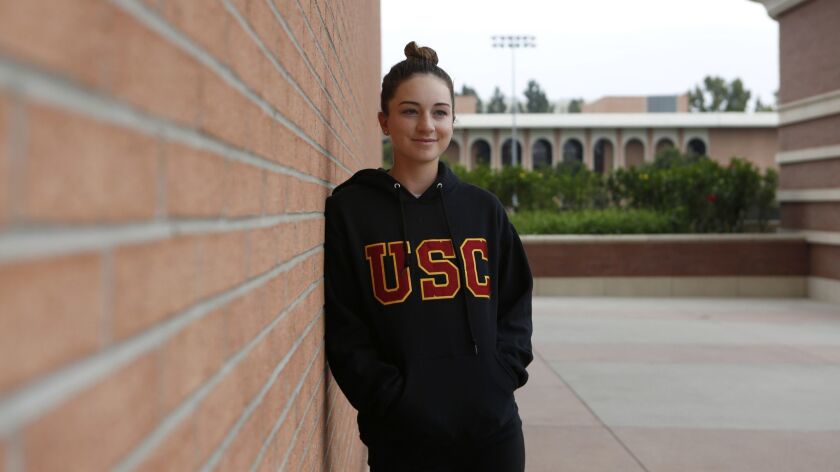 Ray Ruffels, who like Ryan turned pro as a teenager and did not attend college, wanted Gabriela to follow in her mother's footsteps and have the chance for a degree. When Gabriela chose to play at USC, her parents moved back to Southern California, settling in Palm Desert.
Every once in a while, Gabriela will play tennis with her family just for fun. She is surprised that she can't do certain things that used to come easily to her, but that's the choice she made.
As she pursues her degree in business administration and immerses herself in the USC experience, she never doubts her decision.
"Sometimes I walk through campus," Ruffels said, "and I just think about how grateful and lucky I am to be here."
Twitter: @BradyMcCollough
---