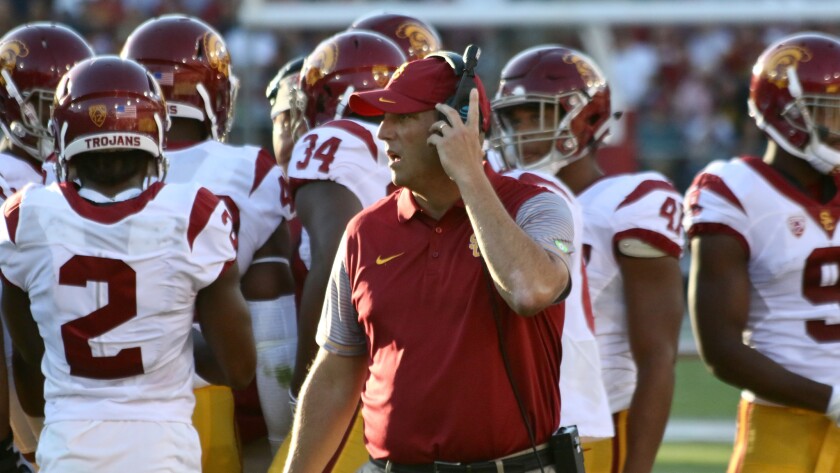 Everything started to turn not long after Clay Helton talked to the public about getting punched in the face.
It was at the end of September and USC was in a bad way. Sports Illustrated and others in the college football pundit class were speculating that Tom Herman, then the coach at Houston, could become the next coach of the Trojans — after Helton was fired.
USC was 1-2, about to be 1-3, with two players under investigation for sexual assault.
At one point, Helton was forced to address a false but widely circulating rumor that a transferring player had punched him.
Penn State, meanwhile, wasn't doing much better. A few days after Helton spoke about the punch that wasn't, James Franklin's Penn State squad lost to Michigan, 49-10.
That dropped the Nittany Lions' record to 2-2, and the next week the home fans booed and chanted "Fire Franklin!" (Herman, again, was among the speculated replacements.)
And then, suddenly, neither team could lose.
Helton and Franklin have gone from the coaches' hot seat to the sidelines in the Rose Bowl on Monday. Their resurgence has become evidence for an argument for a modicum of patience in a sport where that is often at a premium.
"They both went through the dark just to find the light," USC receiver JuJu Smith-Schuster said.
The coaches say they understand losing will always put their jobs in jeopardy. Franklin earns $4.5 million a year, plus bonuses, according to USA Today's college football salary database. Helton's salary has not been disclosed. His predecessor, Steve Sarkisian, made $3.6 million per season.
"If you're 1-3 at USC, you deserve to get talked about, that's just a fact," Helton told Times columnist Bill Plaschke earlier this month. "If you can't handle it, don't take the job. This is a thick-skinned business."
Franklin said that at a program like Penn State, "If you're not playing for conference and national championships, people get uneasy. We understand that; we embrace it."
But he also said decision-makers should consider a broader view for what defines a successful coach.
"Our profession has gotten a little bit out of whack and gotten a little bit crazy," Franklin said. He said a coach's responsibilities include developing and graduating his players.
"I think if it was just about the winning and the losing, we'd go coach in the NFL," he said.
But it was winning that got both off the hot seat. Players on each team say their coach's steadiness kept the season from sinking. Faced with chaos, they responded with stability.
Franklin and Helton each worked from the bottom ranks of coaching. Franklin, a Division II quarterback at East Stroudsburg in Pennsylvania, became a graduate assistant there but wasn't earning enough to afford rent. He slept on the head coach's couch.
Helton, a backup quarterback at Houston, got his start as a graduate assistant at Duke, earning $832 a month.
Brent Pry, Penn State's defensive coordinator, crossed paths with Helton when both were assistants at Memphis. Pry noticed that Helton's demeanor never seemed to change. By the way he behaved, it was difficult to tell if Helton was coming off a big win or a blowout loss.
Pry says he sees a lot of Helton in Franklin.
"This year was a good earmark for just level-headedness, not jumping the gun," Pry said. "Clay and James are those kind of guys."
The panic point for both arrived after Week 4. USC had just collapsed against Utah for its third loss. After the game, Helton responded with uncommon optimism.
"That was the most fun I've had in a long time," he said minutes after the game.
The comment rubbed some people the wrong way, but Helton's attitude was calculated. He said later that players need stability. Helton did not want to cause alarm.
"At Utah, all he told us was that he loved us and that if we stick together, we're going to win ballgames," defensive tackle Stevie Tu'ikolovatu said. "Then ever since that, that's exactly what happened."
The same week, injury-ravaged Penn State was destroyed by Michigan.
"We came back the next day and Coach Franklin told us we're not that far off, we're right there," tight end Mike Gesicki said.
Players said Franklin changed nothing besides some tweaks to the game plan. The difference, linebacker Jason Cabinda said, "was his belief in us. Belief is a powerful thing."
The coaches gave their players space to solve their own problems. After the Utah game, USC called a players-only meeting, where some players were called out for behaving selfishly.
"Clay and James are players' coaches," Pry said. "These guys are going to want to play for them, they believe them. Tough times, that's where it's at, the relationships."
Each also had the luxury of knowing help was on the way. For USC, quarterback Sam Darnold, in his first start against Utah, had showed the ability to be among the nation's best quarterbacks. And Penn State's defensive woes could be partially attributed to a linebacking unit decimated by early injuries.
The teams have combined to go 17-0 since then. Penn State's nine-game winning streak is third-longest in the nation. USC's streak of eight games ranks fourth.
Players on each team said they heard the calls for their coach's job. That, they said, has made the Rose Bowl a little sweeter.
"It's funny," Penn State quarterback Trace McSorley said. "The same people that were doing that are now patting us all on the back, telling us congratulations. It's funny how that all works."
Follow Zach Helfand on Twitter @zhelfand
---