USC's Kevin Porter Jr. chases NBA dream to honor a father he barely knew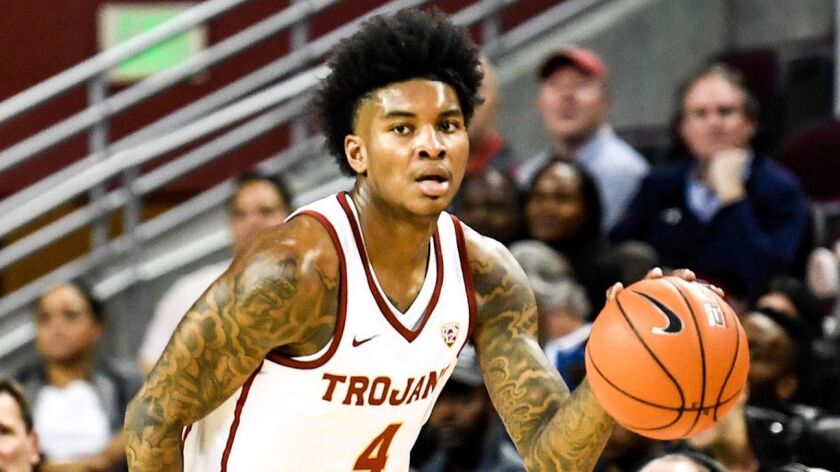 On a cold January night in the middle of Oregon, Kevin Porter Jr. felt himself tumbling into that lonely place he goes when the disappointment of a bad game turns crippling. Fighting it, he thumbed through his phone and called his mother. Fortunately, Ayanna Porter had driven down from Seattle to attend the loss that night to Oregon State.
"I'm outside," he told her. "Come around back."
This was supposed to have been Porter's grand return from a nagging thigh injury that had kept his freshman year from taking liftoff, but instead, his game-tying layup attempt had been blocked, another precious prove-it moment swatted away in what was fast becoming a lost season in Los Angeles.
Ayanna found her son behind Gill Coliseum near the idling USC team bus. Kevin was crying. She pulled him close.
"I know Pops is not proud of me right now," Kevin said.
"What?" Ayanna said. "That is not true. Don't ever think that."
Could he really think his father wouldn't be proud of his only son, a teenager on the brink of being a probable first-round pick in the NBA draft? The problem all these years, of course, was that her son couldn't hear the words straight from Kevin Porter Sr.
Son, I'm proud of you.
Without it, he could not help but seek it. Every day, Kevin wore that "Junior" at the end of his name like a badge of honor. It gave him a sense of purpose, living up to the idealized image of this man he had only started to get to know. He also wore No. 4 on the back of his basketball jersey because he was 4 years old when his father was shot and killed in a South Seattle bar.
The story was that it was a wrong-place, wrong-time situation. Stories were all Little Kevin had left of Big Kevin, and the father's legend in the son's eyes would grow to be larger than life. To protect that, those who loved them both would be selective caretakers for what was relayed.
For instance, Ayanna never told Kevin Jr. the one from before her son was born that could teach him about how quickly life can spiral out of control — the one that altered the course of two South Seattle families in 1993.
"He might know from the streets," Ayanna said. "People talk."
When Ayanna looks at her son, she sees his father. They are so much alike, sometimes it hurts her. They're emotional. They're playful. They have a tough exterior but a softness inside.
Kevin showed that vulnerability to his mother that night in Corvallis as he had many times, but Ayanna couldn't break his fall. Before USC's game against Oregon three days later, the school announced that Porter had been suspended indefinitely because of a vague conduct issue that arose during a too-long weekend in the Pacific Northwest.
The mystery and confusion surrounding the player who draws comparisons to a young James Harden only intensified. Questions emerged about his NBA readiness. Porter absorbed it all, feeding his fire.
"That's my dream, so I pay attention," Porter said. "I'm not going to be the one that says I don't worry about it. I want to be able to feed my family and my mom never have to work again. I pay attention to it a lot, actually, what people say about me."
If his year at USC showed anything about him, it's that Porter may care too much — so much that he struggles to harness it.
Three weeks after the Oregon State loss, the Trojans visited his native Seattle to play Washington. USC lost again, with Porter scoring just six points.
After the game, his longtime mentor, Kenan Oliver, found him on the court. Kevin was crying again.
"I don't think my dad is proud of me right now," he said.
::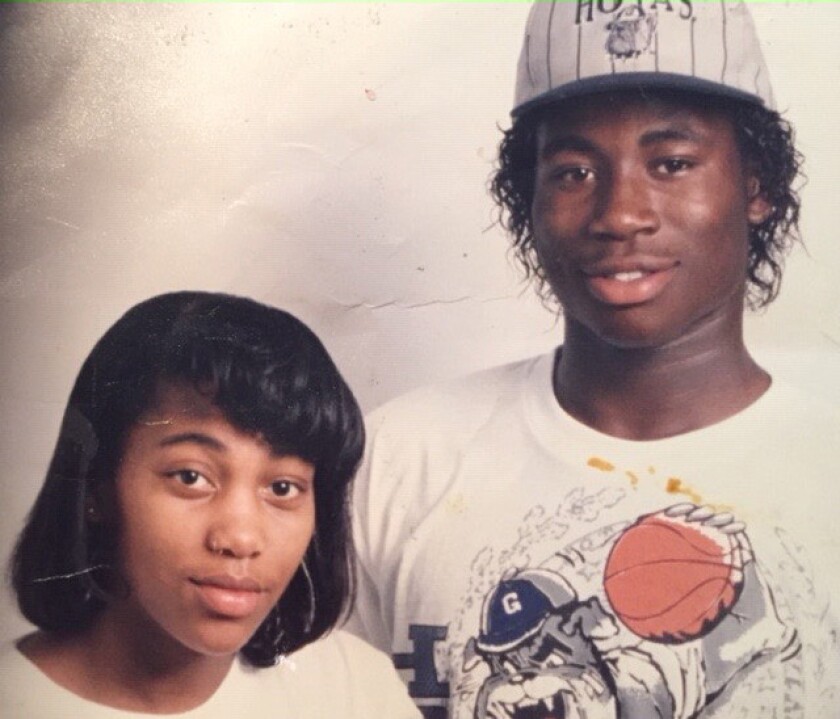 The story of Kevin Porter Sr. that was safe, the one Kevin Jr. knew best, the one tucked away in faded family photo albums and faint memories, begins on a basketball court.
"He asked me to play one on one with him," Ayanna said.
She giggled recalling their first encounter when she was 15. Kevin Porter was a talented football and basketball player at Rainier Beach High who would visit the gym at the alternative high school Ayanna attended.
In the years before she met Kevin, Ayanna had been homeless, fending for herself to take care of her little brother. Her parents had been using drugs her whole life, and her mother went to prison. She ended up in the system, landing with an aunt who did not provide much stability. At a certain point, Ayanna chose to figure it out on her own, and she did things to survive that she wishes she could forget.
"It was not a good life I was living," she said.
Ayanna and Kevin started dating. And soon, Ayanna was pregnant with Kevin's baby. Instead of turning his back on her and disappearing at the first hint of responsibility, Kevin brought her closer.
"You're coming with me," he told her one day.
"Where are we going?" she said.
"You're coming to stay with me and my mom and dad," Kevin said.
Kevin was lucky to have both his parents, and he wasn't about to have the mother of his baby out there on her own. Ayanna was 17 and Kevin 18 when they welcomed their daughter, Keayanna Porter, in May 1992.
The next phase of the story — the five years when Ayanna lost her Kevin — is the redacted part of Ayanna's version of the family history, buried to preserve a young father's one shot at a second chance.
Her story picks up with the birth of the couple's second daughter, and, finally, Ayanna becoming pregnant with their third child.
"We cried when they told us it was a boy," Ayanna said. "He ran outside, calling people. 'It's a boy! It's a boy! It's a boy!' "
The couple would name their son after his father, which said something. In their close-knit community, where reputations don't change easily, it was as if Kevin and Ayanna were saying they had nothing to hide. Almost fearlessly, they would raise Kevin Jr. surrounded by the same bleak landscape and the same influences that his dad could never escape.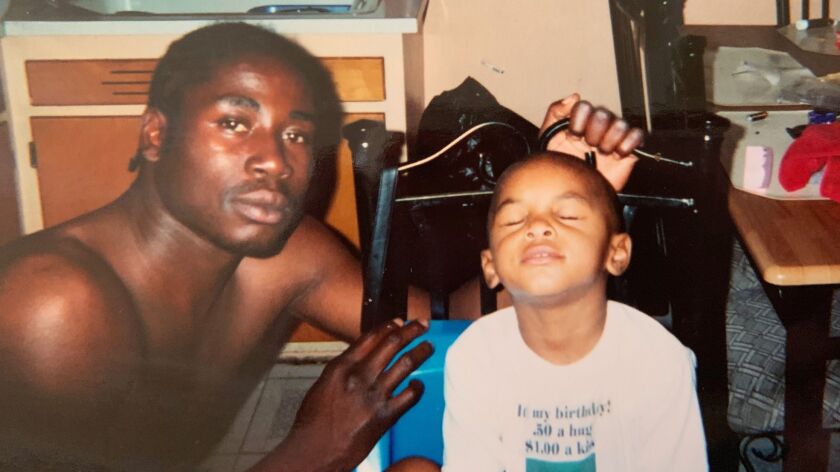 But Kevin Sr. was getting his life back together. Ayanna had started a day care business in their home, and Kevin Sr. was breeding dogs. And most importantly, Big Kevin was a constant presence in Little Kevin's life.
"That four years of his life with his dad, you couldn't keep them apart," Ayanna said.
Early in the morning on July 17, 2004, a phone call awoke Ayanna. Kevin Sr. had been shot. She rushed to the bar where the incident occurred, hopeful he was still breathing. The police and medics had already arrived. Big Kevin had been shot five times. The story was that he had been trying to help a friend who was in trouble. Now he was gone forever.
That morning, as dawn broke, Ayanna had to tell her three children that their father was not coming home. Ever. She made a decision in regard to her youngest. Little Kevin was not going to attend the funeral. Ayanna did not want him to remember Big Kevin that way, lifeless, lying in a casket.
::
"Being in basketball, you always see the father and son type of relationship that you always want, what I always wished to have."
Kevin Porter Jr. on the impact the loss of his father had on him.
By virtue of his name alone, Kevin Porter Jr. carried his father with him everywhere. And, as the years passed and he gained his own footing as an athlete, it was not rare for him to be walking down the street and be stopped by a stranger who compared him to Big Kevin. They all had stories, and he took them in, but they weren't enough to sustain him.
"Because I have always been around people who had their father," Porter said. "Being in basketball, you always see the father-and -on type of relationship that you always want, what I always wished to have. When I was younger, I had a hard time dealing with that."
Ayanna searched for positive male role models. She found two early mentors through a nonprofit, the latter of whom was Oliver, then a professional basketball player who was with Seattle's American Basketball Assn. team. Kevin and Kenan became like brothers, but it was clear that there was no replacing Big Kevin.
"There was a lot of people that would try to take that spot," Kevin Jr. said, "which is not available at all."
One day, around the fifth grade, Oliver put Kevin through a goal-setting exercise. Kevin's one-year goal was to make all As and Bs. His five-year goal was to play at Rainier Beach like his dad and get a college scholarship. His 10-year goal was to be in the NBA. From his own experience, Oliver knew how hard it was to make the NBA.
"Bro," Oliver said, "you gotta have a plan B."
"I don't need a plan B," Kevin said.
Flowing with stubborn confidence, Little Kevin acted out in school and on the court. Some felt he was a "hot head," a genetic thread that had its advantages and disadvantages. Certainly, he had no problem being noticed.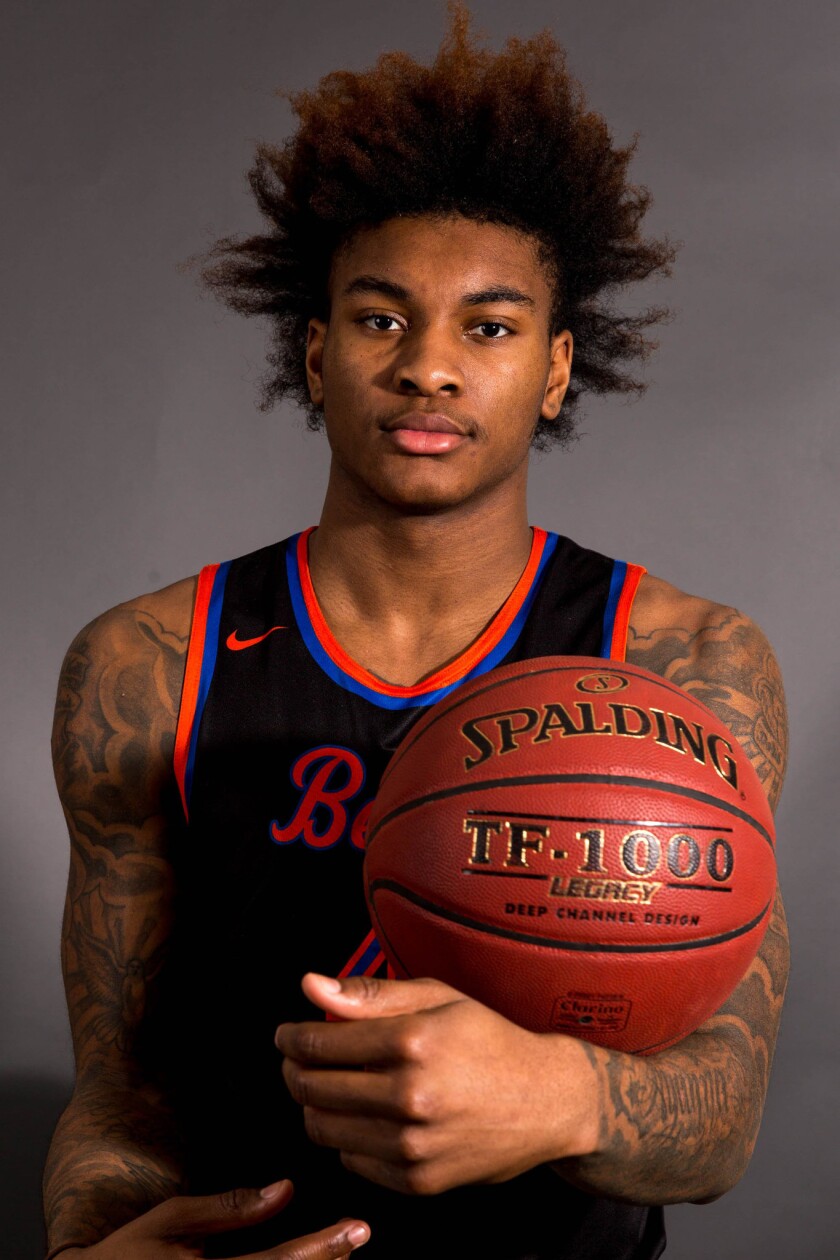 "I first met him when he was in seventh or eighth grade," said Jamal Crawford, a Rainier Beach product then in the middle of a 20-year NBA career that continues today. "He was the kid in the gym who was always watching guys play and wanting to be involved in one way or another. He would step on the court and let us know that he's got some game. You could see it, and he's a lefty doing those things. That definitely stood out."
With the "hot head" talk swirling around her son, Ayanna approached Crawford and asked if he would show Kevin a better way. Crawford mentored many local youths, and he actually had known Big Kevin back in the day.
Like Kevin Sr. before him, Crawford had been coached at Rainier Beach by Mike Bethea, who was still there, grooming kids from rough upbringings into college players. But Ayanna did not want her son to go to Rainier Beach, a school known for gangs, drugs and active-shooter lockdowns as much as hanging basketball state banners. Little Kevin, however, was not going to hear it. He played the dad card and promised to stay out of trouble.
"You get in trouble one time," Ayanna told him, "you're out of there."
Bethea had a good relationship with Kevin Sr., and he had been saddened by his death. But nothing shocked Bethea after so many years in South Seattle, and he knew Big Kevin had some demons.
Bethea rode Kevin Jr. to the point he considered transferring. He suspended him numerous times. Ayanna met with Bethea to find out why he was being so hard on Kevin Jr.
"He said, 'I'm tough on him because I know he has it in him. I've seen it before. His dad was the same,' " she recalled.
Ayanna acknowledged that Kevin Jr. being a part of Bethea's basketball program had kept him out of the kind of trouble she deemed serious. He had not been involved with gangs and drugs.
At Rainier Beach, Kevin Jr. wasn't just trying to honor the name of his father. He was Ayanna Porter's son too.
Sign up for our daily sports newsletter »
"I always paid attention to her, everything she did, how she carried herself," Kevin Jr. said. "I never wanted to have a bad rep, because I'm her kid, so if I do something bad or I'm running the streets it affects her. I always wanted to give my mom a good rep because she was the best mom I could ever ask for."
Under Bethea's watch, Kevin begrudgingly bided his time. As a sophomore, he played a supporting role behind eventual NBA point guard Dejounte Murray. As a junior, the Vikings were his team, and, when they matched up with future NBA lottery pick Michael Porter Jr.'s Nathan Hale team, Kevin set out to show he was the best Porter Jr. on the floor.
That night, Crawford was in the house to watch his pupil work. Michael Porter Jr. did his thing, making it look easy with 41 points, but Kevin poured in 22 second-half points to finish with 31.
"We ended up losing, but Kevin was just putting on a show," Bethea said.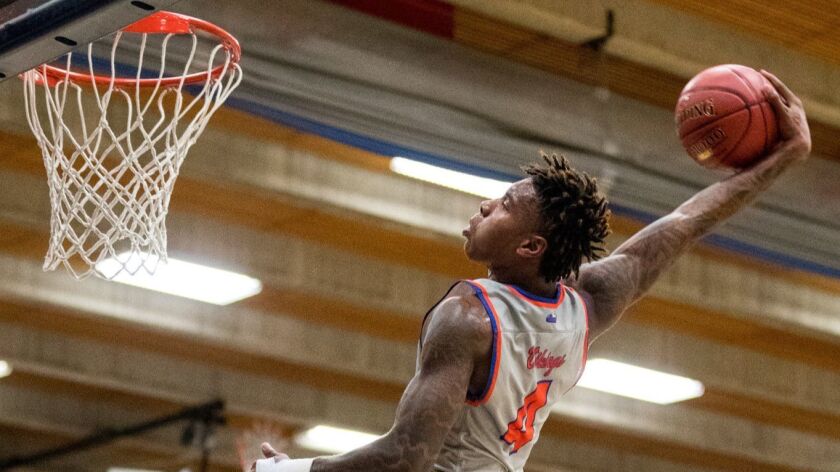 In July before his senior season, Kevin committed to USC, one of the first schools to show interest in him, back when he was a lesser-known prospect.
He did not become nationally known until a game early in his senior year, when he executed a slick crossover before taking off for an angry dunk on a helpless opponent. That highlight would go viral, spreading across a basketball universe that suddenly knew the name Kevin Porter Jr.
::
The story of Kevin Porter Sr. that Ayanna never wanted Kevin Jr. to know, the one he eventually heard from other members of the family, begins with the father at 19 years old, the same age that the son will be Thursday when he expects to hear his name called at the draft.
For many reasons, Porter Jr.'s rise to one-and-done NBA player after averaging 9.5 points as a USC freshman feels improbable, particularly when one hears that if not for a fateful twist in the investigation into an alleged 1993 South Seattle murder, Little Kevin never would have been conceived to be born on May 4, 2000.
In August 1993, Kevin Porter Sr. was charged with first-degree murder in the shooting death of a 14-year-old girl. According to a report in the Seattle Times, witnesses said Porter turned to a trembling girl seated in the backseat of his car, told her he was going to shoot her and then allegedly pulled the trigger.
"He was a family guy. Whatever happened on the street was the street. He never brought nothing home."
Ayanna Porter on Kevin Porter Sr.
In November, Kevin Sr. pleaded guilty to first-degree manslaughter. He told the judge that he was handing the loaded and cocked semiautomatic gun to the girl, who had asked to see it. He said the gun accidentally discharged.
The only witness to the shooting, the girl's friend, had also recanted an earlier statement that said the shooting was intentional. Porter's defense attorney said that the witness' "conscience got the better of her" after she had initially been pressured by the family of the deceased to send the young man away for life.
Instead, Kevin Sr. was sentenced to 4 1/2 years in prison, allowing him to come back to his young family and try to make up for a tragic mistake.
Ayanna said she did not know much about Kevin Porter Sr.'s other life.
"He was a family guy," she said. "Whatever happened on the street was the street. He never brought nothing home."
Mike Bethea had always seen that Kevin Sr. was struggling. He didn't finish his senior year on the Rainier Beach basketball team, and he "was just one of those kids where he had a reputation as being a tough guy, but I was able to reach that softer side of him."
Once he left Rainier Beach, Kevin Sr. and Bethea lost touch.
"He was going through a dark time," Bethea said.
Bethea believed that Kevin Sr. didn't intentionally kill the girl. And, once the young man was released from prison and had a son of his own, Big Kevin visited his old coach, effectively setting Little Kevin's basketball journey into motion before the father knew he wouldn't be around to see it.
"When my son gets to Beach, you've got to take care of him," Bethea recalled Kevin Sr. saying. "When I was there, if I had to do it all over again, I would have followed what you said to a 'T.' Don't let my son make those mistakes."
Bethea did his part, and now Kevin Porter Jr. gets to count down the hours until his 10-year-plan becomes reality.
"I'm still in shock," Ayanna Porter said. "My son is what … he's … really? My son just amazes me."
Ayanna tries to tell Kevin Jr. that he doesn't have to take care of her, that she will always want to work. She's a single mother, after all. But Kevin's plan is for her and his siblings to move from Seattle with him to his new city.
"I feel like I've put a lot of pressure on myself to take care of my people and be the man of the house," Kevin Jr. said the week before the draft. "I always wanted to provide. Moving them out is a blessing. So this is definitely some relief."
His mentors foresee a lighter Kevin, a young man whose talent will now flourish with an inner peace that helps him let go of disappointments more easily.
Then again, nothing can fill the void that has pushed him this far.
"His dad was never around to tell him, 'I'm proud of you,' " Kenan Oliver said. "Think of how confusing that has to be. He's never felt that as a man. A lot of times, when he gets down, that's where he's getting. He's got a lot of questions that if answered would make your life better. He has to go on in life trying to figure that out."
Today, when he finds himself in a clearheaded place, far away from the heat of battle, there is one question that Kevin Jr. doesn't feel needs to be answered about his dad.
"Proud is an understatement," he said. "I feel like he ain't ever gonna stop smiling."
Twitter: @BradyMcCollough
---
Get the latest on L.A.'s teams in the daily Sports Report newsletter.
You may occasionally receive promotional content from the Los Angeles Times.