USC's Kevin Porter Jr. declares his intention to enter NBA draft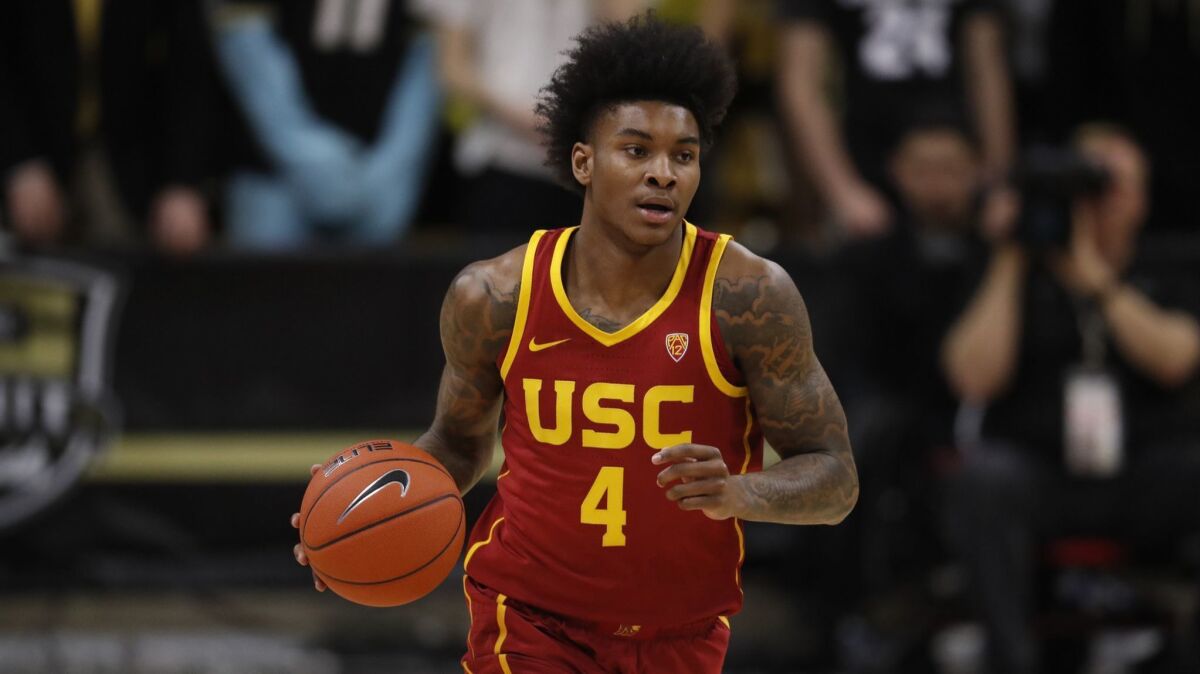 Kevin Porter Jr. did not have anything close to the freshman season he imagined at USC. The bouncy and explosive guard from Seattle never reached his potential because of a string of injuries and some off-the-court drama. Porter's struggles ultimately had a lot to do with the Trojans not making the NCAA tournament for the second straight year.
But through it all, the NBA's fascination with Porter remained strong. Porter announced Friday on Twitter that he will declare for the NBA draft and sign with Roc Nation Sports, a move which surprised no one.
Now the NBA scouts and executive who covet his talents can have their crack at him.
"He's good enough to be the second-best player in the draft behind Zion [Williamson], but he has off-the-court issues," one league scout said in February. "Talent wise, he's a little bit like James Harden. He has the step-back like James. He has a nice crossover like James. He's athletic, he's got a body on him. His jump shot is a little funky, but he's got some burst on him.
"In my opinion, he's better than RJ [Barrett]. RJ just has the pedigree because his dad played in the NBA and he's from Duke and has the clean-cut image. But I think he's more talented than RJ. He's more athletic than RJ. He's a better scorer than RJ. He has off-the-court stuff, so I think he falls between six and 10 is my guess."
ESPN has Porter listed at No. 14 on its NBA draft big board.
"Without a doubt a first-round talent, especially in this draft," said a second NBA scout. "I've always been a fan of his because of all the things he can do."
Porter averaged just 9.5 points and 4.5 rebounds in 22.1 minutes per game for the Trojans. His desire to help them win was never in question, and there was little doubt he was not himself physically after his November quad injury.
"To the Trojan Family, I love you guys & I'm going to miss you dearly," Porter said in a note included with his Twitter announcement. "I couldn't imagine any other family to be a part of. To my brothers, I can write a whole novel of the memories we made this year!"
Boatwright signs
USC senior forward Bennie Boatwright also announced Friday that he will sign with Roc Nation Sports, the sports management agency owned by Jay-Z.
Boatwright is not considered a first-round prospect but could be drafted in the second round.
---
Get the latest on L.A.'s teams in the daily Sports Report newsletter.
You may occasionally receive promotional content from the Los Angeles Times.