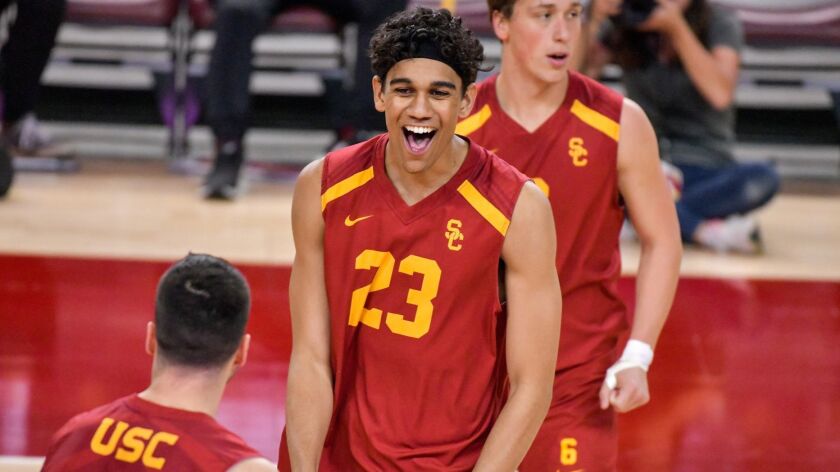 It took focused leadership, elevated effort and renewed team chemistry for the USC men's volleyball team to get where few expected it to be.
The Trojans recorded a winning season for the first time in four years, went undefeated at home for the first time since 2000 and made the NCAA tournament for the first time since 2012.
After an 8-20 season in 2018, USC set its sights on a "resurgence." Through 14 matches, the Trojans were at .500. But victories in 11 of their last 14 matches, including a sweep of defending national champion Long Beach State, helped them earn one of two at-large bids into the seven-team NCAA tournament.
The Trojans (18-10) face Lewis University (25-5) on Tuesday at Long Beach State. The winner advances to a semifinal matchup with No. 1 seed Hawaii on Thursday.
The season for one of USC's key players — sophomore middle blocker Sam Lewis — mirrored that of the team.
"If you're talking about resurgence," Trojans coach Jeff Nygaard said, "he's the quintessential guy that's resurged."
Lewis leads USC with 66 blocks while contributing 84 kills and 18 aces. His sets and serves are more consistent this season, his blocking stronger and his spikes more intentional. His 6-foot-10 frame and on-the-court strides have made him "the full package of what the ideal volleyball player is," redshirt senior Jack Wyett said.
Two months before USC's season-opener, Lewis' right lung collapsed.
It happened while he was sleeping. Lewis woke up one November morning before a preseason tournament at UCLA and noticed nothing unusual. Then he stood up and tried to take a deep breath.
It was the worst pain Lewis ever experienced. He couldn't stand up straight. Bent over, he began inspecting his rib cage, thinking maybe he slept in an awkward position and a bone was out of place. But there was nothing visibly amiss.
He made a makeshift corset out of medical wrap to keep his chest compressed, too tight to take any excruciating deep breaths, and played through the pain. He regrets that now; he did not know the risk he was taking. He learned two days later, when he saw a doctor.
His right lung was at 50% capacity.
"For any regular-sized human being," Lewis remembers his doctor saying, "you would be on the floor, probably not able to breathe."
Lewis was rushed to the hospital, where he spent all of Thanksgiving break. Under his armpit remains a small brown scar the size of a thumbprint, where a tube stuck out for four days, helping his lung inflate to its original size. Before the lung collapsed, Lewis thought he had a cold. A violent cough plagued him.
"What a male goose sounds like screeching for death," Lewis said with a grin. "That's what I sounded like."
Lewis had spontaneous pneumothorax, when air pockets form between the lung and rib cage and spontaneously pop, causing the lung to collapse. Doctors said the cause is unknown, only that it is more common in people who are tall and thin. Lewis was told the collapse was unlikely to happen again. If it did, he would need a minor surgery.
::
He laughs about the scare now, as he leans back on a black leather couch in the Galen Center after a recent weekday practice. With a wide grin that illuminates his face, Lewis exudes a warm confidence as he speaks. He snaps his fingers to music playing at practice and cracks jokes with his teammates on the sideline.
Sign up for our daily sports newsletter »
But he jolts into focus once the volleyball is in play, tirelessly bolting for loose balls and diving for digs. He eyes the volleyball as if he were studying a crystal ball — his gaze sharp and determined.
"I've always been a fighter," Lewis said.
He needed to be. Ever since he came out as gay at 14 years old, Lewis has encountered people who refused to accept him. In USC games, he said he has been heckled with racist and homophobic comments by opposing fans. Competing internationally for the U.S. junior and youth national teams, some opposing athletes showed discomfort being around him. Others threatened his life.
Instead of cowering, Lewis stood taller. On National Coming Out Day in October, he spoke about his journey to self-acceptance in a video posted by USC. He wanted his experiences to be a lesson.
"We need to realize that people are different, and we need to accept them for their differences and celebrate them for it," Lewis said. "Not break them down."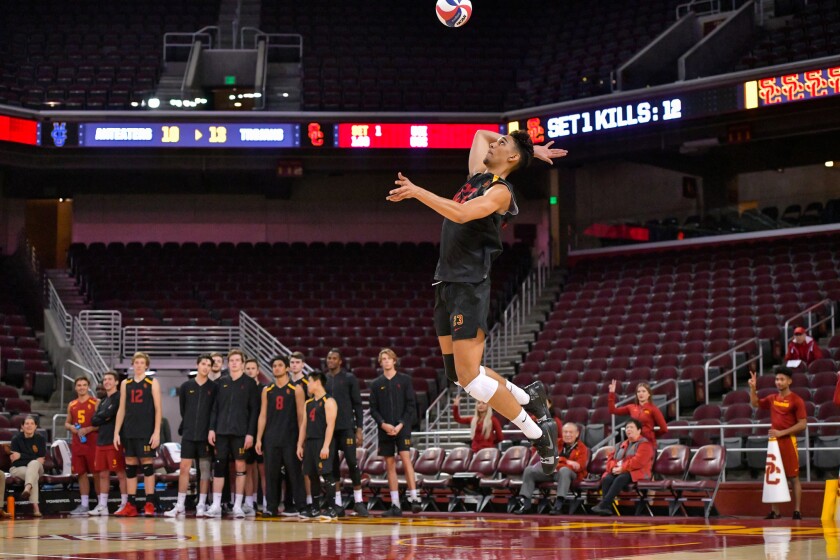 He refused to let adversaries break him. Not even his own body could. His determination helped him recover from the collapsed lung, as he fought to start for the Trojans.
"This is my position, and I earned it," Lewis said. "Let me earn it again."
He began working out after several weeks of rest and spent hours at a time exercising on cardio equipment in the Galen Center, until his shirt was soaked in sweat. He did breathing rehabilitation exercises for an extra 1 1/2 months to ensure a complete recovery. He returned to the lineup after missing the first three matches of the season.
Greater discipline drove Lewis in practice as he eased back into volleyball, using meditation to sharpen his mental game.
The result surprised Wyett — Lewis is an even better player than before.
"I just think he grew a greater level of appreciation for the sport," Wyett said, "knowing that it could be taken away from you at any second."
Lewis' build, talent and fervor for volleyball give him a shot at playing in an Olympics, which Lewis said is one of his goals. Another one is to be a role model for kids still finding their identity, searching for someone who can relate to them, who can give them advice.
Someone like Lewis.
"I want everybody to be able to shine as much as possible," Lewis said, "because we all have amazing things about us that the world deserves to see.
"And why not share it?"
---