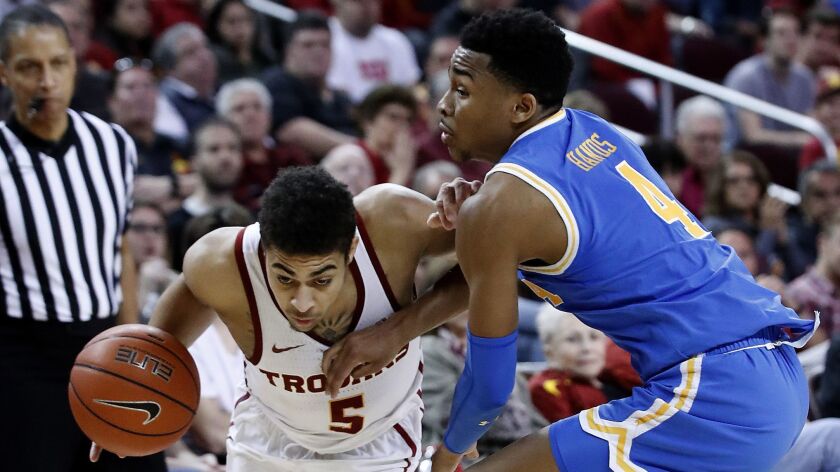 Jonah Mathews was just settling into college life the last time USC beat UCLA. Four losses to the Bruins then piled up, each more painful than the one before it. The last defeat came in the regular-season finale last year at home and likely kept the Trojans from the NCAA tournament.
"That holds weight," said Mathews, a junior guard from Santa Monica. "When they came here last year and beat us like that, we just couldn't have it this year."
Just about everything that could go wrong has gone wrong for both sides this season, but Saturday, the Trojans played like the team that was more fed up. And it wasn't simply happenstance that USC's best effort of the year found the Bruins on the other end of a good old-fashioned rivalry noogie that will go down in the record books as an 80-67 Trojans win.
The margin shouldn't have been that close.
"We just took it to them," Mathews said, "and it was personal for us. That's how we're doing business."
USC and UCLA may carry the same record — 10-8 overall and 3-2 in the Pac-12 — into next week's games against Arizona and Arizona State in Los Angeles, but the prognosis for the rest of the season does not feel remotely equal. Of course, that could very well be a result of recency bias.
But, looking beyond both teams' disappointing 2018-19 campaigns, it is possible USC is better positioned for success in the coming years. The Bruins will be starting over with a new coach after firing Steve Alford. They'll always have elite talent in Westwood, but the Trojans will enter Andy Enfield's seventh season with one of the top recruiting classes in the nation arriving on campus, a rare treat at USC.
Saturday, UCLA's cast of young five-star recruits — sophomore guards Kris Wilkes and Jaylen Hands and freshman center Moses Brown — were no match for the upperclassman savvy of USC senior Bennie Boatwright and juniors Nick Rakocevic and Mathews.
"We think we're the best team in L.A.," Wilkes said, "and to come down here and not show that tonight, it hurts."
What are rivalries but a routine transference of pain and suffering from one group of people to the other? It's especially true of the good ones. And USC-UCLA basketball, as crazy as it may be to hear from the Bruins' perspective, is becoming a good one. The Pac-12 as a conference could certainly benefit from its L.A. teams making each other better through heated competition.
USC jumped out to a 16-4 lead thanks to an inspired start from Mathews and senior Shaqquan Aaron, who combined for nine assists in the first half from their spots on the wing. It was a good sign the ball was moving for USC offensively. There's a reason that one of the first numbers Enfield checks on the stat sheet after a game is the assists column.
"When we have 16 assists or more we are 10-0 this year," Enfield said. "That's kind of our magic number. It takes a group effort because we don't have a ton of one-on-one players who can just go and put their head down and get into the lane and elevate and make a shot. We have to play together as a team and execute the spacing and our movements."
USC has one player with the ability to consistently go get his own shot, Kevin Porter Jr., and he remained suspended indefinitely Saturday because of an undisclosed conduct issue. The Trojans didn't miss him because USC had the formula to get whatever it wanted against UCLA's mix of zone defenses. Boatwright and Rakocevic, who each had a game-high 21 points, excel against a zone because they're good passers with soft hands, and they are versatile enough to play off of each other in the post.
In the second half, USC ran away from UCLA with a 17-0 run. During that stretch, Boatwright received a pass near the free-throw line and it hardly touched his hands before he shot it down to Rakocevic for a layup and a three-point play.
"I just tried to tip it to him as fast as I could because I was missing him early," Boatwright said.
On the other end, UCLA made offense look really hard. The Bruins turned it over 20 times, including six turnovers by Hands. They made only five of 22 threes and four of 12 free throws.
"We might have gotten a few stops, or we might have been just all right on defense," Wilkes said, "but ultimately, our offense, offense wins. We gotta score on offense to keep up with the opponent, and we didn't do that."
USC will gladly take some of the credit for that until the teams meet again Feb. 28 at Pauley Pavilion. On that night, the Bruins will be the team holding a grudge.
USC next
Thursday vs. Arizona, 6 p.m., Galen Center, FS1 — Arizona had rattled off six straight wins before losing at home to Oregon on Thursday night 59-54. This is not a vintage Wildcats team thus far, but it's a group that is certainly capable of coming into Galen Center and leaving with a victory.
UCLA next
Thursday vs. Arizona State, 8 p.m., Pauley Pavilion, FS1 — The Sun Devils have backed up another strong showing in nonconference play with some early success in the Pac-12 Conference portion of their schedule.
—Ben Bolch
Sign up for our daily sports newsletter »
Twitter: @BradyMcCollough
---