For Clay Helton and USC, the only option (play) is winning on the road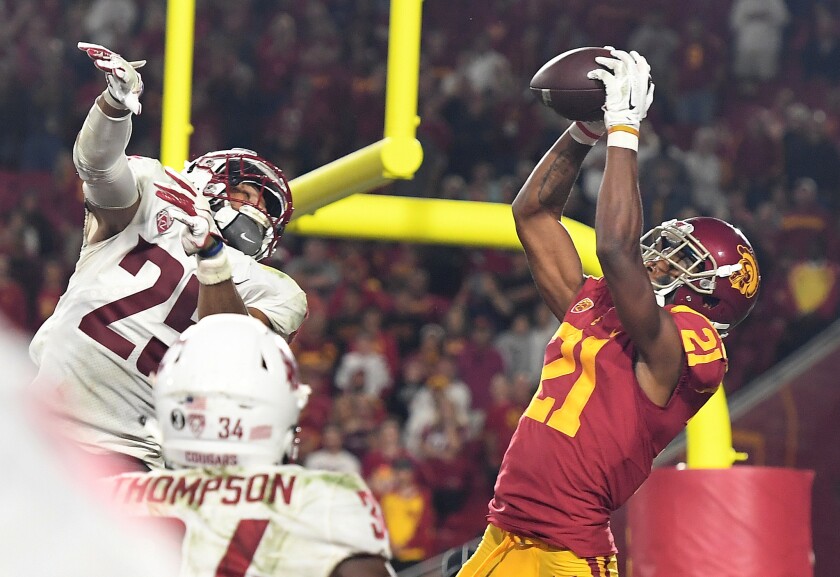 Reporting from Tucson —
Clay Helton gathered his USC Trojans after practice Wednesday, hoping to refocus them immediately for Thursday, when they go over all of their assignments one more time in pursuit of perfection and an attitude that will carry over to the weekend.
His team had been exposed on the road in losses at Stanford and Texas and, after a healing victory at home last week over Washington State, was preparing for another prove-it moment in the desert against the Arizona Wildcats. Helton told them that failure was not an option, that he was tiring of having to explain why the Trojans have been a lesser version of themselves away from the Coliseum.
Sure enough, minutes later in his meeting with reporters, he was asked to address that exact subject.
"I'm sick of that question," Helton said, gruffly for his standards. "Just had a conversation with the guys. … You tell yourself, 'I'm not gonna be the guy that lets my team down.' There's a mental toughness that happens when you go on the road, and I think our guys are ready to take that challenge. I know they're sick of hearing it. I'm sick of hearing it."
Helton understands why the question has to be asked. He is 18-0 at the Coliseum. He is 8-8 on the road, 2-4 at neutral sites. There's no hiding from this contrast being one of the main reasons the Trojans have been good under Helton but not good enough to make the College Football Playoff.
With USC playing its first Pac-12 South game of the season, Saturday would be a great time to start pushing the trend in the other direction.
"It's so important to make your Pac-12 South wins," Helton said. "You know you control your own destiny by getting those wins."
Under Helton, USC is 13-1 against the South Division. The one time the Trojans lost, at Utah in 2016 in Sam Darnold's first career start, it ended up costing them the division, as Colorado advanced to the Pac-12 championship game even though USC beat the Buffaloes.
Arizona appears to be an opponent USC should handle if it is indeed a Pac-12 championship contender. The Wildcats lost their opener at home against Brigham Young and fell to 0-2 a week later at Houston. They evened their record at 2-2 with wins over Football Championship Subdivision opponent Southern Utah and a rebuilding Oregon State team in Corvallis.
Despite returning a preseason Heisman Trophy candidate at quarterback in Khalil Tate, Arizona looks as if it could also be in rebuilding mode in its first season under Kevin Sumlin.
Tate, a former standout at Gardena Serra High, emerged as one of the most electric players in the nation in 2017 after taking over the starting job midseason. Tate completed 62% of his passes for 1,591 yards and 14 touchdowns, but was downright terrifying running Rich Rodriguez's read-option scheme with 1,411 yards and 12 touchdowns on the ground at a clip of 9.2 yards per carry.
Tate was the ultimate dual-threat quarterback, but Sumlin and offensive coordinator Noel Mazzone have taken Tate's running threat out of the offense thus far. One reason could be that Tate has been battling an ankle injury that he sustained in the first game.
But, "even before the ankle, you could tell they were throwing the ball more with him," Helton said.
Helton sees an improved pocket passer in Tate, who is 43rd nationally in passer rating (sixth in the Pac-12) and 23rd in yards per attempt. Tate has shown an ability to buy time with his legs and, instead of pulling it down to run, he's taking shots deep. Tate has hit five passes of 50 yards or more, good for second nationally.
"You see some of the dimes he's dropping in on the deep ball," Helton said. "We've got to keep him in the pocket and keep him contained. That's the key to the game."
Of course, Tate's ankle could heal at any time. USC remembers well the dynamic runner it prepared for last season. The Trojans say they won't be caught off guard if Arizona puts his legs back into the game plan.
"We just have to be mindful of it," USC outside linebacker Porter Gustin said. "It can always happen. If he's healthy, he can run it any time he wants. We're going to go into the game not assuming anything and see how it goes. As the game goes on, we can be more sure of everything."
Twitter: @BradyMcCollough
---
Get the latest on L.A.'s teams in the daily Sports Report newsletter.
You may occasionally receive promotional content from the Los Angeles Times.