Derryck Thornton makes sure USC's season isn't over in a 78-65 win against Arizona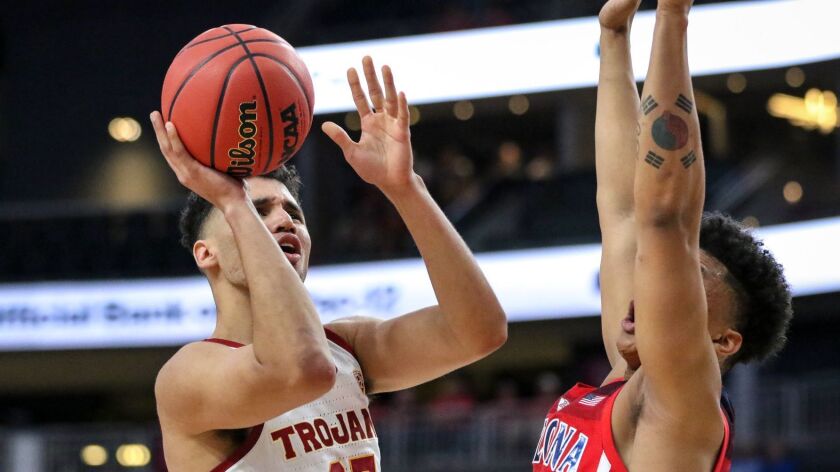 Reporting from Las Vegas —
Derryck Thornton dribbled out the final seconds and embraced Jonah Mathews, the USC players patting each other tenderly on the head.
A pack of students in Trojans jerseys sitting beyond the baseline inside T-Mobile Arena provided the triumphant soundtrack, chanting "We are SC!"
A gloomy season had at least one more celebration left in it.
Slumping USC refused to go one and undone in the Pac-12 Conference tournament Wednesday afternoon, the eighth-seeded Trojans pulling away from ninth-seeded Arizona for a 78-65 victory.
It was fitting that Thornton controlled the final possession because he had his hands all over the triumph. The junior point guard came off the bench to generate three of the Trojans' six steals and spark their energetic defense that held the Wildcats to 25 points in the second half.
"He was terrific," USC coach Andy Enfield said after guiding the Trojans to their first Pac-12 tournament victory over the Wildcats after five losses, including in last season's championship game. "He gave us a lot of energy, had three steals, started out the game five for five from the field and played a great floor game."
Thornton finished with 12 points on six-for-nine shooting and senior forward Bennie Boatwright added 22 points and 11 rebounds to help the Trojans (16-16) end a losing streak at four games and advance to a quarterfinal Thursday afternoon against top-seeded Washington.
USC asserted itself with a 23-5 run to open the second half after a first half of wild momentum swings had resulted in a 40-40 deadlock. Wildcats fans could muster only some half-hearted "U of A!" chants after Thornton reached in to slap the ball away for a steal and went in for a layup that put the Trojans ahead by 16 points.
"I tried to focus on playing as hard as I can and just forcing the issue and try to help our team win any way I can," Thornton said. "Today, it was defense."
Arizona (17-15) couldn't do much on offense as a result, particularly in the second half. Forward Luther Ryan scored 16 points for the Wildcats, who shot 32.3% and made only two of 14 three-pointers after halftime. That gave a team with a decided talent disadvantage no chance.
"We ended about where I thought we would," said Arizona coach Sean Miller, noting his team had lost 11 of its last 15 games amid injuries and a roster lacking its usual star power.
Miller, who remains ensnared in the ongoing FBI probe into corruption in college basketball and has been subpoenaed in a federal trial scheduled for next month, would not comment when asked if it could have been his last game at Arizona.
Sign up for our daily sports newsletter »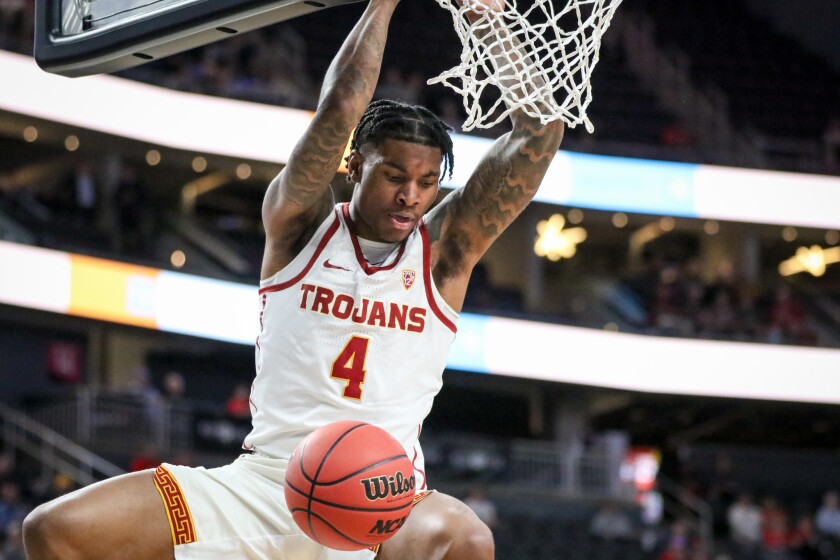 Boatwright said the Trojans were motivated by payback for losing to the Wildcats in this tournament last season.
Miller acknowledged that his team's season was over, meaning there will be no NIT or NCAA tournament appearance. Arizona last missed the NCAA tournament in 2011-12 season.
The Trojans will also miss postseason play barring an unlikely run that would entail winning four games in as many days.
"We haven't even thought about four games," Enfield said when asked about balancing the need to win while conserving energy for an extended tournament run. "It's the first I've heard that. We're focused on one game at a time. You can't get to four without one and two and three. [Thursday] is our second game. We can't conserve anything; we're not that good."
USC next
Today vs. Washington, noon, T-Mobile Arena, Pac-12 Networks — Trojans coach Andy Enfield said his team would need to capitalize on its strengths as a top three-point-shooting team that thrives on ball movement to make things competitive against the top-seeded Huskies. Washington won 75-62 when the teams met in Seattle in late January in their only previous encounter this season.
Twitter: @latbbolch
---
Get the latest on L.A.'s teams in the daily Sports Report newsletter.
You may occasionally receive promotional content from the Los Angeles Times.