USC takes control early and then routs Arizona State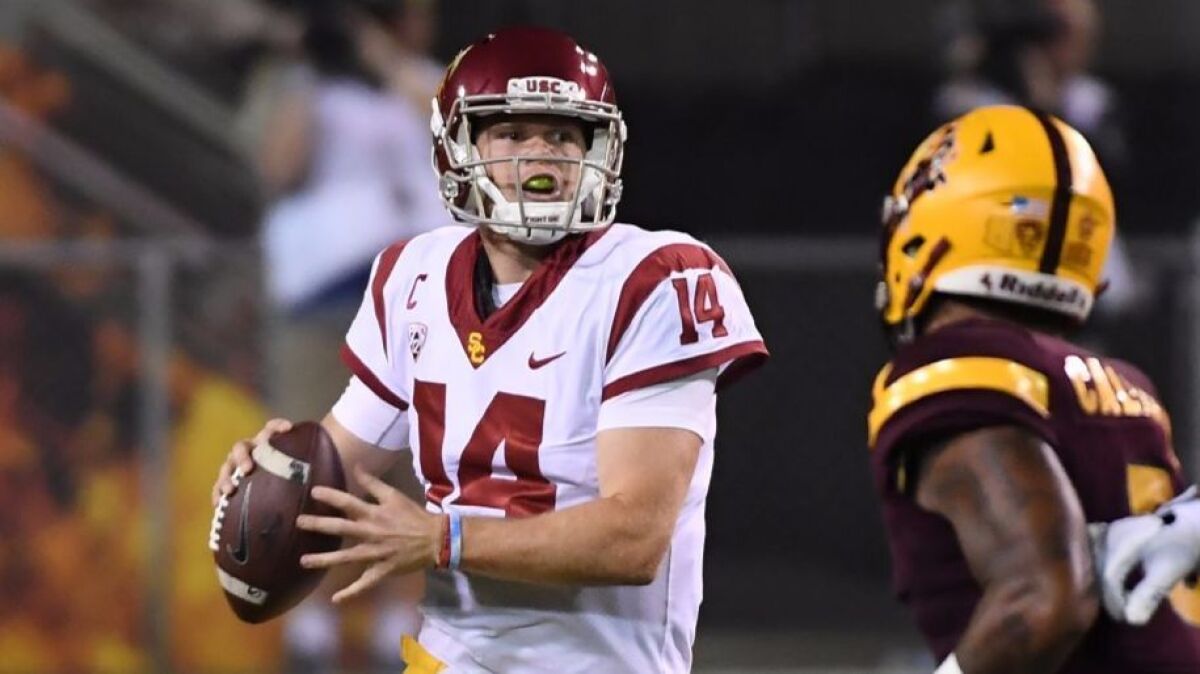 Reporting from Tempe, Ariz. —
Sam Darnold has spent much of this season explaining. Why have his turnovers ballooned? Why isn't USC winning as it did last season? Why has he looked different?
He stood in the pocket during USC's first drive against Arizona State on Saturday and delivered a reminder. He arced a pass into the desert sky. Deontay Burnett, shooting the gap between the cornerback and safety, did not break stride. Touchdown. Darnold had placed it perfectly — no explanation needed.
Darnold and the Trojans delivered reminders of their potential in their 48-17 win over Arizona State in front of 53,446 at Sun Devil Stadium. No. 21 USC (7-2, 5-1 in the Pac-12) bludgeoned Arizona State on the ground for 341 yards — 216 of them by Ronald Jones II. Its defense was smothering, save a bizarre Hail Mary at the end of the first half. USC outgained Arizona State (4-4, 3-2) 607 to 357.
And Darnold showed again why he is among the best quarterbacks in the nation. He carved Arizona State's secondary for 266 yards and three touchdowns, all in the first half. He squeezed passes into tight windows. He moved confidently and creatively in the pocket. He even had a 39-yard scamper on a zone-read keep, the longest run of his career. He did not have to answer any questions about turnovers or mistakes.
"It definitely feels good," he said afterward. "But I don't care about answering questions about that. I really just get hard on myself. And I think when I don't turn the ball over and I don't make dumb mistakes, I have more fun."
When Darnold hums, USC is a different team. Defenses loosen. Holes materialize. Jones eased through one such hole in the second quarter, then stepped out of a tackle and high stepped like a Rockette past another before zooming 67 yards for a touchdown.
It was a masterful performance for USC's running game — and a confounding one. The Trojans looked unstoppable on the ground early in the season, but the ground efficiency soon disappeared. Last week, against Notre Dame, USC averaged 2.5 yards per carry. Against Arizona State, USC averaged 8.4, ignoring sacks.
The average was padded by big runs, like in the third quarter when Jones slalomed through the Arizona State offense, bursting out of arm tackles, for a 64-yard score.
"I know I use the word 'balance' all the time," coach Clay Helton said. "But that was balanced."
USC has recaptured momentum at a crucial time. Notre Dame had torched USC 49-14 a week prior. Tension was evident. Offensive coaches spoke defensively. An assistant stormed off the field in the middle of an interview. A parent publicly griped about playing time. The Trojans were spiraling, it might have appeared, into dark depths.
And then they posted its most dominant performance of the season in a game they had to win.
"It's been a long season," linebacker Cameron Smith said. "We've got 12 in a row. So that was huge for us."
With another victory next week against Arizona, USC would need only to avoid calamity to win the Pac-12 South Division.
"I think this was our turning point, if you want to be honest," safety Chris Hawkins said. "I think we're gonna really turn it around from here and be the team that we really want to be."
On Saturday, after the early touchdown to Burnett, Darnold connected with Tyler Vaughns, who slithered past the cornerback and ran for a 42-yard touchdown.
Darnold floated a 19-yard pass in the second quarter into a tight landing pad between three defenders. Again, Vaughns was there. He absorbed a hit to the helmet, flagged for targeting, but held on. He finished with 126 yards in six catches.
How explosive was USC in the first half? It scored four touchdowns and dipped a toe inside the Sun Devils' red zone just once, and then advanced to just the 19-yard line before the second touchdown pass to Vaughns.
With about one minute left before halftime, walk-on freshman kicker Chase McGrath hit a 51-yard field goal, the longest of his career.
At the end of the game, Ykili Ross added a garbage-time touchdown on a 37-yard interception return.
USC took care of the ball, at last. Darnold fumbled once but the damage was limited: It came on a sack on fourth down. With no help from USC's offense, Arizona State's own offense mustered little. USC's defense forced six three-and-outs. USC had six sacks and limited the Sun Devils to 79 yards rushing.
"They whipped our butts," Arizona State coach Todd Graham said. "They out-coached us and out-played us."
The only release, for the Sun Devils, was a bizarre play before halftime. Arizona State lined up for a Hail Mary. What could go wrong? History said a lot. In 2014, Arizona State stunned USC on a Hail Mary at the end of the game to Jaelen Strong, in what became known as the "Jael Mary."
History repeated … eventually. A bobble by a defensive back gave Arizona State the reception — but a yard short, the officials ruled. The teams ran to the locker rooms. Meanwhile, the officials were reviewing. The band was about to take the field for the halftime performance when the officials finally overturned the call: touchdown. Both teams were called back from the locker room for the extra point.
"It was super confusing because we got in the locker room and we were getting hyped and everybody was like, 'Hold up, we gotta go back out,'" receiver Michael Pittman Jr. said. "And then we just went back out."
The mess at halftime and all the points meant the game lasted nearly 3 hours 40 minutes. USC enjoyed almost all of them.
The Los Angeles Dodgers in the 2017 World Series
Follow Zach Helfand on Twitter @zhelfand
Get the latest on L.A.'s teams in the daily Sports Report newsletter.
You may occasionally receive promotional content from the Los Angeles Times.