USC forward Chimezie Metu is taking his shots behind the three-point line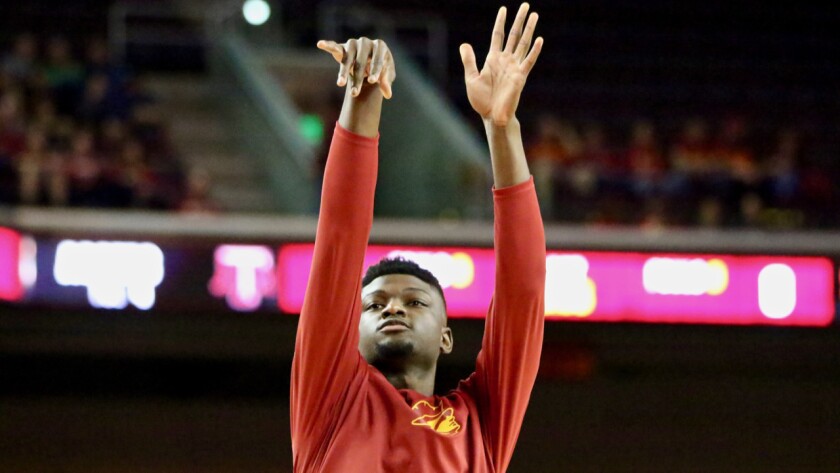 Chimezie Metu has been developing and demonstrating a new skill, one USC's basketball team hopes to extract value from in the coming weeks. The 6-foot-11 junior forward has started shooting three-pointers, and shooting them pretty well.
In scoring a career-high 31 points, Metu converted on 3 of 5 three-point attempts in a victory over UC Santa Barbara on Sunday at the Galen Center. Before that, he had tried a total of 10 in 78 college games, and never more than two in a game.
"They felt good," Metu said. "They're probably not going to be my last couple."
With injuries sidelining Bennie Boatwright (foot) and Derryck Thornton (shoulder), and with De'Anthony Melton being held out as a precaution while the FBI investigates allegations pertaining to suspended USC assistant coach Tony Bland, the Trojans need offense from alternate sources.
So, in the low-pressure environment of winter-break homes against lesser opponents, Metu was more than willing to try his new shot.
"We want him taking good ones," senior guard Jordan McLaughlin said, "which he has."
The skill could also render Metu more attractive to NBA teams.
"I've been working on it all summer, and even after games and before and after practices," Metu said. "I try to get in there and get a lot of reps up, just so I'm more comfortable shooting in the game."
Metu's next opportunity comes Tuesday against Ivy League visitor Princeton. The game, USC's 10th of the season, will mark the conclusion of the Trojans' non-conference slate on the lower 48. After Tuesday, they'll fly to Hawaii for the Diamond Head Classic, a medium-tier holiday tournament. Upon their return, Pac-12 Conference play will begin.
Though he looks forward to testing his range, Metu said he still derives greater pleasure from slamming home a dunk than swishing a three-pointer. That's his game.
"I'm still a dunker at heart," he said. "I'm probably never gonna shoot a three in transition."
Metu was then reminded by McLaughlin that he already had, on a first-half buzzer-beater last season against Arizona State.
Metu laughed, the record corrected. Before last month, that was the only three-pointer he had ever made.
USC VS. PRINCETON
When: Tuesday, 8 p.m. PST
Where: Galen Center
On the air: TV: Pac-12 Network; Radio: 710
Update: USC (6-3) left a lot to be desired on defense Sunday during its win against UC Santa Barbara. In the second half, the Gauchos scored 54 points, 12 more than the Trojans' season-opening opponent, Cal State Fullerton, managed in a full game. Boatwright, a junior forward, missed Sunday's game because of a wart on his foot, but he could play Tuesday. Of the Tigers' eight Princeton (4-6) has eight players averaging at least a dozen minutes a game this season, none taller than 6 feet 8.
Follow Pedro Moura on Twitter @pedromoura
---
Get the latest on L.A.'s teams in the daily Sports Report newsletter.
You may occasionally receive promotional content from the Los Angeles Times.