Bennie Boatwright and Nick Rakocevic becoming frontcourt leaders for USC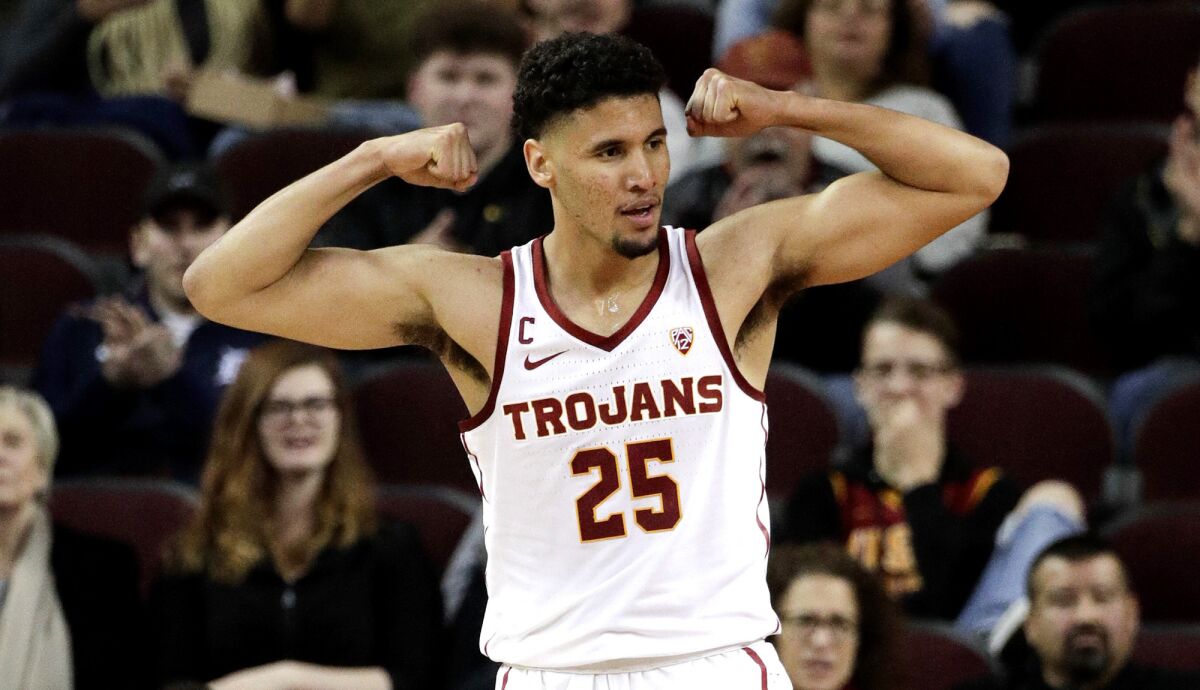 Minutes after they combined for 46 points in USC's victory over California on Thursday night, Nick Rakocevic and Bennie Boatwright shared knowing smiles and pounded their fists in solidarity.
Boatwright, a senior forward, had stopped an answer short in the postgame news conference and pivoted to a thought he had to get off his chest about Rakocevic, who had a career-high 27 points in the Trojans' Pac-12 Conference opener.
"Excuse me," Boatwright said, "but Nick had a heck of a game. Rebounding, scoring … he had one silly [technical foul], but other than that, it was an all-around game."
Boatwright added 19 points, continuing an encouraging trajectory as USC, which is 8-6 overall and 1-0 in the Pac-12, welcomes Stanford (7-6, 0-1) to Galen Center on Sunday night. After a slow start to the season that mirrored that of his team, Boatwright has averaged 17.4 points and 7.3 rebounds a game in his last four outings.
For this injury-depleted USC team to gain momentum in conference play, Rakocevic and Boatwright will have to lead the way and play major minutes on the inside. Boatwright's versatility will allow the Trojans to move him to small forward as well as to make up for the fact that they currently don't have a scholarship guard available on the bench.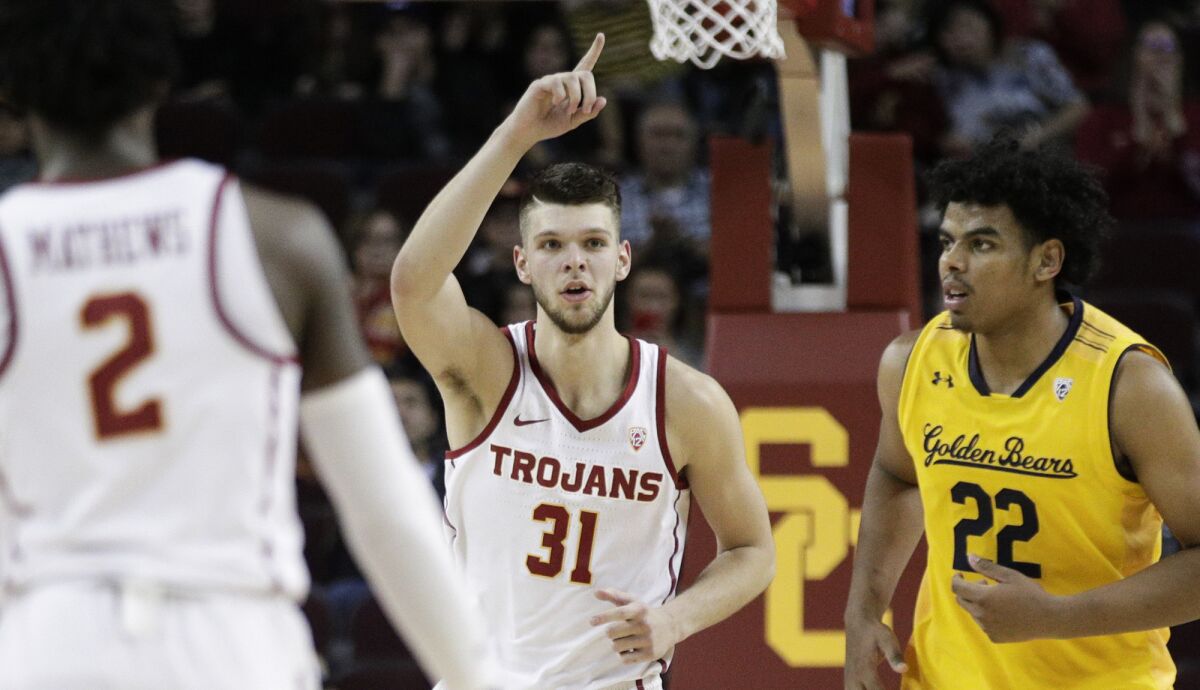 Rakocevic, a junior center, got plenty of help from point guard Derryck Thornton on the pick and roll Thursday night, but he also was set up by Boatwright for easy baskets a couple of times. Boatwright's skill set allows USC to use some high-low action with Rakocevic, which can be extremely tough to defend for more traditional big men.
"Me and Bo talk about it a lot," Rakocevic said. "Whenever we get a chance to, we want to play two-man game or whatever we have to do. Because, him being 6-10 and being as versatile as he is, it makes it easier to play with him. And guys who are that big aren't comfortable in a pick-and-roll coverage with two bigs. It's easy for us to get the high-lows, and he's a great passer. We've been together three years, and it's just been key."
When USC coach Andy Enfield looks at what makes this team tick, it's a simple matter. The Trojans led the Pac-12 in assists a year ago, and they currently lead the league again. If USC plays unselfishly and moves the ball in an effort to find the best shot, more often than not, Rakocevic and Boatwright will be the beneficiaries.
"We've had 24, 20 and 21 assists the last three games," Enfield said. "We have to share the basketball and stop taking contested jump shots, and when our guys do, our assist totals go up. It's a big point of emphasis."
UP NEXT
vs. Stanford
When: 5 p.m., Sunday
Where: Galen Center.
On the air: TV: ESPNU; Radio: 710 AM (ESPNLA).
Update: The Cardinal are coming off a 92-70 loss at UCLA on Thursday. Stanford is led by sophomore forward KZ Okpala, who averages 17 points a game. USC will likely be without point guard Elijah Weaver (ankle) and wings Kevin Porter Jr. (thigh bruise) and Charles O'Bannon Jr. (finger), leaving the Trojans with no scholarship guards on its bench.
Twitter: @BradyMcCollough
---
Get the latest on L.A.'s teams in the daily Sports Report newsletter.
You may occasionally receive promotional content from the Los Angeles Times.